Retreating to the ranges
A traipse through South Australia's Flinders Ranges proves to be as cathartic as it is stunning.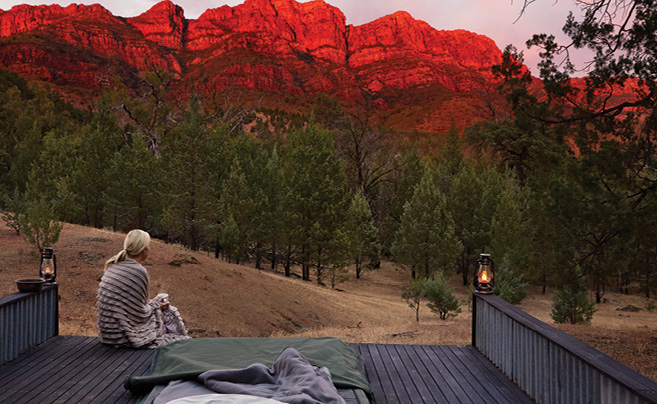 My sister makes a vegetarian lasagne that has rightfully developed a reputation to write home about. Eating it is as much a visual experience as it is a gustatory one: blistery red capsicum interspersed between layers of roasted eggplant, basil pesto, sheets of pasta, and rich, velvety béchamel sauce. Its cross-section is an engineering feat: row upon row of varying colours and textures. This lasagne is what comes to mind as I stare in wonder at the rugged formations that comprise the Flinders Ranges, their sedimentary layers clearly delineated by contrasting hues.
The largest mountain range in South Australia, the Flinders Ranges starts roughly 200 kilometres north of Adelaide. However, Arkaba Homestead—where my journey begins—is slightly further afield, about a five-hour drive from the 'city of churches'. Making my way there, I'm awed by the craggy peaks protruding from the otherwise flat horizon, and can't help thinking that each layer of sediment tells a different tale about the history of our land.
A black kite struggles in the breeze up ahead—a dark speck against an ashen sky—and all at once I feel very small. "This country talks to you; it's amazing," says Brendon Bevan, Property Manager of Arkaba. I smile in agreement and silently wonder what it is saying.
The homestead emerges from behind a plume of red dust: a sprawling, one-storey building that is 1850s charm incarnate. However, walking through the glass doors of the newly finished conservatory entrance sunroom, it becomes apparent that modern-day luxuries are just as entrenched as the building's heritage. Crisp, white throw rugs are strategically placed atop light-blue and white plaid couches, and a sleek cow pelt decorates the room's timber floorboards.
I walk through the library, which could be mistaken for a high-end gentleman's club—think black leather sofas, top-shelf liquor, and a stone fireplace—and into the kitchen-cum-dining room, the heart and soul of the homestead. Here I meet my fellow hikers who are just finishing up a delectable breakfast prepared by chef Matthew Collins. They've been treated to caramelised bacon with sautéed spinach and mushrooms, tomato relish, and poached eggs on homemade toast. One of them jokes that they are carbohydrate loading in preparation for the day ahead, but in reality the food is simply too good to skimp on. I'm secretly a little miffed that I've missed out; however, I needn't worry, as there is no shortage of exceptional food in the days to come.