Time out at Tamarind
At Spicers Tamarind, the food experiences and the sense of peace are as reinvigorating as the fresh mountain air.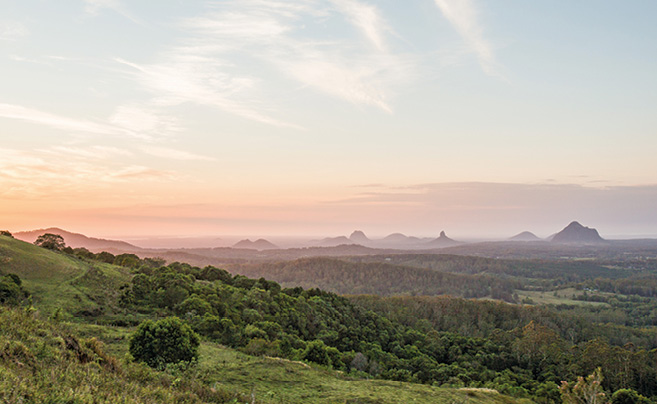 When you step out of a chaotic business environment and get back to nature, there's often that simple moment when you take a deep breath, marvel at the sense of peace, and think: everything is okay. Stepping onto the Spicer's Tamarind property, which is hidden in the Sunshine Coast hinterland rainforest, everything is more than okay—it's beautiful.
When we turn into the drive of Tamarind and make our way to the log cabin-style reception area, the ground is still wet from recent rain—the scent of damp bark chips, fresh flowers, and honeysuckle permeating the air. We pick up our key and are handed walking maps (including how to reach the property's stream and string of waterfalls), a list of all happenings on the property—Thai cooking lessons, cocktails in the evenings, and opening times for Spa Anise—and the all-important times for breakfast and dinner, which involve delectable degustations created by the resident two-hatted chef Daniel Jarrett.
Checking into our suite, which looks as though it's always been there tucked into the bushland, we marvel at the quietness of our surrounds. It's perfectly silent—until a water dragon rustles through the undergrowth, spots us, and runs off in a dance-like jig with his little head held high. The suites at Tamarind are expansive, modern, and stylish, but are designed to feel as homely as possible, with décor in warm, pale greys and green, and floors and bedding in soothing creams and pale browns.
The bathrooms are an oasis within an oasis, as the bi-fold doors beside the freestanding stone baths open onto a lush tropical garden, with seating to take in the sense of peace.
We're in time for lunch, so stroll down to the restaurant, and are led out onto a wooden balcony with views of a country road winding its way over gentle hills, with the rainforest rising majestically behind it. We dine on a Thai-inspired degustation that is as fresh and tasty as it is beautiful.
Freshly shucked oysters dressed with chilli, lime, and cucumber are followed by pickled melon with finger lime, crispy pigs' ears, and pork floss. Next comes confit salmon with ponzu, pickled ginger, miso, quinoa, furikake and wakame, followed by a mouthwatering black vinegar-braised pork belly with scallop toast, and a radish and celery salad. As if that wasn't enough to have us swooning, oven-roasted beef with dashi potatoes, fried oyster mushroom, miso mustard, and pickled onion and miso ranch dressing was the pièce de résistance, followed by a dessert of Valrhona chocolate torte, with salted caramel, chilli chocolate ice cream, lychee, and raspberry chilli jam.