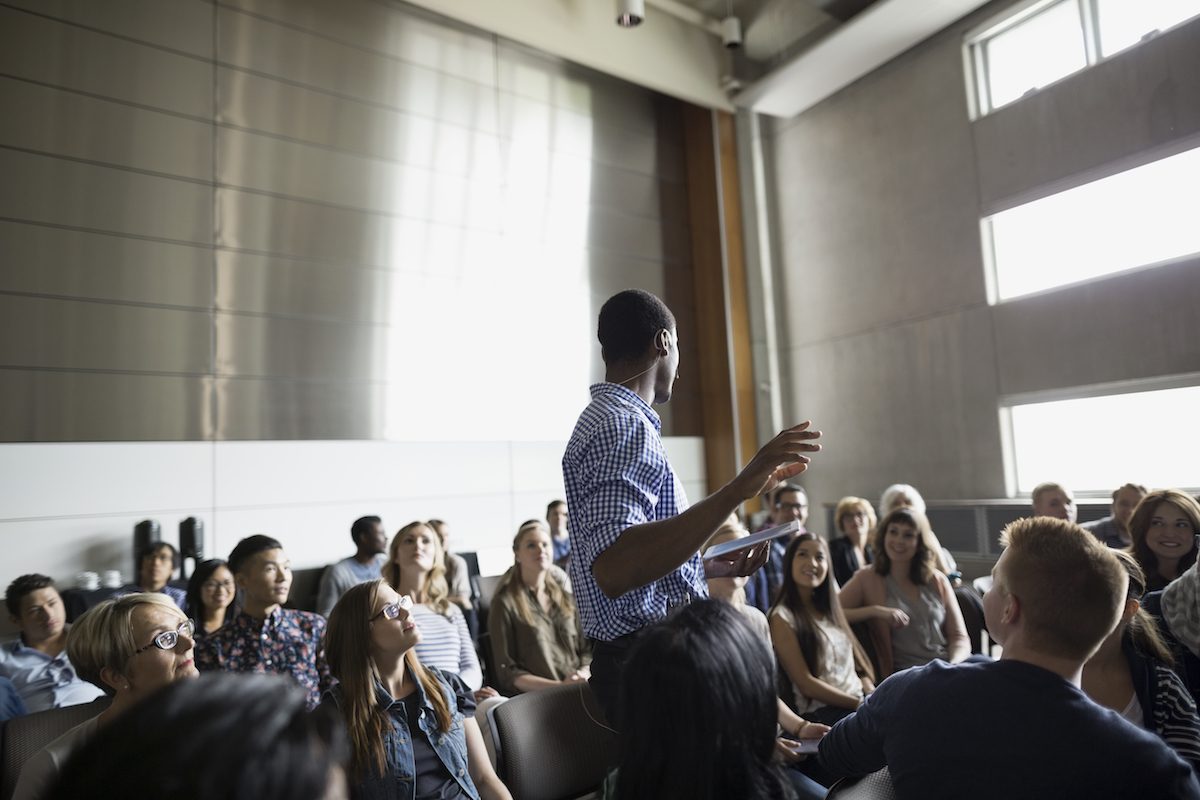 Spark the Change, as a concept for a conference, sets itself a high bar. The line-up of speakers, the communal tables for seating, the aimed-for atmosphere is designed to give attendees that first idea, story or practice that sets them on the path to improving the world.
On 1 May that process happened in Storey Hall at RMIT. Lunch was provided, and Sammy J was there to talk about his experience being a Big Brother (not that one).
One of the speakers said something along the lines of putting your values out, and both clients and employees will self-select. That's also the case here – you probably wouldn't attend this thing if you weren't keen on making the planet at least slightly nicer. So what did we absorb, from the round table in the back?
There were heaps of speakers and a couple of panel discussions. I tend to have a more holistic – or holacratic – view of these things, so it was nice to have a mix of people sharing their personal stories of, say, building up a woman-saving business in Nepal as well as an interactive workshop on the Japanese concept of 'ikigai' and a panel of women from the energy sector explaining how they managed to form cross-sector collaborations to protect vulnerable consumers (spoiler: it was even more difficult than that sounds).
What I mean, without turning this into a list of what I saw like it's Tuesday morning and I'm in Year 1 and it's my turn at News, is that the sessions moved along a spectrum from theoretical to practical, from broadly inspirational to profoundly doable.
The afternoon saw discussions on Holacracy, the personal politics of transition, universal design and inclusion, the vulnerability of Australia's youth to mental illness and suicide, and this bloke talking about hiring for attitude over skills/experience. Quite a broad spectrum of information to take in on a belly full of sandwiches and mini-quiches.
But in the final analysis, it's the people who make a conference worthwhile – otherwise you could look all this stuff up on YouTube.
I had discussions on the challenges of working with hidebound NGOs, Australia Post's changing role, why you should pay to support quality journalism, how exciting it is to build a leadership community and see your principles spontaneously put into action, why you should always grab two canapés, what the Karoo actually is, why everyone seems to love Xero, the complexities of Iranian politics and Australian slang, how finding a whisky you like is similar to a series of one-night stands, the internal politics of gossip mags, how to make one's fortune in the wine industry, why Employable Me has changed the way companies think about hiring people with disabilities…
On that note, I can finally see a reason – beyond empty self-importance – why people make up titles like 'Digital Native Specialist' or 'Hero of the North'. It's much easier to say than, "I write a weekly column for The CEO Magazine; and I also write for teenagers in a way that's aiming to get them excited about tertiary study but it's broader than that; and I do a fair bit for agencies and corporates; and I was editor of a national weekly magazine for three years so I know all about silos and disruption… Haha! Where are you going… ?"