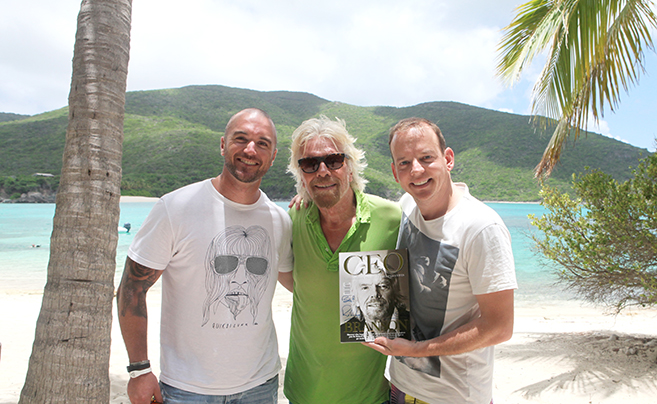 Sir Richard Branson has opened his private island up to The CEO Magazine for 'Change Makers and Rule Breakers', a think tank led by Branson to generate visionary ideas from the world's top entrepreneurs.
CEO and Co-Founder of The CEO Magazine, Chris Dutton, and Managing Director, Daniel Di Loreto, have arrived at Necker Island, situated in the British Virgin Islands, where they will spend the next six days with Branson and his other 28 invited guests.
 "Being at Necker is a priceless opportunity to spark ideas and share knowledge with some of the most forward thinking people in business," said Chris Dutton.
Branson's carefully selected group of trailblazers will spend the next six days brainstorming and developing ideas that, at their core, focus on changing the world for the better. The CEO Magazine's Chris and Daniel are keen to collaborate with the group of inspiring individuals and discuss the various ways that great change can be facilitated; whether it be through business, networks, or community.
They'll also get to enjoy all the natural inspiration Branson's private island paradise has to offer. 'Necker' — as the island is affectionately known — is Branson's idea of utopia for wildlife and work. Set amongst sandy white beaches and the clear Caribbean Sea, it's an idyllic spot for dynamic and innovative thinkers to come together and set the wheels in motion for positive change.
Necker's Great Hall is the place where Branson famously looked up at the stars from his rooftop spa and conjured the idea of Virgin Atlantic; an airline which would make space travel accessible to humans.
The CEO Magazine is excited to bring you all the stories, ideas, and knowledge shared at Branson's 'Change Makers and Rule Breakers' think tank. An account of the goings on — in addition to some unique pearls of wisdom offered by Branson himself — will feature as the cover story of the August 2016 issue of The CEO Magazine for Australia and New Zealand, India, and Europe. The story will also run on the cover of the September/October 2016 issue of The CEO Magazine South-East Asia.
For press enquiries, please contact The CEO Magazine on 02 8925 7400.