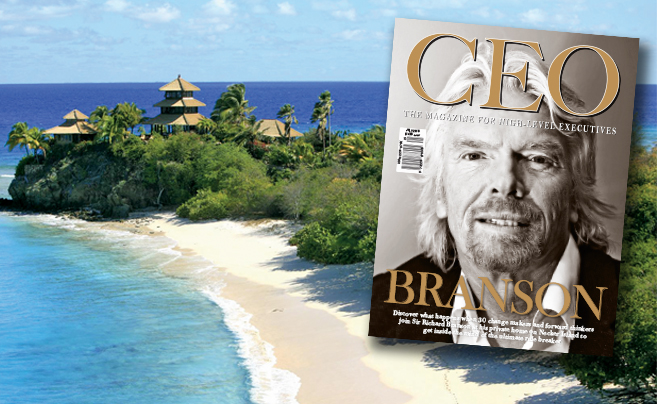 For the second year in a row, we are pleased to confirm that The CEO Magazine will be visiting the home of Sir Richard Branson for six days in May 2016 for a business think tank.
The CEO Magazine will spend time with Branson as part of a select group of entrepreneurs and forward-thinking individuals who will brainstorm with Branson to help create change and positivity in the world.
We're excited to be partaking in this priceless opportunity. It is a chance to brainstorm with one of the world's leading entrepreneurs, share stories, and anecdotes with other like-minded business people, and discuss creative ideas on an island where inspiration is in abundance.
'Necker', as it is commonly referred to, is Richard Branson's home—a 74-acre picture-perfect island in the British Virgin Isles, a 20-minute speedboat ride from Virgin Gorda. Necker is entirely owned by Richard Branson and is part of the Virgin Limited Edition portfolio of luxury properties. The island operates like a resort and can accommodate up to 28 guests.
We will be sending CEO and Co-founder of The CEO Magazine Chris Dutton, and Managing Director, Daniel Di Loreto, to mingle with Branson for the duration of the stay.
The CEO Magazine can confirm that the story of our visit will be our front cover feature in the Australia/New Zealand and European editions in August 2016, and be our cover story in the September/October issue of our South-East Asia edition. These will no doubt be our biggest selling editions of the year.
We will be streaming extensive media coverage on this important event—an example of which can be found on news.com.au.
For press enquiries, please contact Chris Dutton or Daniel Di Loreto on 02 8925 7400.
You can read our previous article on Richard Branson here.