Michael Stelzer
Michael Stelzer is Vice-President ANZ at Verint, a global technology partner that helps clients enhance the customer experience (CX) and drive revenue through deeper engagement.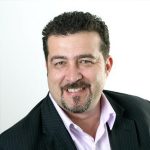 He provides high-level leadership and direction to a diverse range of clients in Australia and New Zealand. He is accountable for the organisation's strategic planning, sales execution, channel partner engagement, consulting, training and technical solutions delivery.
With extensive experience in customer retention and talent management, Michael has a proven ability to build strong industry relationships, drive higher CX outcomes and boost revenue.