Microsoft admits its hugely popular Teams business communication platform, which is part of the Microsoft 365 family of products, has its limitations and has launched Viva to enhance the work from home experience.
Daily there are around 115 million users of Microsoft Teams due to the coronavirus pandemic. Microsoft 365 users around the world generated more than 30 billion collaboration minutes in a single day, the company said in a media release.
Many believe working from home – a necessity in the pandemic – will remain for workers in many industries.
Viva is targeted at employees in companies of all sizes and in all roles."In our new hybrid work reality, Microsoft Teams is empowering everyone in organisations – from information workers to frontline workers, and everyone in between," wrote Jared Spataro, Corporate Vice President for Microsoft 365 in a blog.
"But to truly empower people to feel connected, supported, and able to bring their best selves to work, we need to do more."
Spataro said organisations spend over US$300 billion a year on employee experience, including employee development and training, benefits and wellbeing, plus a number of employee experience technologies. "Too often, these technologies are fragmented, hard to find, and disruptive to the flow of work," he said.
Viva, what Microsoft term an employee experience platform, provides workers with the resources and support they need, within the same tools they use to do their work.
"We have participated in the largest at-scale remote work experiment the world has seen," said Microsoft CEO Satya Nadella, underlining nearly 11 months of a pandemic that has reshaped how people work, learn and live.
"As the world recovers, there is no going back. Flexibility in when, where, and how we work will be key."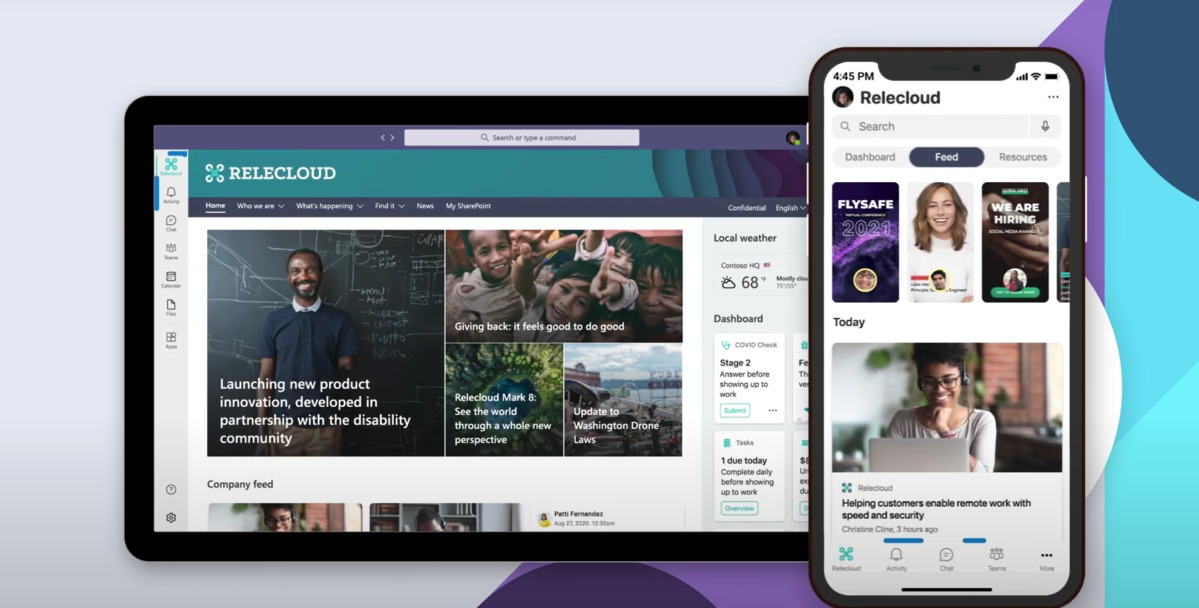 Viva will replicate company communications, company resources, and company insights. It has four modules: Viva Connections, Viva Insights, Viva Learning and Viva Topics.
Microsoft Viva Connections
"Research from our Work Trend Index shows nearly 60 per cent of workers feel less connected to their team since the move to remote work. And we're struggling to replace the comradery once created by things like company town halls, offsites, and events. Accessed in Microsoft Teams, Viva Connections provides a single-entry point for employee engagement and internal communications," Spataro said.
Connections brings together internal communications capabilities from SharePoint intranet experiences, Yammer communities, streaming video content and Teams live events.
Microsoft Viva Insights
"At a time when over 30 per cent of workers say the pandemic has increased their sense of burnout, it has never been more important to help people unplug and make the most of their scarcest resource: their time," Spataro said.Insights includes personal wellbeing experiences in Teams such as Virtual Commute and Headspace integration for individuals. It also includes metrics and recommended actions from Workplace Analytics.
"Viva Insights gives individuals, managers and leaders personalised and actionable privacy-protected insights that help everyone in an organisation thrive. It brings new personal wellbeing experiences, insights and recommended actions from Workplace Analytics and MyAnalytics into the flow of people's work in Microsoft Teams," Spataro added.
Microsoft Viva Learning
"Organisations need to develop a culture of learning to keep up with the pace of change and to retain great talent. Specifically, a recent report from LinkedIn found that 94 per cent of employees would stay at a company longer if it invested in their learning and development," Spataro said.
Learning revolves around the Learning app for Teams announced last year, which will be available in private preview. It includes content from LinkedIn Learning, Microsoft Learn, third party content providers and a company's own custom learning content.
"Learning creates a central hub for learning in Teams, with AI that recommends the right content at the right time. It aggregates content from LinkedIn Learning, Microsoft Learn, your organisation's own custom content, and trainings from leading content providers like Skillsoft, Coursera, Pluralsight, and edX. Viva Learning also works with leading learning-management systems. Today we're announcing partnerships withCornerstone OnDemand, Saba, and SAP SuccessFactors. And there are more are on the way," Spataro said.
Microsoft Viva Topics
"As we have all experienced, finding an expert, understanding company acronyms, or surfacing the content you need can be tedious, especially when you're a new employee or working remotely. In fact, our research shows that people spend the equivalent of seven weeks per year searching for or re-creating information," Spataro said.
Topics delivers more components designed as part of Microsoft's Project Cortex knowledge-management work. Viva Topics includes the Topic Cards, Topic Pages and Topic Centres developed as part of Cortex. It is meant to help people connect with experts through people cards throughout Microsoft 365.
Microsoft did not reveal the pricing for Viva.