Indra Nooyi reveals 8 lessons she learned as CEO of PepsiCo
The powerful business leader shares her secrets to running one of the world's most famous food and beverage companies.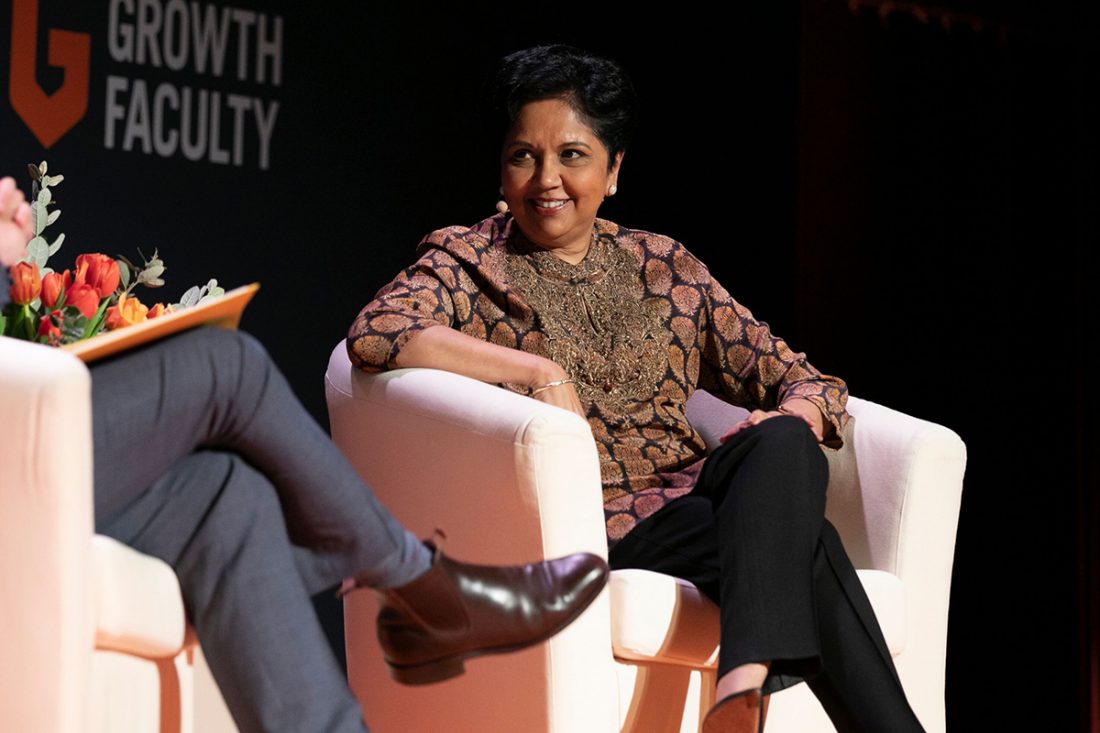 "I'll give him a call and tell him to change his mind." They're not the words a newly appointed CEO would expect to hear when announcing their new position to their mother. But that was the case for Indra Nooyi. Since the "out of the blue" moment in 2006 when Steven Reinemund announced he was stepping down as PepsiCo CEO and handing the role over to her, the trailblazing leader has consistently been ranked among the world's most 100 powerful women.
She was the head of the iconic international food and beverage company for 12 years before leaving in late 2018, and today she sits on the board of Amazon, the World Economic Forum, Yale School of Management and the International Cricket Council. "It was a brutal time to be the CEO, transforming the company, dealing with activist investors, dealing with the financial crisis, dealing with all kinds of attacks on our categories," Indra revealed at The Growth Faculty's Sydney, Australia event, An Evening With Indra Nooyi, earlier this year. "It was a tough 12 years."
Indra has never done anything by halves. From creating a women's cricket team at Madras Christian College at a time when nothing like it existed in India to personally writing more than 400 letters to her global senior executives' parents (and to their in-laws) expressing how proud she was of them, the former PepsiCo CEO infused the corporate world with her own rebellious touch.
"Your success is not going to be decided by how well you ran the company, it's going to be determined by how good your successor ran the company," – Indra Nooyi
Whether PepsiCo was acquiring new brands, being the centre of controversy with some of its advertising campaigns – case in point: its television advert featuring Kendall Jenner – or moving towards healthier products, the decisions she chose to make for the company often came with backlash from investors. "I never viewed them as gigantic decisions," Indra says. "But they had to be done because the company needed them to be successful going forward."
With Indra at the helm, PepsiCo's revenue doubled in 12 years to reach US$63.5 billion, half of it coming from the healthier product categories (up from 38% in 2006).
As a woman who has held her own in male-dominated industries for more than two decades, here are some of Indra's pearls of wisdom for running a multibillion-dollar company.
Rule 1: Finding balance is key
Being a CEO is a full-time job. Being a mother is a full-time job. Being a wife is also a full-time job. And in the Indian context, sometimes being a daughter and a daughter-in-law are also full-time jobs. So, to expect us to do great in all the jobs is crazy. There is no easy answer. First, make sure you marry the right person. It makes all the difference in the world. I married a good one. Forty years later, I can say he's a keeper. Even today, my husband and I plan for six months at a time on where we are going to be, who's going to do what and how we're going to run a family. Second, make sure you enrol your extended family. I love my extended family – I convinced them all to take short vacations and hang around our home. For three months, hang around my home and I'll give you a ticket to visit the US – that's how I got them all, every member of the family. We scheduled them in for three years.
Rule 2: Be able to work flexibly
The nature of work has to change. Work was devised from a time when the woman stayed home and the man worked nine to five. That's not the way life is today. We have to use technology more intelligently.
"My request to women: just focus on the job you're doing. The higher the quality of your output, the less people will be giving you labels because the work speaks for itself," – Indra Nooyi
Rule 3: Sport leads to success
All the statistics we've seen say 75% of C-suite executives have played competitive sports through college. It also says when you play competitive sports, you build better teams. Playing competitive sports can be very good for leadership skills – we ought to encourage more women to play team sports, in particular, or competitive sports.
Rule 4: Break down gender talk
Don't define me by labels, define me by the quality of the output that I produce. We have to work on the environment, the labels, and experiences. When we elevate a woman, we say, "She's terrific, but…" And we elevate the guy by saying, "he's pretty good, and…" Those are the kinds of things we have to change as leaders in companies.
Rule 5: Do everything well
My request to women: just focus on the job you're doing. The higher the quality of your output, the less people will be giving you labels because the work speaks for itself.
My belief is that if you lay out a plan and say, "In 10 years, I want to be CEO," then it's a disaster. You're so fixated on this career path, you don't do the jobs that you're assigned to do well. I'm not worried about where I'm going – I'm going to do whatever I have to do very well.
Rule 6: Work with an immigrant mentality
Most immigrants, when they go to a foreign land, have a fear that things may not work out. They may lose their job or not have enough money to live on, and may be forced to go back. Embracing the work ethic that motivates and inspires them creates a formidable force that I adhere to.
Rule 7: Be proactive in choosing your successor
We identify 10 or 15 people we think can go all the way and we make sure the people we look at span multiple age groups because the board might want to go way down and pluck somebody up. Over a period of about three or four years, we expose all of those people to the role. We create environments where they can present to the board, we see them in action with their teams, and we prepare extensive documentation on these people. Very soon you start to whittle away candidates and maybe four bubble up to the top.
Rule 8: Success is determined by your beneficiary
Succession is perhaps the most difficult job a board can do – it is also one of the most important things a sitting CEO has to focus on. Your success is not going to be decided by how well you ran the company, it's going to be determined by how good your successor ran the company. I was more worried about my legacy than I was about my performance as CEO. If the company collapsed after I left, it meant I didn't build a company with a solid foundation and a solid team.