Totally tourism: a tale of two lands
Mining had its boomtime, and now tourism is stepping into the spotlight.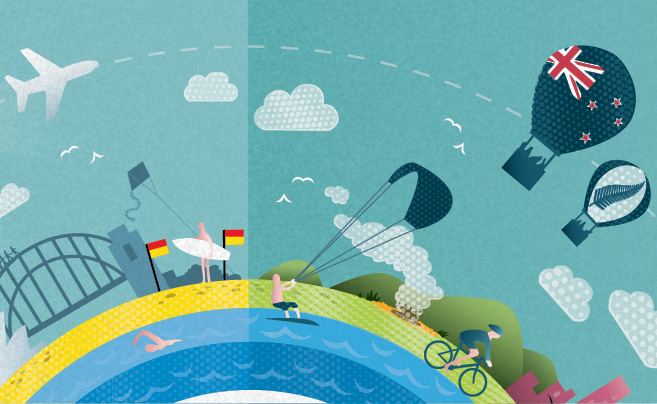 Australia's tourism sector is in the throes of its strongest growth spurt in a generation, clocking a record $107 billion in receipts in 2015—up 5 per cent from the previous year. And with its contribution to the economy projected to grow another 25 per cent by 2020, the sector is being touted as a key driver in Australia's do-or-die transition from mining-led powerhouse to a services-led economy, according to Tourism Australia. "Australia isn't just a place you see. It's a place you feel," says movie star Chris Hemsworth in the statutory authority's latest big-budget advertising campaign.
Launched in the US in January and in China in April, the $40-million collage—created by 360-degree camera footage and images captured by a sweeping drone—was specifically designed to lure wealthy tourists to Australia. The campaign is high-tech, accompanied by 17 virtual reality videos of Surfers Paradise, the Great Ocean Road, and other iconic coastal destinations.
"We are in the fulcrum of this great opportunity in terms of digital assets," says Tourism Australia Managing Director John O'Sullivan. "Through the use of 360-degree cameras and virtual reality, we can give someone sitting in a travel agency in Shanghai the chance to experience the real Australia."
In its first two weeks, the campaign was credited for $54 million in added economic activity. In its first two months, the 360-degree videos had recorded 6.5 million online views—and saw leads to industry grow 77%.
Marketing magic or market forces?
But how much growth is attributable to effective marketing and how much is due to market forces—things like the sharp fall in the Australian dollar that's made holidaying here cheaper? And what about the drop in the price of jet fuel that, coupled with new-generation, fuel-efficient jets, has made flying to Australia cheaper too? And taking into account that one in seven of our international visitors now hails from China, how much of the growth is just a flow-on effect of the Chinese economic miracle?
When I posed this question to Tourism Australia in 2010—a period when the industry had fallen on tough times on the back of five years of consecutive decline in value—the reply was: "It's a bit crude to measure marketing campaigns in the face of the high dollar, the GFC, terrorism, natural disasters, air fares, et cetera."
You can download the full article below…