Starbucks super-store opens in China
Named the Starbucks Reserve Roastery, the coffee house in Shanghai incorporates roasting, brewing and even augmented reality technology.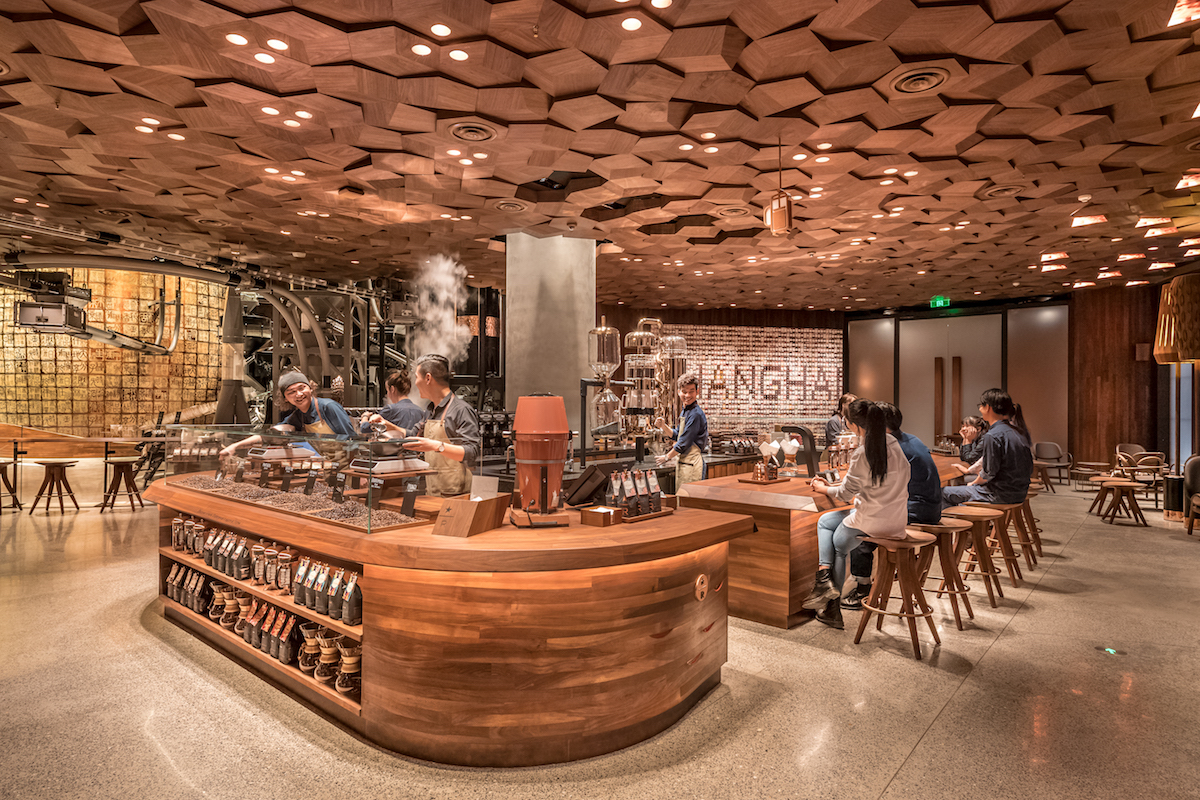 Starbucks has opened its biggest outlet yet in Shanghai.
Named Starbucks Reserve Roastery, the lavish super-store is described as "the first fully immersive coffee experience in Asia" in a press release from the company.
The extravagant 30,000-square-foot store is part of the company's aggressive expansion into China.
Incorporating coffee roasting and brewing alongside augmented reality technology, the roastery is located in the Taikoo Hui development, an upmarket district in China's most populous city.
It has an area nearly twice the size of the company's previous biggest store, in its home city, Seattle.
The centrepiece of the new store is a two-storey, 40-ton copper cask which looks out over three handcrafted wooden coffee bars, one of which stretches 88 feet, also a record for the chain.
The high-profile opening comes on the back of sluggish international growth for Starbucks. The company's growth slowed in the last quarter, with comparable store sales up by only 2%, after 4% growth in the same period last year.
China, however, was a strong market for the company with same-store sales up 8% on the last reported quarter. Although traditionally a bigger market for tea than coffee, it has become Starbucks' fastest-growing market. There are more than 600 Starbucks outlets in Shanghai alone.
Earlier this year, Starbucks bought out its Chinese joint venture partner and announced ambitious expansion plans for the country. This included Chief Executive Kevin Johnson setting a target of having 5,000 stores across China by 2021.
On average, a new Starbucks opens in the country once every 15 hours, a pace which will see it eclipse the US in number of locations within a decade.
The Shanghai Roastery is part of the company's series of 'Reserve Roasteries'. Closer to coffee theme parks than humble neighbourhood cafes, Starbucks describes these upscale outlets as "immersive, theatrical shrines to coffee passion."
The new store is also the first Starbucks outlet to integrate an augmented reality experience. Patrons can point their smartphones at features located around the store to access videos and virtual tours.
Through an app powered by retail giant Alibaba, customers can also earn 'virtual badges' for completing the tour. Once a customer collects all the badges, they receive a custom photo filter for sharing photos on social media.
John Gordon, a restaurant analyst at Pacific Management Group, told CNN the roastery is designed as a "show store" as much as a retail outlet.
"The point is to be in a highly, highly visible tourist (area) where there's foot traffic, offices and urban housing, in order to promote the brand."