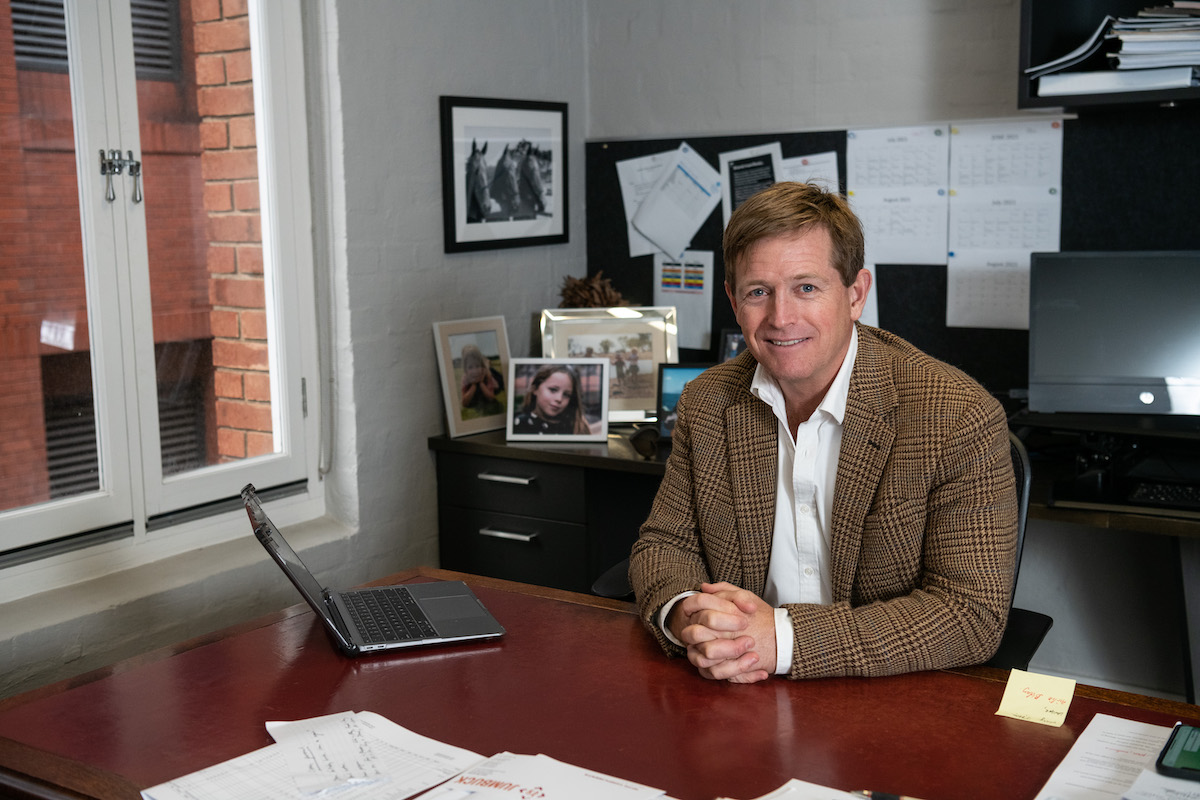 The word jumbuck has grown beyond its initial definition to become an integral piece of Australiana. Immortalised in Banjo Paterson's poem 'Waltzing Matilda' as a prize worth dying for, the jumbuck holds more weight as Aussie shorthand than an alternative term for sheep. The sheep is the cog in the wheel of Australia's livestock industry; the jumbuck grazes on sweeping sunburned plains and slakes its thirst in lonely billabongs. That's the power of the word – to inspire a pastoral flavour that is quintessentially Australian.
And it's a power harnessed by Jumbuck Pastoral, the origins of which are steeped in the strong livestock heritage of this wide brown land. In 1888, Victorian-born stockman and grazier Hugh Patterson (HP) MacLachlan started a wool growing concern near Yunta, a town in regional South Australia.
Paratoo Station, as it came to be known, became both the headquarters of the growing business and the MacLachlan family property. It was there that a dynasty was born quite literally off the back of Australian Merino sheep. HP's son Byron left a career in medicine to become a jackaroo at Paratoo and took charge of the company aged just 19. Through a series of significant acquisitions, he turned Jumbuck Pastoral into one of the nation's largest landowners.
Today, Jumbuck Pastoral Company exists way beyond those initial pastures. It produces sheep and cattle in 12 stations across three states as well as the Northern Territory, and distributes its livestock and wool domestically and worldwide.
Station to station
Despite the growth, Jumbuck remains a family affair. HP's great-grandsons Callum and Jock have run the company as joint managing directors since 2009, and as Callum points out, his journey to the role followed a similar path to his forefathers. "I was studying commerce law at university when my family bought some stations up in the Kimberley," he says. "I thought the exporting beef to South-East Asia angle was compelling, so on completion of my degree I went to the Kimberley to start my apprenticeship."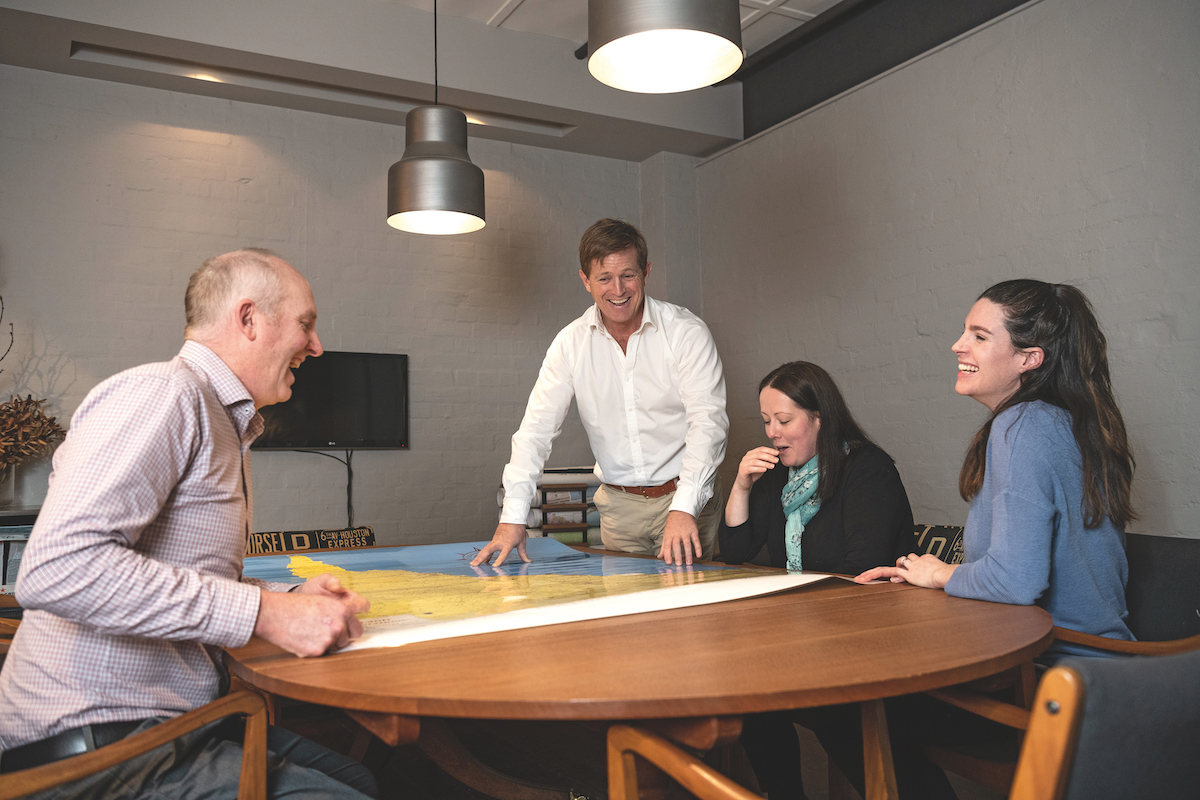 "Hard work and perseverance: that's jumbuck. And, in particular, perseverance has always been one of the pillars of the Maclachlan family. it's seen us through some pretty tough times."
Callum's posting turned into a six-year stint on the station – and was inspiration for a career change. "I managed the station for a few years," he says. "And as fascinating as the shop floor side of things was, what was equally important to me was the business side of it."
When Callum and Jock took charge of Jumbuck, that fascination with the business arm persisted. At the time, Jumbuck was the country's biggest wool grower. But where most would be satisfied with such an achievement, Callum saw room for growth. "I could see the opportunity to expand further into the beef sector, a direction on which I cut my teeth in the Kimberley," he says. "Being able to breed on a vast tract of land in northern Australia and then send those animals to Indonesia and Vietnam seemed like a natural fit."
To that end, Callum and Jock embarked on a journey of aggressive expansion. In 2014, after years of negotiation with its owners in the Netherlands, Jumbuck inked a deal to purchase Killarney Station in the Northern Territory.
Nearly twice the size of Adelaide, Killarney is home to 40,000-odd Brahman cattle and a colourful and turbulent history thanks to its most famous owner, the late Bill 'Cattle King' Tapp. All this made the deal something of a coup for Callum and the Jumbuck team. "It was a great buy and it certainly didn't fall off the shelf," he says. "The previous owners were Dutch shipping merchants who never really wanted to be cattle station owners and only ended up with one by circumstances."
Negotiations were conducted over an arduous eight months, and Callum says the hard yakka didn't end once the deal was done. "It needed a huge amount of capital to be put back into it to get both the herd and the infrastructure to the point of profitability and productivity," he says. "But now, it's turned the corner. It's a great business, and for us it's a single stand-out in terms of acquisition."
What made that process easier, according to Callum, were the qualities inherent to the MacLachlan family. "Hard work and perseverance: that's Jumbuck," he says. "And, in particular, perseverance has always been one of the pillars of the MacLachlan family. It's seen us through some pretty tough times, especially in the wool game."
"We take on honest and trustworthy people, and there's nothing we won't do to look after them. it might sound a bit corny, but it's true."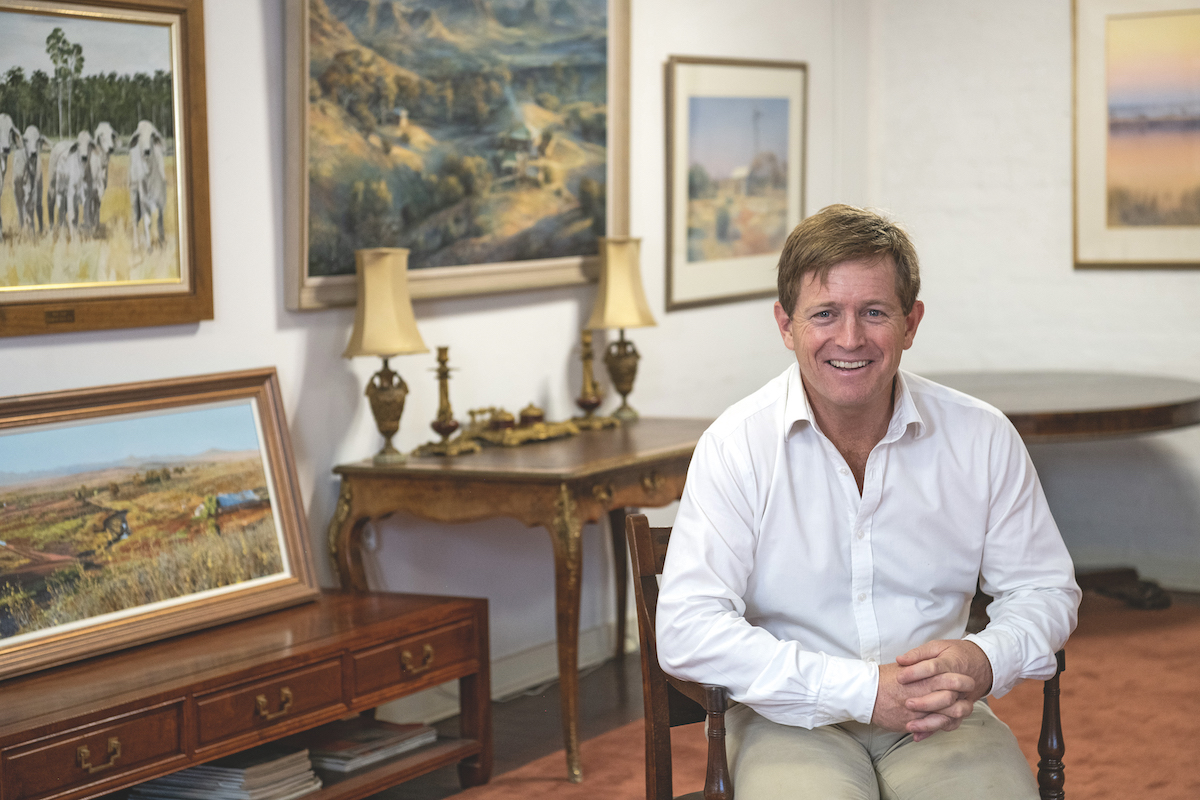 A sure thing in tough times
In a land of sustained drought and increasingly severe floods, the agricultural industry is plagued with uncertainty. Those who live and work within the sector need stability that often isn't possible, so operators such as Jumbuck do their best to take care of their own. In Jumbuck's case, that's a team of up to 200 staff, depending on the time of year, stretched across a very large area. It's a challenge, but Callum believes it's non-negotiable. "That's a big part of our culture here at Jumbuck, looking after our people," he says.
This includes the instigation of an enterprise bargaining agreement for all staff working in the north of the country – a common practice – but the Jumbuck way of going above and beyond broke new ground in this department. "Around 18 months ago, we instigated the first enterprise bargaining agreement for our industry in South Australia," Callum says. "It's been a wonderful thing for both our staff and the business to remunerate them much more fairly, and it gives us a bit more flexibility at the same time.
"We're running this business from an office in Adelaide, so we're very fortunate to have wonderful managers and staff across our stations. Productivity and safety are always front of mind, and we look after them as well as they look after us." Such care, Callum says, is the product of Jumbuck's inherent family values. "I don't think you find that in the corporate world," he says. "At Jumbuck, you're a name and not a number. We're proud of our people, they're who we are. Some of our staff have been with us for 20 or even 30 years. I think that's a testament that we must be doing something right."
Hand in glove
The one-for-all approach also extends to Jumbuck's key partners and clients, including Elders. "We've been there for Elders through all sorts because their service is the best," Callum says. "Likewise, the Elders' guys doing our livestock sales will often tell me how much they admire the professionalism of my staff. That means a lot to me, but it means a lot to our people on the ground too because that's what we're seeking to be."
Jumbuck's partnership with Elders has stood the test of time: "We've been doing business with Elders for at least 50 years," Callum says. "We stuck by them when it looked like they were going to sink about 10 years ago, but these relationships are a two-way street."
Although the beef industry, in particular, has been buoyant in recent years, Callum says such conditions don't last forever. "You'd be a fool to think so," he says. "It's all about the markets and the weather is very cyclical."
It's why diversification has been a boon for Jumbuck over the years. "We've built lasting relationships with vital suppliers like our shearing contractors and our livestock freight companies, and it's the same story there," Callum says. "We hope we look after them in the tough times because they've looked after us. Currently, the shearing industry hasn't been able to get staff due to COVID-19, but they've looked after us."
There's no doubt tough times lie ahead not only for Jumbuck, but for the entire industry. "That's agriculture," Callum says. "Tough times can always be around the corner, but long-lasting relationships count for a lot in this industry. Even though the people at the top of these companies change over time, the longevity of the relationship is what counts."
That's the same for Jumbuck's suppliers, although they are few due to the company's limited needs. "Besides fuel, freight and feeding our staff, there aren't many," Callum says.
It's Jumbuck's relationship with its banks, he says, that are critical. "Our family had never really taken on any debt," Callum says. That changed with the Killarney purchase. "We established a firm rapport with ANZ during that process, and they've been very supportive," he says. "I think that's going to be an important relationship going forward."
Taking the hill
The road ahead for Jumbuck Pastoral looks prosperous. In early 2021, the company purchased Wave Hill Station, 500 kilometres south of Katherine in the Northern Territory. The deal, which encapsulates 1.25 million hectares of land and around 40,000 head of cattle, was worth upwards of A$100 million. The station's healthy number of cattle puts Jumbuck in a strong position to satisfy high demand. "The purchase was beyond us as a business, so we took on some outside investors for the first time," Callum admits.
These investors reportedly included Jock and Callum's second cousin – and AFL CEO – Gillon McLachlan as well as the plumbing and bathroom retailer Reece Group.
Like Killarney, Wave Hill is closely linked to the history of the Australian livestock industry. It witnessed the Wave Hill walk-off in 1966, when around 200 Gurindji stockmen downed tools and walked off the station in protest over pay and working conditions.
With the deal done, Jumbuck is free to get back to what it does best: working the land. "Our focus for the next three to five years will be bedding down what was a very substantial purchase for us," Callum says.
All wool and a yard wide
To speak so openly about Jumbuck Pastoral's virtues isn't something that comes easy to the Joint Managing Director. Raised as he was in rural Australia, Callum has a humility and absence of arrogance that trickles down into Jumbuck's entire operation.
"We're certainly not the ones to take the limelight or blow our bag about how well we're doing," he says. "We just like to get on with the job and let the operations speak for themselves."
That work, along with the company's commitment to sustainable land-care management and livestock production, has made Jumbuck Pastoral as integral a part of rural Australia as its namesake. That's why the company is still infused with family values.
"We are a family business, and anyone we deal with knows that about us," Callum says. "We will always place a huge importance on that aspect of the business."
A career with Jumbuck is a tree change like no other; total immersion in the Australian outback the likes of which was once a rite of passage for youth such as HP MacLachlan. It's a place where challenge is a part of daily life and relationships are forged in the heat of those challenges. Those people that accept the challenge are the lifeblood of the business.
"That's the whole key to Jumbuck, the people," Callum says. "We take on honest and trustworthy people, and there's nothing we won't do to look after them. It might sound a bit corny, but it's true."
It may be a very different row to hoe than the commerce law path he started out on, but for Callum, the management of Jumbuck Pastoral isn't necessarily a harder one. "We provide a good product on time, and try to make it the best product we possibly can," he says. "There isn't a day that goes by that I don't enjoy going to work. I am passionate about it, and you need to be; otherwise, you want to be doing something else."
Proudly supported by: