Taking on the 'people's car' in Germany with a foreign Asian vehicle is a bit like telling the locals to push aside the Bratwurst and munch on a chipolata. Or telling the Italians that frozen pizza is best. While it may be a brave and bold move, it's a strategy Markus Schrick recognises as neither smart, nor practical.
However, the managing director of Hyundai Motor Deutschland can offer a sensible alternative to the country's beloved Volkswagen. In fact, Markus believes that over the next two years, his Hyundais will very much become an even more viable, and popular, option in the German market than it already is today. "We want to be a good alternative for German customers when they decide they are going to buy a new product," Markus says. "We want to be on the list of brands and cars the customers want to see and we are making great strides with that."
Hyundai has been in Germany for 25 years and its cars have earned their spot as the number one Asian brand in the country. In 2016, it had the biggest share in the private segment (among volume brands) and the main deciding factor for customers choosing a Hyundai is the design.
Markus Schrick understands what makes culture tick
For Markus, tapping into the imaginations of German motorists by introducing them to his cars through their national obsessions of football and motorsport has been a key strategy. He understands what makes a culture tick, whether it's his own, or another's.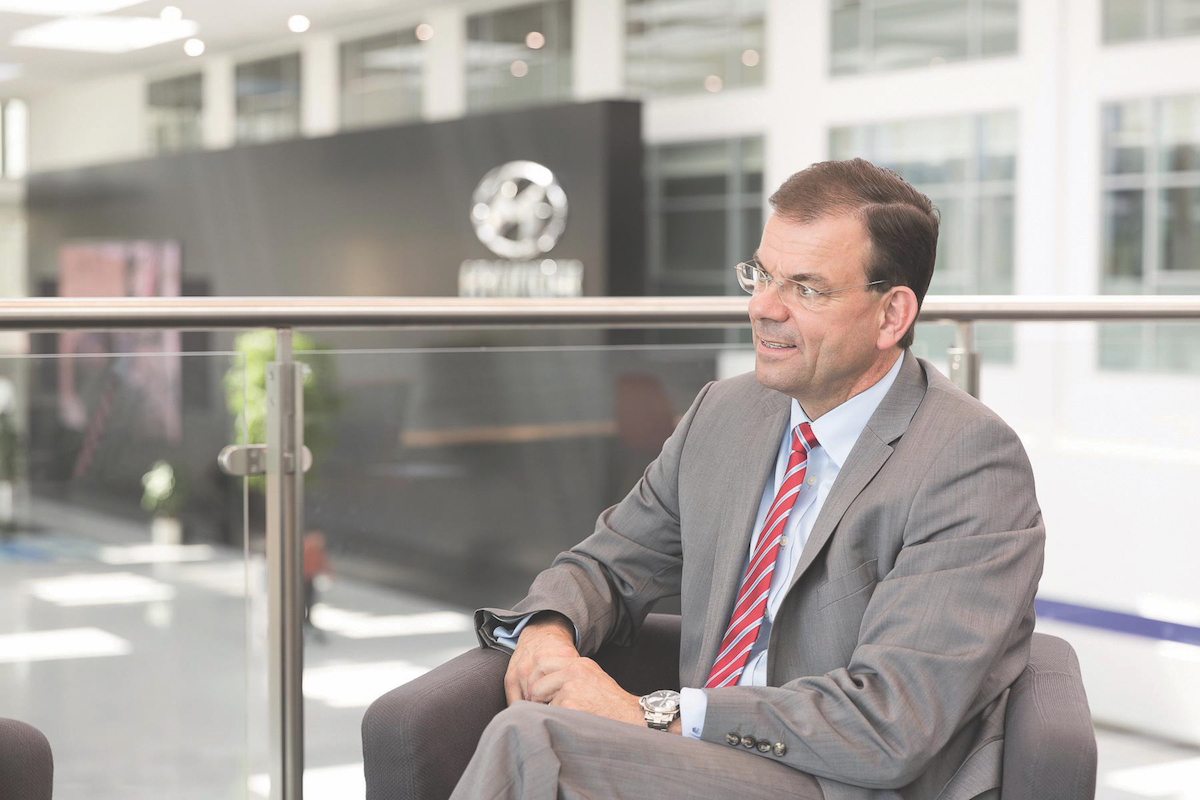 His childhood was a rather international affair growing up in Japan and Hong Kong, so it was only natural his career led him around the world, working across several continents and multiple countries for manufacturers including Audi, Ford and Toyota. He joined Hyundai in Germany in 2012, believing in the potential of the cars and the speed at which the brand was being developed worldwide.
The first priority was to grow the brand at a high level of quality, and grow it sustainably.
He says the cars and the brand were underestimated so it presented a great opportunity for him as a managing director. "The first priority was to grow the brand at a high level of quality, and grow it sustainably, obviously at a good level of profitability. We also had to inject some emotion into the brand because while it was very rational and practical, it lacked a little warmth. We wanted to reflect its style and ethos through various activities that would put it at the forefront of people's minds."
Hyundai Motor Deutschland proves itself on the track
Hyundai competes impressively in the gruelling Nürburgring 24-hour Endurance Race every year, with Markus himself sometimes behind the steering wheel. For him, having the chance to answer questions from fans directly about the car while in the driver's seat is an invaluable opportunity to generate emotion and enthusiasm firsthand.
Also, to prove the high level of quality and reliability of Hyundai vehicles on the race track is part of the strategy to convince potential customers about the brand. The company's continuing partnership with FIFA and the football world championships has also triggered a greater connection with the German people. Hyundai has committed to FIFA, to support and develop the sport around the world as a top-tier sponsor until 2022.
In 2014, as part of its official partnership with the FIFA World Cup, up to 500,000 football fans watched the German national team's matches live on the big screen at Berlin's Hyundai Fan Park every day, while hundreds of thousands of others watched their own teams in other Hyundai Fan Parks around the world.
Meanwhile, nearly a million fans worldwide went online to post texts, music, photos and videos through the Pin My Fan Park Program, and in host city Brazil, Hyundai cars were used to provide ground transport for FIFA officials, national teams, members of the organising committee, referees and media representatives. Hyundai buses, decorated with national team colours, flags and slogans were also used to transport the 32 national teams to and from stadiums.
A strong team effort
While uniting fans through sport was raising awareness for Hyundai around the world, closer to home Markus had his own team to bring together. The two different mindsets of Korea and Germany required fine-tuning and blending to build a powerful Hyundai Motor Deutschland team. "I needed to concentrate on the strengths of both cultures and bring them together," Markus remembers.
"I was prepared because I'd already worked with different manufacturers in different countries and continents, and understood the varying cultures and ways of doing business. That helped me incredibly when I joined the new Korean culture."
At the beginning of the year, Hyundai was ranked third for imported brands in Germany, but surpassed all other Asian vehicles taking out the top spot in that category. It is also leading the way in alternative powertrains with IONIQ (electric, hybrid, plug-in-hybrid) and fuel cell vehicles. "We're all very proud of this," Markus says.
We have very strong collaboration within our Hyundai Motor Deutschland team, with very little turnover.
"Thanks to a strong team effort, we've always met our targets since 2012. We have very strong collaboration within our Hyundai Motor Deutschland team, with very little turnover of staff. There is no elbowing, nor jealousy in this organisation. In fact, it's the contrary. If a colleague enjoys a big success, everybody else is happy for their team member and tries to achieve success as well. We also have a consistently strong relationship and cooperation with our dealer network, which is another significant reason for our success."
R&D is key
Despite the in-house harmony and the wonderful contribution football and motorsport have made to an increasing awareness of the Hyundai brand, Markus realises a lot rides on the customers and their personal recommendations. "That word-of-mouth from customers recommending the Hyundai brand to relatives, friends and colleagues directly needs to spread as quickly as possible," Markus says.
"We're working very hard on that. One of our strongest advantages, apart from a convincing design and good value for money vehicle, is that we have a very sustainable development of our brand. We are lucky our European research and development facility is just 20 kilometres down the road from us here
in Frankfurt. 95% of the vehicles Hyundai sells in Germany and Europe are designed and engineered here in Germany. Only 8% of the products we sell here are produced in Korea, the rest is all local here. I don't think many other companies have that advantage.
"So obviously for us the research and development department is key. We have a very frequent exchange with our colleagues in R&D and a very enthusiastic bunch of employees, and dealers follow what is being developed. When they talk to their friends and others about what is happening in Hyundai's R&D department and what Hyundai has achieved in the recent past, their conversations end with a 'Wow, I didn't know that about Hyundai'. That makes us happy."
---
Five stars
The Hyundai i30 has been awarded the maximum five stars by the independent Euro NCAP, recognising it as one of the safest cars in its compact class and the best value car for adult, child and pedestrian protection and safety systems.
Hyundai SmartSense – the active safety and ride assist technologies – offers advanced safety systems including: active lane change assist; front collision warning; blind spot detection; and smart cruise control.
The Euro NCAP test detects an imminent collision between 8 km/h and 64 km/h and a possible collision between 8 km/h and 180 km/h. If the driver doesn't respond to an appropriate visual and acoustic warning, the i30 automatically initiates emergency braking. The car's active tracking support was also given top marks when monitored at speeds between 60 km/h and 200 km/h. If the vehicle accidentally crosses the road markings, the multi-stage system warns the driver first, before actively performing a steering correction.
The new Hyundai i30 comes with an attention assist system as standard. This driver-protection function analyses vehicle signals such as steering angle, steering torque, position in the lane and travel time. As a result, the system detects imminent driver fatigue and indicates visually and acoustically that it's time to take a break. The driver can adjust the sensitivity of the system to their needs.
---