When the first car – a Santro – rolled off the production line at Hyundai Motors India Limited's (HMIL) Chennai plant in 1998, it marked the start of a love affair between the leading South Korean car manufacturer and India, and it's showing no sign of fading.
The company's first plant outside of South Korea saw an incredible demand for the tallboy design, partly in thanks also to its multi–port fuel injection (MPFI) engine, unique in a market that was flooded with carburettor equivalents.
Even when the model was discontinued towards the end of 2014, it was still selling at around 2,400 units a month, although motorist tastes were transitioning towards the sleeker curves of the Xcent and Santa Fe.
Young Kee Koo has reason to celebrate
Today, HMIL is India's second largest car manufacturer, with 10 models on the market: Eon, Grand i10, Elite i20, Active i20, Xcent, Verna, Creta, Elantra, Tucson, and Santa Fe. The CEO Magazine is meeting with an enthusiastic Young Kee (YK) Koo, HMIL's Managing Director and CEO – and he has much reason to be.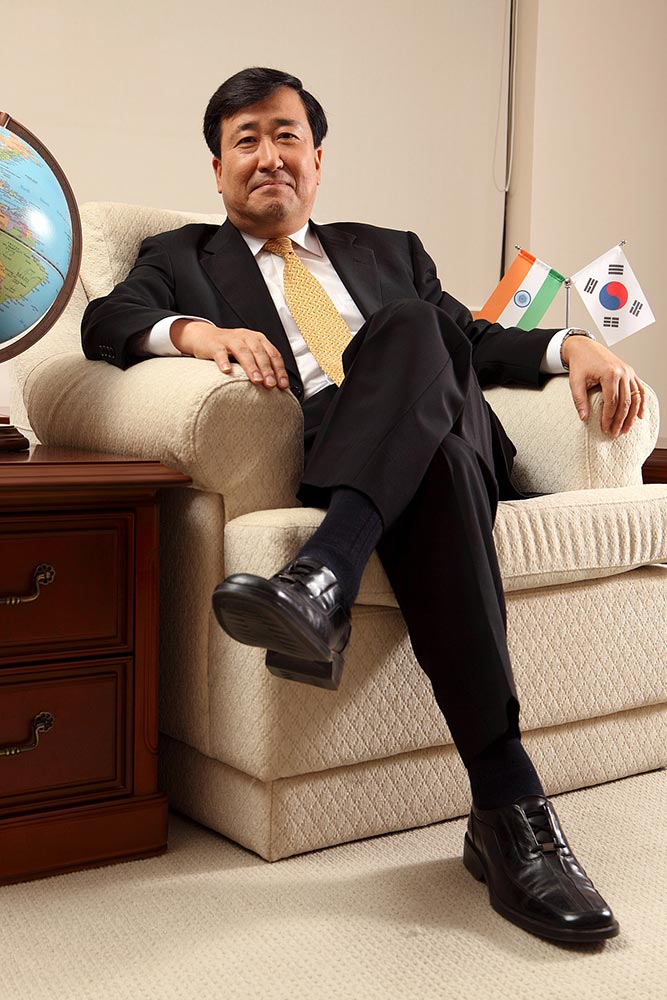 After HMIL's twentieth anniversary celebrations last year, the brand is flourishing with YK Koo at the steering wheel. "In the last financial year, we sold 509,705 units, capturing close to a 17% share of the Indian market," he beams, animatedly.
Also no stranger to India, his recent appointment marks the third time the industry veteran has called the country home, in a career with Hyundai that spans four decades.
He first came to the subcontinent in 1997 as one of the founders of HMIL, staying for almost 5 years, returning to India again in 2008 as head of the sales and marketing operation.
In 2012, the call of Russia lured him away, and he remained as general director and CEO of Hyundai Motors (CIS and Russia) until the opportunity to return to India presented itself in November 2015.
Hyundai Motors India Limited drives success with innovation
Innovation has been a key driver of the enormous success that the brand has achieved in India, he believes. "Whenever we launch a new product, it really is a game changer," he says. A more recent example than the iconic Santro of the 90s is the Creta, launched in 2016. "It's a small SUV, which is a category that the Indian market really wasn't aware of previously," he continues.
Whenever we launch a new product, it really is a game changer.
The model has won a slew of fans and awards, including the coveted top prize at the 2016 Indian Car of the Year Awards. HMIL's R&D facility in Hyderabad, Hyundai Motor India Engineering (HMIE), which was opened in 2006, supports the development of new models such as the EON and Creta. "Our strength is our ability to introduce to Indian customers new products with high-end features and innovative technologies," he says.
Strengthening HMIL's dealer network
But he admits that all that has been achieved would not have been possible without HMIL's network of dealers – a figure the company currently puts at 475, and growing. "These dealers are our biggest partners and our family members," he says, "and they are at the front line of the company. When a customer comes to test-drive or service a car, it is the dealer that represents HMIL."
YK Koo explains that one of his primary objectives this year is to introduce what's called a 'Power Dealer Programme' to strengthen its existing network. One important step in this was the HMIL National Dealer's Conference held in Seoul, the home of Hyundai, in January this year. 
As YK Koo looks ahead, he reveals that the target is to introduce eight new models – of which three will be new segment products and five will be full model change products – between 2017 and 2020. With a "commitment to providing customers with cutting-edge global technology", as he says, it's a destination HMIL looks set to reach.  
On top of the world
At more than 3,400 metres above sea level, the Hyundai dealership in the northern Indian desert city of Leh is the company's highest showroom in Asia, if not the world.