Danny Pavicic is a business leader and entrepreneur who is, above all else, resoundingly humble. Despite forging his own path against the odds, and growing his business to become the chosen corporate fit-out contractor for big names like Facebook, realestate.com and Westpac, the first thing Danny mentions is his mistakes. Arriving for our interview soaking wet on a stormy morning, a little rain is clearly not a big deal for Danny; he doesn't sweat the small stuff.
A busy day ahead, the Managing Director of Intact Projects has already gone for an early morning swim and had a breakfast meeting with clients before venturing to the other side of Sydney for our interview.
"I just thought I'd go for a second swim," he jokes, pointing to the downpour outside. Over the next 30 minutes and a couple of flat whites, Danny details how he first came to found his own business in the construction and refurbishment sector despite some resistance on the home front. Unlike many in the industry, Danny didn't come from a builder's background, and was the first of his family to branch into the sector. "I am definitely a lone wolf in that respect. I've done everything my parents told me not to do. That has been great though, because I've been able to do everything that they didn't," says Danny.
"We've always had the attitude that we can do it better, and seeing both clients and Intact staff promoted over the years is evidence that our values of Trust, Credibility, Transparency, Quality and Delivery are uncompromising assets."
"I had no guiding hand from anyone in my family or friendship circle, so when I say we've done things the hard or wrong way, it's because I started it all very young, without any experience in business or the industry, no contacts at all. We have just learned from our mistakes and our failures." 
With an Australian business climate in need of more entrepreneurship, and policymakers shining a bigger light on the need to value failure as a key path to success and innovation, Danny's honesty is refreshing and encouraging. "It's been our mistakes that have shaped who we are. But as we went on, we made fewer mistakes, we recovered from them faster, and are always getting better."
It was shortly after completing his apprenticeship that Danny first started his own business, and through evolution ended up with business partners Nick Staniscia and Tony Desnica in construction and fit-outs. Thus Intact Projects was born. "That was 16 years ago, and it's been an ongoing learning battle ever since," he says. The biggest milestone for Danny was also his greatest learning curve. 
"A few years ago, I finally came to the realisation that there is a difference between being a part of the business and operating the business. I had to get better at marketing," he says. "That flowed on to better understanding our clients on a deeper level. In assessing our clients' needs and objectives, we could better understand who we needed to be in the marketplace, what we bring to the table, and leverage that to win new clients."
With the unity and support of company directors Nick and Tony, Intact Projects has consistently grown upon its strong foundation — the eagerness to improve. 
"We've always had the attitude that we can do it better, and seeing both clients and Intact staff promoted over the years is evidence that our values of Trust, Credibility, Quality, Delivery and Transparency are uncompromising assets," Danny explains. "That attitude and desire to succeed and continuously improve is embedded and is a fundamental DNA shared by our entire team that has always been there." Over the years, Danny has witnessed this foundation sprout a growing list of clients, a loyal team that has almost tripled in numbers, a second location opening in Melbourne, and the implementation of a fully customised software that has seen operational efficiencies improve across the board. 
"Most of the systems and procedures we've got have been developed in-house, and we now have a fully hybrid cloud base that allows us to work on anything, from anywhere. It provides a more seamless working environment. "Technology has only ever been a means for Intact Projects to hone its very 'human' approach to doing business, however, with Danny striving for a client-centric, collaborative and empathic working style.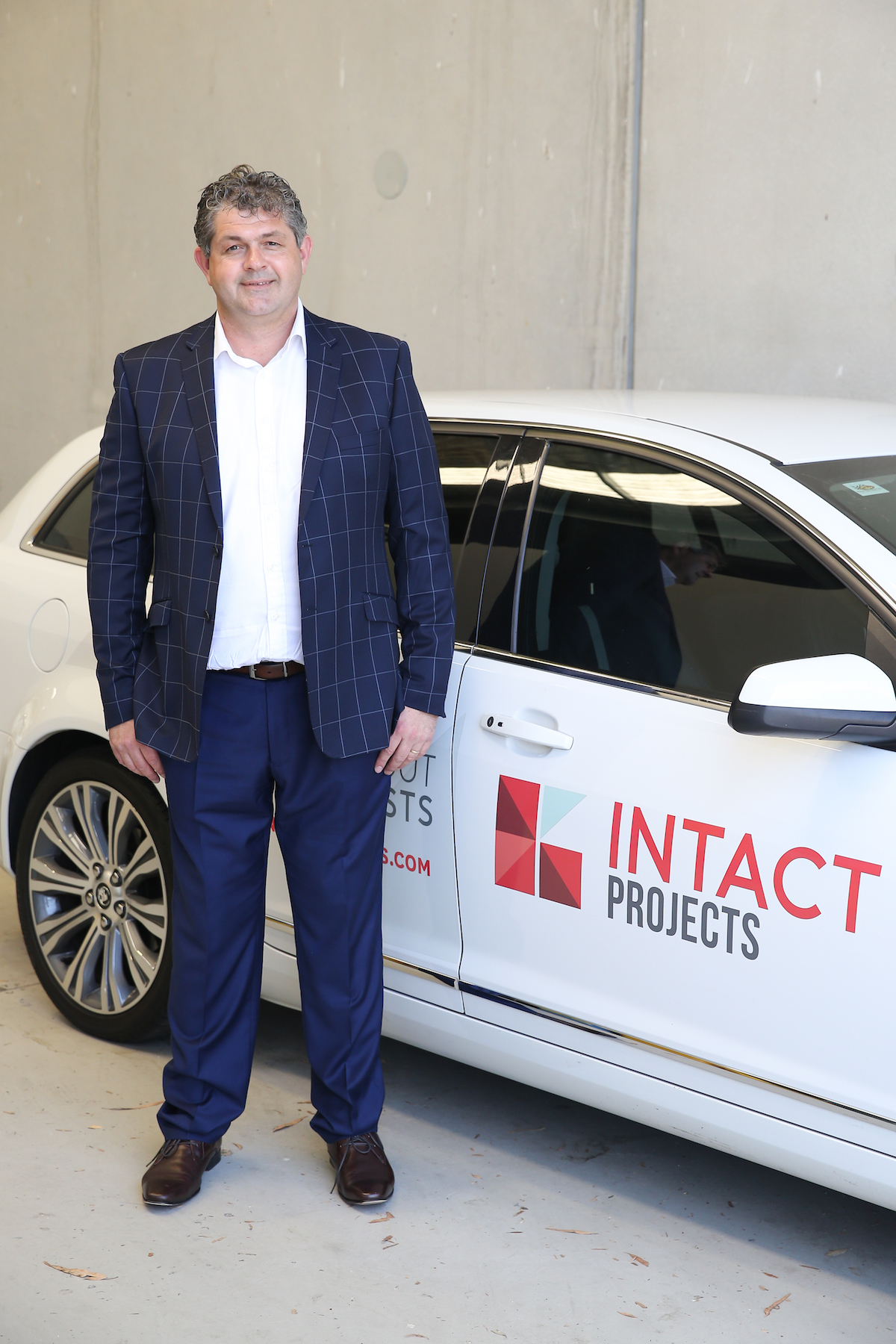 "There's been a huge shift in terms of understanding that, while we're the builders and we need to deliver a high-quality project, we are a people business. It's not just delivering a successful project; it's in the way that you deliver it. There's a huge focus on understanding the clients as people — people have different feelings and attitudes, as well as good, bad and ugly days — and it's about learning how to manage people."
For the time being, these lessons will be applied to Intact Projects' 2 locations in Sydney and Melbourne, with no plans for expansion into new markets and states just yet; however, Danny says there is certainly potential for this in the future. "There is a natural progression that should occur," he says. "That's probably 5 or 6 years away though." 
Danny describes the company's growth as a slow walk, but from an outsider's perspective, it would seem Intact Projects is at least bordering on a brisk jog, with not only social media behemoths on its client list.
Intact is also delivering on key projects for property sector leaders like Investa Property Group, ISPT, CBRE, Knight Frank, JLL and Montlaur, whose business is to know about what makes a good building or space. 
There are also whispers in the Intact office about expanding from corporate and public works into the hospitality or medical sectors. 
"That could happen but, again, we're not yet actively pursuing it. I'm a firm believer in evolution taking care of itself; if we keep doing the right things across the board, our reputation will remain intact (much like our company name) and it will also stem natural growth, which is slow and steady," Danny says.