Luigi Bautista knows every last detail of each project under his supervision like the back of his hand. The President and CEO of Metro Pacific Tollways South can recall with pinpoint accuracy the distance of certain segments of toll roads.
Take, for example, the Manila–Cavite Expressway (CAVITEx for short), a 14-kilometre toll road that connects the City of Manila to Parañaque in southern Metro Manila and extends further south to the Cavite province. Luigi had already spent 18 years working on projects in the North Luzon Expressway (NLEx) before being assigned to oversee CAVITEx after the company took control of the toll road in 2013. "With NLEx being very successful, Metro Pacific Tollways believed that the best practices and success in the north can be harnessed and replicated as well," he says.
CAVITEx became the entry point for the presence of Metro Pacific Tollways south of Manila. "We are working on projects that have been shelved or projects that have been impacted before we came in," Luigi explains.
He first names the project on Segments 2 and 3 of CAVITEx – the C5 South Link Project. Then he mentions the Segment 4 extension. "It is a very short road. It's a 1.2-kilometre road that will seamlessly link the Cavite Expressway and the Cavite–Laguna Expressway," he says.
Lastly, Luigi talks about the CAVITEx project situated on Segment 5. "It is a 9.6-kilometre road that starts from Kawit, a town in Cavite, all the way to another town, Noveleta, and ending in yet another town called Rosario."
Luigi Bautista's guiding principles
As a stark contrast to his scarily detailed knowledge of all of Luzon's major toll roads, Luigi's three guiding principles to work and life provide a simple approach to untangling the chaos. "Number one would be to make a mark and contribution wherever you are placed. Number two, never give up on what you believe in. And number three, pray. Pray that God will bless your work," he says.
"When the company or your co-workers or employees consistently see these principles in play, they will appreciate, and will thus participate in, your plans and programs. For me, it's as straightforward as that."
Guided by simplicity to deal with the complex, Luigi very much sounds like a man with more than 37 years' experience in civil engineering. He spent the first 15 of those years in civil work construction, both horizontal (roads and bridges) and vertical (buildings).
As for the other 22, Luigi has devoted himself to developing, financing, constructing, operating and managing toll roads and other related infrastructure projects. This immense wealth of experience has allowed Luigi to hone and finesse what are undoubtedly his areas of expertise: construction project management, contract negotiation, claims management, and project development – specifically, toll road infrastructure projects.
The NLEx project
A formative project for Luigi came in 1995, when he was a member of the original team that developed and modernised the NLEx. At the time, it was one of the first public–private partnership projects in the Philippines. "It was also the time when the financial crisis in Asia was being felt. There were no banks that were willing to touch any infrastructure project, let alone a toll road. It was like a roller-coaster ride," he recalls.
Ten years later, Metro Pacific Tollways opened the NLEx to motorists. Current tolls for using NLEx can vary depending on how much of the expressway is used, ranging from as low as 45 pesos to as high as 408 pesos. While that may sound reasonable to most, in a country where GDP per capita is approximately 22% of the world average, it is still plenty of money to the average Filipino.
"When it was a toll road that was being operated by the government, it was under the Philippine National Construction Corporation, which is a government-owned-and-controlled corporation. I think at that time, the tolls were very low, maybe a few pesos. When we opened the road in 2005, the tolls the motorists had to pay increased by about 400%."
However, in a city like Manila, notorious for traffic congestion, a drive down a toll road can result in significantly less travel time than it would have taken otherwise. "If you use NLEx, you can now reach Baguio from Manila in about half the time – three and a half hours, these days – compared with about six or seven hours 10 years ago," he says.
In that case, the benefit well and truly outweighs the cost. That considered, Luigi believes it is imperative the benefits of toll roads continue being communicated to motorists. "We have to let them know that when they use toll roads, it will provide travel convenience as well as a smooth and safe journey, so it can become more widely accepted."
Metro Pacific Tollways Corporation
Metro Pacific Tollways South is just one division of Metro Pacific Tollways Corporation, which is one of many subsidiaries of Metro Pacific Investments. It has two concessions under its supervision – CAVITEx and the recently acquired Cavite–Laguna Expressway. Then there is Metro Pacific Tollways North, which takes care of the two concessions in Northern Luzon – NLEx and the Subic–Clark–Tarlac Expressway (SCTEx).
Metro Pacific Tollways also has a presence in Cebu. In March 2017, it started the selection of the design-and-build contractor for the Cebu–Cordova Link Expressway (CCLEX), an 8.5 kilometre bridge linking the island of Mactan, where Cordova is located, with Cebu City.
Lastly, there is Metro Pacific Tollways Asia, taking care of business interests in toll roads in both Vietnam, Thailand and Indonesia. "While it's not a majority stake, we have good business coming along in those countries," remarks Luigi. "We're also looking into Malaysia."
As might be expected, building tollways in one of the more heavily populated islands in the world, Luigi faces major hurdles when it comes to acquiring the land needed to build the roads.
"The population is already dense, meaning you have to acquire land from private owners. As a private corporation, you cannot do that. It's really the government which does that, so the responsibility for acquiring the right of way rests with the government," he says.
The responsibility for acquiring the right of way rests with the government. It's a very long and tedious process.
"It's a very long and tedious process. Constructing the road itself is comparatively easy because you normally get to procure very dependable contractors. It's really the acquisition of right of way that is one of the major challenges."
Navigating the government's tender process
Thankfully for Luigi, the government's tender process has improved over the years. There are two methods of getting approval for a project. The first is a straightforward bidding process, where interested stakeholders bid for the rights for a project that is already approved by the Department of Public Works and Highways. The other method is where a stakeholder conducts its own feasibility study before submitting an unsolicited proposal to the Philippine Government.
Once the proposal is put up for scrutiny and meets certain criteria, the stakeholder then receives approval to undertake the project. Regardless of which route Metro Pacific Tollways South chooses, according to Luigi, it is no longer a guessing game around what the government will do. "The rules are pretty much laid out, and if you are a meaningful proponent [!for!] you will be able to participate freely and hopefully get the project, if you do your homework," he says.
Across Southern Luzon, Metro Pacific Tollways South continues working on projects previously shelved and left undeveloped by previous owners and turning them into viable projects. It has begun construction on the C5 South Link and is constructing a flyover that will cross the South Luzon Expressway.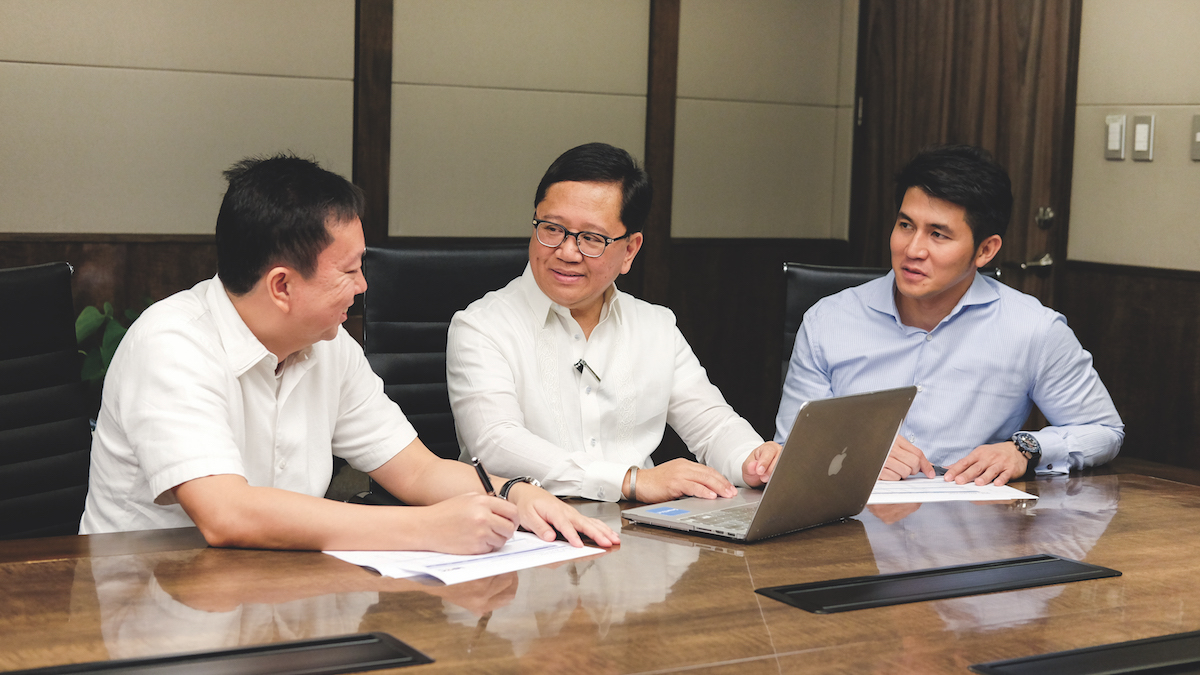 One project proposal is to provide faster journeys to Tagaytay, a Southern Luzon holiday town that is very popular with Filipinos.
In addition, the Toll Regulatory Board recently approved the company's proposed extension of Segment 4 of CAVITEx. "Construction will start in conjunction with construction of the Cavite–Laguna Expressway because it is the link between Cavite and Kawit," says Luigi.
Establishing a footprint in Southern Luzon
With so many projects in the pipeline, Metro Pacific Tollways South is well on its way to establishing its footprint in Southern Luzon. By 2020, it hopes to have them all complete: the CAVITEx C5 South Link, the Segment 4 Extension, and the Cavite–Laguna Expressway (CALAX).
"As far as I'm concerned, my mandate from Metro Pacific Investments Chairman MVP Manny V Pangilinan and Metro Pacific Tollways Corporation CEO Rod Franco is to grow the toll road business in the south. Hence, if it works for me to look at abandoned roads and see whether we can turn them into real projects, and if it's viable, then we do it. If not, we will have to look for other projects to develop," says Luigi.
One such recent project proposal aims to provide faster journeys to Tagaytay, a holiday town in Southern Luzon very popular among Filipinos. Last July, Metro Pacific Tollways South submitted another proposal to build a 46-kilometre road, to be called the Cavite–Tagaytay–Batangas Expressway, with an estimated cost of around 22.5 billion pesos.
"In the past couple of years, we've noticed that travel time to Tagaytay has increased from one hour to about two and a half hours, especially on weekends. If you're coming down by around lunchtime, it can take around three to three and a half hours, so I thought, 'Surely there must be a better way,' " Luigi says.
"The proposal is currently being studied by the Department of Public Works and Highways, and what we wanted to do there, if we get approval, is to build it in conjunction with construction of the Cavite–Laguna Expressway. That way, we can create a major thoroughfare that can bring people to Tagaytay in a very short time."
Ever since joining the NLEx project nearly two decades ago, Luigi has considered it a privilege to be a part of an enterprise to provide Filipinos with a fast and safe travel experience and some order in the chaos of Luzon roads.
"To be given another opportunity to build more legacy projects like NLEx, that for me is a privilege and a blessing," Luigi concludes. "After these projects are built and used, I will feel proud that I have been able to contribute something useful for the country."