Yokogawa Australasia Managing Director Russell Palmer is a journeyman. Not only has he travelled through more places than the average adventurer; he's expertly piloting the engineering giant through the often-complex waters of an industry dense with complexity, both in the office and on the job site. To understand Russell's business mandate, one must first explore his intrepid journey to the Yokogawa managing director's chair.
Russel Palmer: "Fundamentally, I'm a backpacker."
A traveller at heart, Russell spent his early career working with a blend of cultures that he says was instrumental in shaping his current managerial style. "Fundamentally, I'm a backpacker," Russell says. "I was fortunate enough to receive an engineering scholarship from the US multinational conglomerate Emerson Electric, which allowed me to gain valuable experience while undertaking my degree in the UK, after which they basically gave me the choice of where I wanted to work."
"So, on the back of that I came to Australia for a year, then transferred to Hong Kong, and later returned to Europe. As you can see, at the time I saw work as an opportunity to travel. From Europe, I went to China, before travelling cross-country by train to Mongolia and then into Siberia, before catching the Trans-Siberian Railway back to London. I eventually made my way back to Australia, caught a small plane from Darwin to Timor, and boated all the way through Indonesia and South East Asia before ending up in Hong Kong."
It was this experience early in his career that Russell attributes to his current take on business. "Those big trips form part of your personality," he comments. "It improves your confidence, makes you more independent, and helps you to appreciate the little things. Now that I've ended up in Sydney, every time I drive over the Sydney Harbour Bridge I think, 'Wow.' It forces you to think, 'How did I get here?'"
Yokogawa: an Australian-Japanese fusion
Russell was forced to call on every ounce of his international experience when he made the transition to Yokogawa. With values still firmly rooted in Japanese culture, Yokogawa is not interested in short-term gratification. "There's a real Australian–Japanese fusion in the company, and not in the Masterchef way," Russell laughs.
"I believe we have the benefit of a unique blend of Australian innovation and the long-view business practices the Japanese are so well known for. This is born out of the fact that we're isolated in Australia and New Zealand. And while we're proudly Australian and don't have any local Japanese management, we seek to exemplify the Japanese philosophies that emphasise and support long-term strategies. Rather than taking the tack of some other publicly listed companies that might only be interested in seeing a quarterly return, we're looking 5 years down the track."
"That's why we invest in and support universities. We're not going to get a return on that investment today or tomorrow, but it assists in building the Yokogawa brand in the minds of students. If they remember we provided for them in some way while they were studying, maybe they'll remember us when they come to be in positions of influence."
Co-innovating tomorrow
There is a catchcry in Japanese business that rings true in Yokogawa's approach: co-innovating tomorrow. It lends itself to the long-term investment philosophy that is at the core of his business principles and drives its entrepreneurial spirit. While other industry heavyweights are overt in their market presence, Russell says, Yokogawa has more of an omnipresent existence. "We make stuff happen but no-one ever really hears of us," he notes.
"No-one really knows what we do, but there are glimpses of  Yokogawa everywhere. Think of it like this: When people visit us from interstate or overseas and they come to our Sydney office, when they land at Sydney Airport, their plane will be refuelled from a facility using our systems. When they get in a taxi and drive to our office, the vehicle is more than likely running on fuel from refineries and terminals at Sydney's Kurnell or Clyde facilities which operate on Yokogawa systems. When they arrive at our office, the lights will be on. That energy is sourced from power stations around New South Wales that use Yokogawa."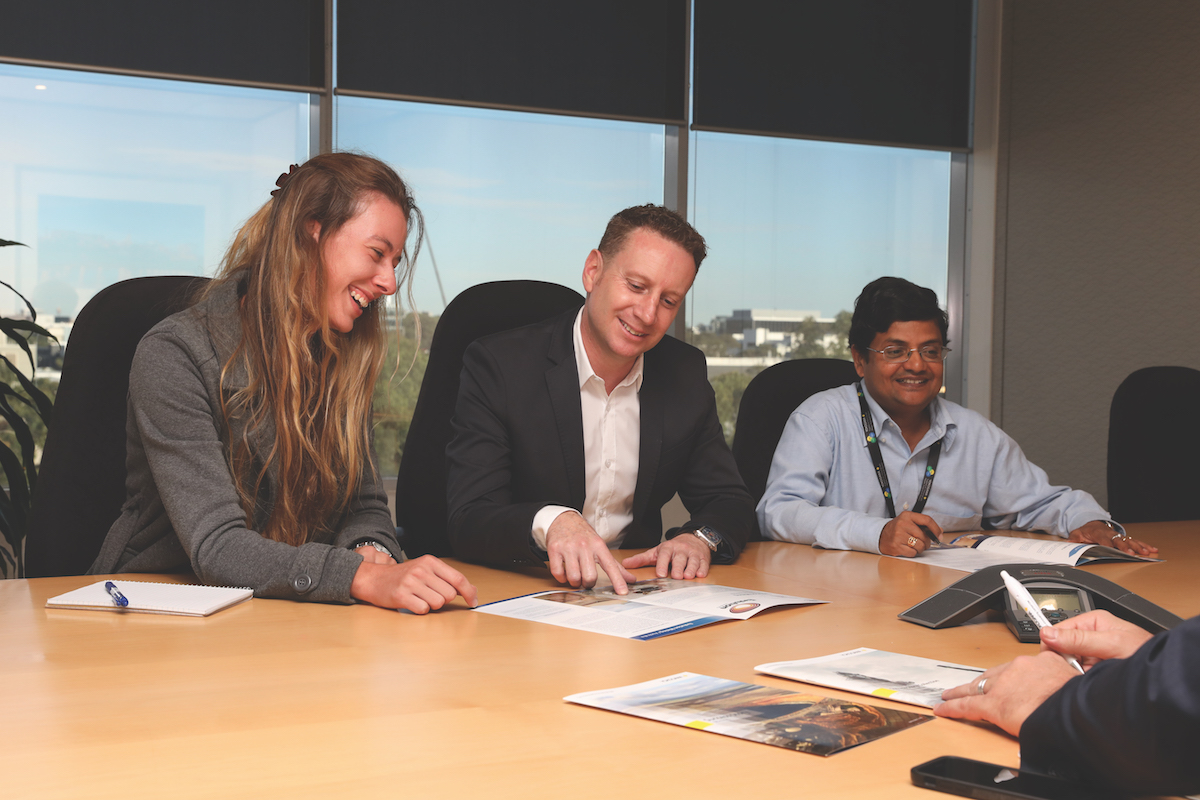 "There are a lot of processes that people don't realise are controlled on systems from us, which include mission-critical applications like power, water, natural gas and underground roadways. More recently, we're proud of the fact that we've been supporting emerging renewable energy projects and Australia's LNG boom, where we've been involved in the region's largest resources projects on the east and west coasts and the Northern Territory."
Sustainability, diversity & gender equality
It's the community's heavy reliance on Yokogawa's infrastructure prowess that's seen it evolve. In the past 5 years, it's witnessed a shift: there's a solid mandate for sustainability, diversity and gender equality. The need to expand the company's paradigm has forced Russell to ask himself some soul-searching questions.
"Things like, 'How can we increase our involvement under these subheadings? What would that cultural change look like at our organisation?' These are all questions that are not easily implemented; they're quite difficult to execute properly," he explains, adding that it's been a combination of diversity programs and long-term strategies that has worked to set Yokogawa apart.
"Last year we celebrated the promotion of our first female to the executive board of Yokogawa Australia and New Zealand. I believe this was a firm example for other women looking for leadership roles within the automation and engineering industry," Russell says. "We are hoping, given the plans we have already put in place, to be the employer that people who want a culturally rich, and gender-diverse workplace turn to."
Like the diverse workplace Russell fosters, he himself has undergone a far-from-stereotypical personal development journey. Not only does he have an MBA from Macquarie University in Sydney, but he's also a course graduate from the National Institute of Dramatic Art [!nida!] – a combination that many executives may look at as strange, but for Russell there were parallels to be drawn between his management role and physical and verbal expression.
When you stop learning, you start going backwards.
"Living in Sydney provided me with a unique opportunity to attend a world leader in performance education – NIDA. I'm far from a thespian, but I did recognise a need to be an effective communicator and presenter. I think receiving critical feedback is very important. When you stop learning, you start going backwards."
A culture of thinking outside the box
Russell's personal need for progression is fuelling a company culture of thinking outside the box. "People join Yokogawa because it's not only a challenging place to work, but it's also interesting. We have great managers and opportunities," he says.
Russell is using this out-of-the-box approach to attract a notoriously difficult demographic to Yokogawa – the millennial generation, a group who are often given a bad rap. However, the managing director thinks that with the right communication strategies, potential employees who are still at university could provide Yokogawa with a viable and successful way forward.
That's why Yokogawa, through Russell, has invested heavily in tertiary education, providing equipment and academic staff who have spent time in the field to a smattering of higher-learning facilities. The strategy ties in with its long-view approach, but Russell thinks the relationship is more intimate than just an investment for the future.
"It's a mutually beneficial thing. We're using a lot of university programs now, particularly ones that relate to cultural diversity. In return, we provide actual equipment for them to use. This gives students the opportunity to learn on machines as opposed to just text books." Russell is changing the game with his long-term strategies that encompass the best of Eastern and Western business philosophies. He's taking Yokogawa out of the shadows and into the light, meeting the demanding market head-on.