Her time at Christie's auction house notwithstanding, it was more Aino Grapin's personal rather than her business pursuits that led her to the top job at design and architecture practice Winch Design. "It was never really the plan, I must admit, to manage a company like Winch Design. But it is actually consistent with my passion for creativity and beautiful things in general: fine art, music, and design," she says. "To me, architects, yacht designers and interior designers are artists. They create beautiful works of art. That's the common thread throughout my journey."
Winch Design provides turnkey design services for the top end of town – from the exterior to the linen on private jets, superyachts and the most extraordinary private and commercial real estate. For example, in 2009 the architecture team received a game-changing commission from an existing yacht client to design the exterior and interior of an immense 7,000-square-metre private château in Eastern Europe.
Whether on land, in the air, or on the water, there are synergies within the business, with architects and designers working across the different studios. "We strive to achieve balance between our three studios because it's a great strength," says Aino. "It's great not to be reliant on one industry or one area, and our size across three studios means we can take on very large-scale projects. Our employees also enjoy being able to move from one studio to another and learn from other practices. It keeps us at the forefront in each discipline."
Winch Design creates bespoke luxury
In fact, it was the work Winch Design was known for in yachting that led to its first job in aviation: the interior fit-out of a BJ-II for Multiflight. Being able to bring the same refined quality and attention to detail that it did to yacht interiors set a new benchmark for the industry and soon led to more contracts for the business.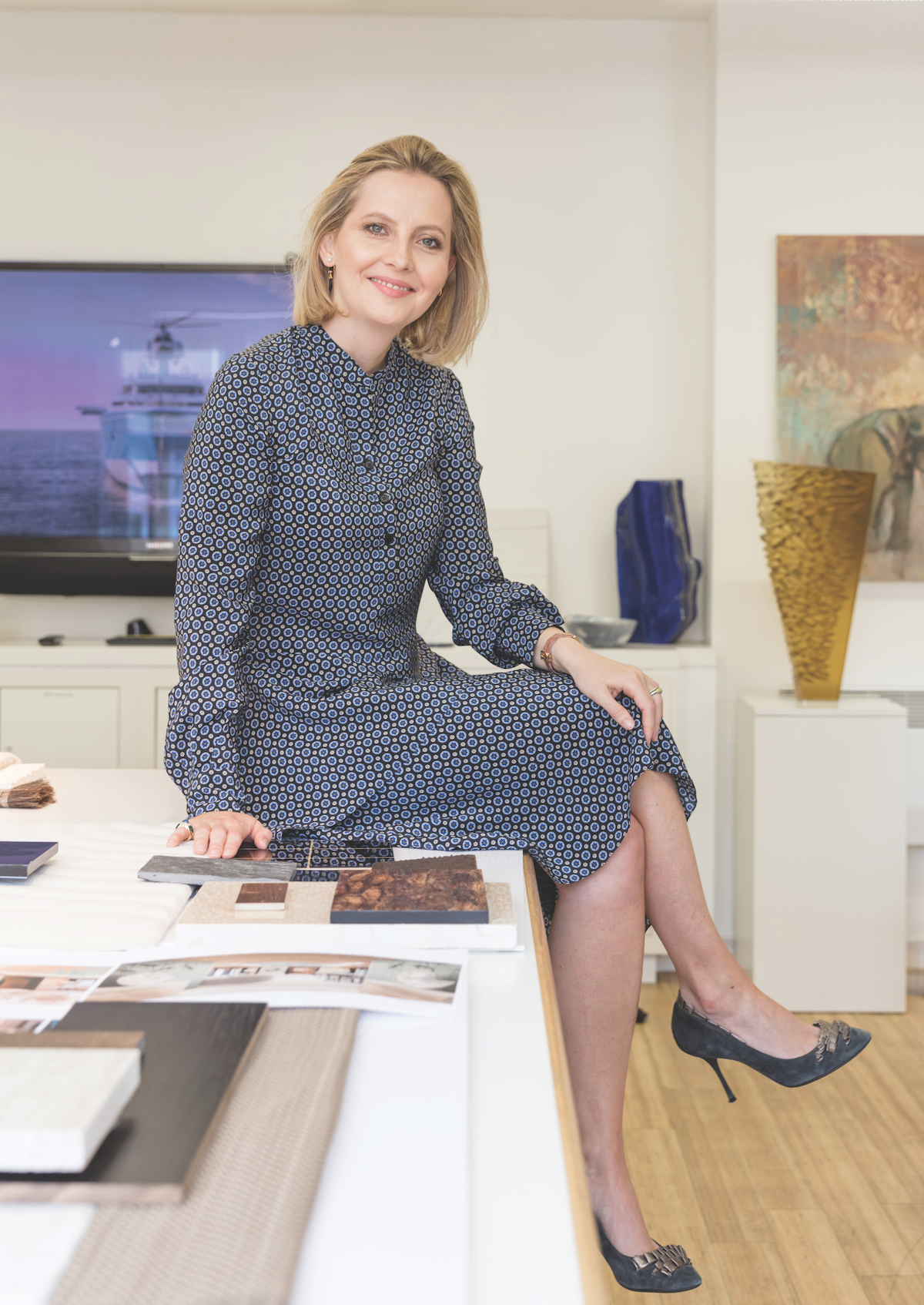 "I think that is the ultimate luxury these days: to express one's individuality.
Design is what it is known for, but it is the quality of the finished product rather than a particular 'look' that has the clients flocking to Winch Design. As Aino points out, it is a major differentiator for the company.
"One of the key differences is that we don't do cookie-cutter design. Certain designers have a very defined look and taste, so the clients who hire them will expect that from them. We, on the other hand, are like bespoke tailors of Savile Row. All of our creations are unique and bespoke to our clients' own dreams, and I think that is the ultimate luxury these days: to express one's individuality and not have the same as anyone else." 
All three studios are thriving. The Yachts Team has delivered four yachts already in the past 12 months, including Dilbar, the largest volume yacht in the world. The Aviation Team has recently completed a stunning VIP BBJ, and is working on the first-ever private Dreamliner, as well as refitting several mid-sized aircraft, while the Architecture Team is working on a spectacular contemporary property in Cape Town, a hotel in the Seychelles, and a private island.
Aino Grapin brings 'fresh eyes' to the firm
So what's next? After coming into the business as a pair of fresh eyes, Aino has developed a five-year plan with her senior management team to help grow Winch Design and strengthen its position in the market. She credits her 'fresh eyes' as being extremely helpful, with her lack of design practice experience a huge help rather than a hindrance.
"It's true that when you're new to an industry – in this case, it's actually three industries because it's architecture, aviation and yachts – you have the disadvantage of having this really steep learning curve. 
"However, you also have the huge advantage of not taking anything as a given, and being able to question things that have been the same way for some time," she says. "I think I ask more innocent questions about why things are the way they are, and push things gently."
One aspect that Aino has outlined as key for development in her plan is technology and innovation. She wants to make sure that the company is always at the forefront of the latest developments in design. "That's certainly something that I feel very strongly about, having previously come from a technology company. Our clients expect that as well."
Value for money for the best possible quality
Another expectation is value. Sure, Winch Design's clients are incredibly wealthy, but they're also businesspeople, so costs are a consideration. "They want to make sure that, while these are very large budgets generally, they have value for money for the best possible quality. One way in which we do this is we have a dedicated team for the procurement of supplies; these are all of the items that go into a project."
"We have a very rigorous tender process where we negotiate with our suppliers to make sure we get value for money for our clients, and stay within or under budget. It's not all about the creativity; the success of a project is also about delivering value in procurement."
Furthermore, it's about the little extra touches. "Another way in which we go above and beyond is that it's not just about the bones of the project," Aino explains. "It's very much a turnkey approach, down to the finest details like putting pictures of their children in the photo frames, or decorating the Christmas tree if it's that time of year, so that when we hand over the project to the client they can come in, sit down, have a glass of champagne, and they're at home. That's our approach to going all the way."