Until Akhona Qengqe was appointed General Manager of KFC Africa in April 2023, the brand didn't always manage to relate to where its consumers came from.
"We've never really had a general manager that looks like the majority of our customers," she tells The CEO Magazine. "Now, for the first time, not only do I look like the majority of our customers, but I also look like the majority of our workforce."
The challenges that both customers and employees face on a daily basis are also Qengqe's own realities, she says.
"That means the way that I am likely to respond to their challenges isn't just from an empathetic perspective, but it's also from lived experience."
My belief has always been that we need to be a KFC Africa that draws on African talent.
Qengqe's ascent through the quick service restaurant (QSR) industry has been rapid; eight years ago, her realm was petroleum as the Head of Convenience Retail – South Africa for Shell's South African operations.
She made the transition across to Yum! Restaurants – the owner of KFC Africa – in 2015 as Director – Africa Franchise Development, and set to work expanding the brand's footprint across Sub-Saharan Africa.
Two years later she was made Director-Transformation and Diversity, a role that allowed her to take a leading role in creating a more inclusive KFC Africa.
"It was a time when we didn't quite have an agenda as to how we were going to be a more inclusive organization, and I was offered the privilege to lead that work," she explains.
With an ambition of becoming the world's most inclusive QSR brand, gender inclusion was one of her biggest imperatives. Today 60 percent of head office employees are female; the figure is the same for restaurant managers.
She was appointed Chief People Officer in early 2020.
"My belief has always been that we need to be a KFC Africa that draws on African talent," she says. "When I joined, our leadership team had no Africans. Today, it is 60 percent African."
Focus on inclusion
And, while as the first female and first African General Manager for KFC Africa, Qengqe is the obvious poster child for the strides the brand has taken in DEI, there are plenty of other initiatives at play that showcase how the brand is living up to its target of being the world's most inclusive QSR brand. This includes Kentucky Fried Pride to foster inclusion for the LGBTQIA+ community.
On a global level, the company describes her as a "fierce advocate" for gender parity and female empowerment, having launched a global Community of Belonging, Shine, a gender inclusion program that has been rolled out across all business units where KFC has a presence.
"I also introduced a program called Women on the Move which is specifically targeted at the women in KFC Africa to advance them to meaningful leadership roles," she continues.
She sees her appointment to the C-suite as a clear signal to where KFC Africa is moving as a corporate organization.
"It shows that it's no longer just about the way you look that establishes your role in leadership, but also what you bring to the table regardless of what you look like," she says.
By breaking down barriers, she's also proof that you can achieve anything, regardless of circumstances and background.
"I'm a mother of four, I'm female, I'm African and I lead a huge organization," she says. "I've also come from multiple disciplines and a varied background that demonstrates you no longer need to have been a chartered accountant turned CFO to take on the CEO role of a business."
Business unusual
Her generalist background has put her in a "very good place" to assume the role today, she believes.
"It also gives us an opportunity to relook at the business strategy and to make sure we are still relevant for our consumers and for our investors, who happen to be our franchisees," she says.
At the top of her list is ensuring that the business remains highly investible for its franchise partners.
"What we've seen happen globally, with the Russian invasion of Ukraine, with cost increases and with consumer sentiment, is that our business model finds itself heavily challenged," she says.
There are also major domestic factors, such as the South African energy crisis, hyperinflation in Ghana, the conflict in Sudan and protests in Kenya.
As the biggest QSR brand on the continent, we have a role in allowing entrepreneurs to thrive.
This "business unusual", as Qengqe describes the current climate, is actually presenting an opportunity to look at the existing business model and ensure that, despite global events, the company remains profitable.
"The leadership team has already come together to discuss what we can do that will make a meaningful impact for our consumers, for our franchisees, for our teams," she explains.
Of course, digital is always part of the conversation.
"As the biggest QSR brand on the continent we want to leapfrog and lead, rather than follow. What this really means is leveraging our scale to drive digitization across all our assets," she says, adding that the goal is to have 100 percent digital stores as it looks to build restaurants that not only serve today's needs but will continue to perform and outperform in the future.
The business is also cognizant that a significant proportion of its current consumers will represent the majority of its future consumers.
"If you look at Africa, 60 percent of the population is under the age of 25," she says. "As a brand, we're always thinking of ways to stay relevant to the youth consumer, how to meet them at their point of need and how to provide them with opportunities."
This ties not only to providing employment opportunities but also encouraging entrepreneurship.
"As the biggest QSR brand on the continent, we have a role in allowing entrepreneurs to thrive," she says. "When we build our store, who is building our store, the contractors that we employ and the occupants we bring in, those need to represent our youth population."
True north
KFC Africa has long been the first mover in QSR on the continent, prepared to put its money where its mouth is to establish the market, she says.
"We've been willing to invest to uplift the continent and to go into markets where the infrastructure is not as stable as South Africa," she says.
As it has, the brand has formalized the sector and become an employer of choice. The business has also established itself as a value offering ahead of its competitors.
"We are accessible to most, and in many cases are the most affordable source of protein," she explains.
We've been willing to invest to uplift the continent and to go into markets where the infrastructure is not as stable as South Africa.
But there's no chance of Qengqe resting on what has been achieved.
"Our goal of painting Africa red is our true north. We want to be as accessible to as many consumers on the continent – or at least in Sub-Saharan Africa – as we can be," she says.
In practice, that means building more restaurants. "From a brand perspective, we want to remain the continent's most beloved QSR brand," she says.
It also means ensuring people connect with KFC Africa not only from a product perspective but also a brand perspective.
Serving Hope
Administered by the KFC social responsibility trust, Add Hope is a charity program that feeds 150,000 children daily in South Africa.
"In fact, we are the biggest source of food for children in the country after the government," Qengqe says.
"The role we continue to play in societies and communities is very important," she explains, turning to a partnership with NBA Africa in Botswana, Ghana, Ivory Coast, Kenya, Namibia, Nigeria, Senegal and Tanzania as a key example.
Qengqe also spots huge potential for KFC Africa in terms of human resources by tapping into opportunities offered by KFC at a global level.
"We are not just an African brand, we are a global brand and part of how that benefits us is by exporting talent to different parts of the world," she explains. Passionate about skill development for Africa, she envisages a talent pipeline.
"I want to be able to send people to different markets who then return with knowledge that makes our business better," she says. "And if we do that, and allow them to learn best practices and experience different pressures, we are upskilling people in ways that we would never be able to do in Africa."
Playing to its strengths
KFC first arrived in South Africa in 1971; the first restaurant was at Orange Grove in Johannesburg. Along with the colonel's secret recipe, certain other ingredients to business success remain unchanged.
"We will never grow our own chicken, that's a fact," Qengqe explains. "Our business is a franchise model where fresh chicken prepared in store is sold to consumers."
That means partnerships with poultry suppliers such as Country Birds Holdings are essential for the cogs of KFC Africa to continue turning.
"The reason why we're 52 years strong on the continent is because of how we view our partnerships with our suppliers," she says.
More than transactional relationships, these long standing partnerships are built on reciprocal support.
"We work hand in hand," she says. "Every time we develop a new product, we never develop it outside of the supplier's capability.
"Similarly, we invest in our suppliers to up-scale our suppliers to be able to produce to our specs. We invest in helping them optimize their own operations and to employ more people to become a responsible employer."
KFC Africa knows its strengths. "Preparing the best-tasting chicken and selling it," she says. But it's partners such as Digistics, Coca Cola Beverages South Africa and CTP Cartons & Labels that enable the business to focus on exactly that. And, when times are tough, the power of such partnerships come to the fore.
"In times of load shedding [scheduled blackouts], especially in South Africa, some of the restaurants within the fast food sector can't provide a product," she explains. "But our suppliers have always prioritized supplying us over other channels. That, for me, is telling of the types of relationships we've been able to build."
People matter
Having already ticked the box on one of her key measures of success – "leading one of Africa's biggest brands" – Qengqe has her eyes on the next goal.
"I would like to see KFC as redefining the QSR experience," she says. While fast food restaurants might have a reputation for being quick rather than top quality, KFC prides itself in its freshly prepared food.
"We have teams of cooks that work really hard in our back of house and we call them cooks because that's what they are," she says. "We have high quality standards; if our food doesn't meet our own standards, we do not sell it to customers."
The business is already well on the way to achieving her vision.
Our suppliers have always prioritized supplying us over other channels. That, for me, is telling of the types of relationships we've been able to build.
"Whether you go to Ghana or you go to Mauritius or South Africa, our chicken tastes exactly the same – we call it the 'Taste Guarantee'. It is prepared exactly the same way every single time," she explains. "As a large scale brand, to be able to keep our standards so consistent at each of our 1,300 restaurants, talks of nothing short of excellence."
This excellence is made possible by an amazing group of people at KFC Africa, from the decision makers in head office to the team members greeting the public in the restaurants, Qengqe says. "People really make a difference in our brand."
And while KFC might be primarily known as a brand that sells chicken, she emphasizes that it is much more than that.
"We are a brand that is primarily focused on the people that work for the brand and that keep this brand afloat," she says. "And, more than anyone else, those are the people in the restaurant."
Proudly supported by:

Coca-Cola Beverages South Africa
Creating new opportunities for women in South Africa.
Read More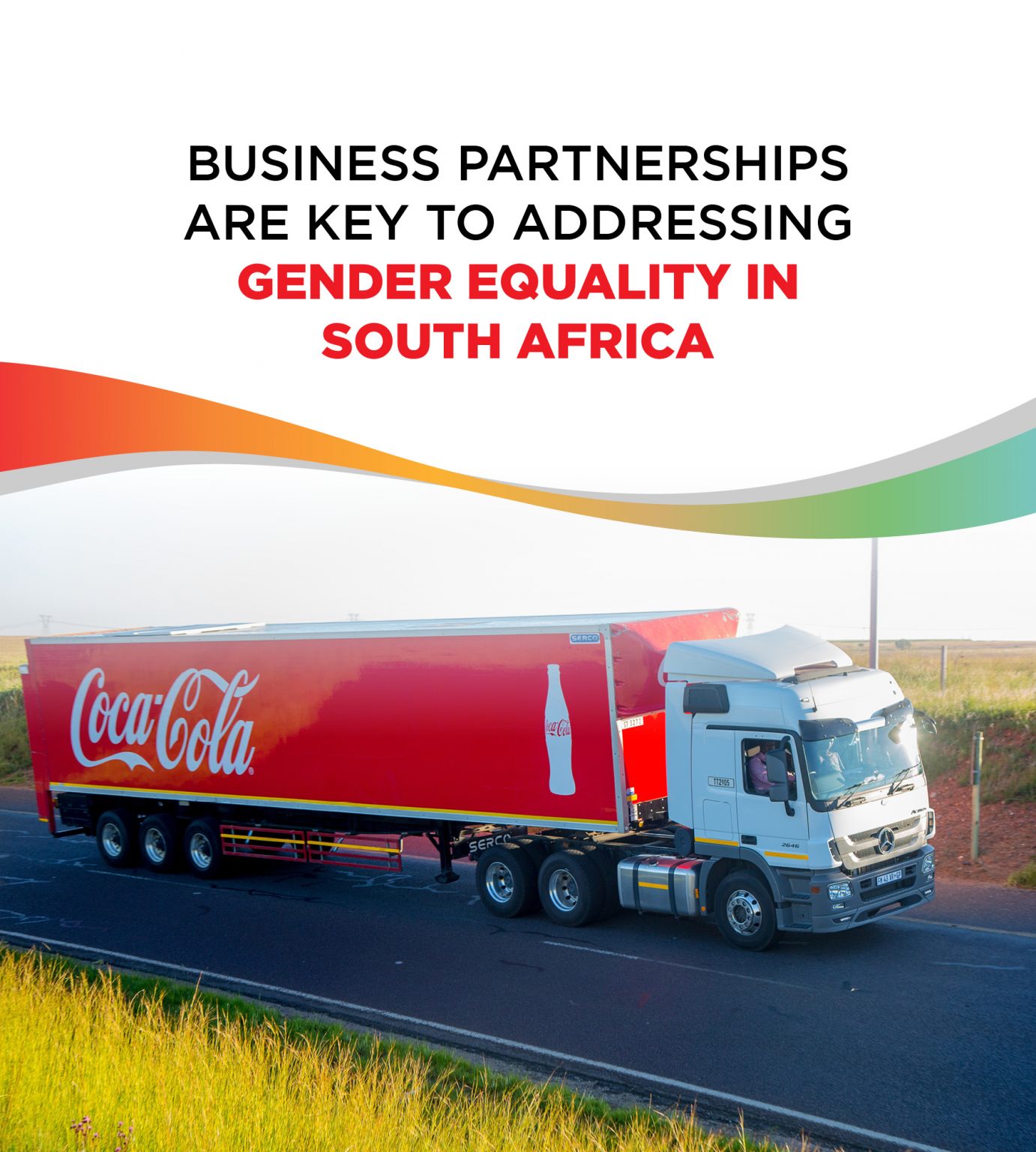 ---