Apparently, there are 34 million ways to create a single Domino's pizza. Think about it, just for a minute, then best move on.
Trying to get your head around how many ways pepperoni can be partnered, or a crust can be stuffed, is a little too hard to brainstorm.
It's probably fair to assume your tastebuds will never be given the opportunity to be titillated by such an enormous number of pizza combinations, but with drone and robot deliveries on the cards, Domino's Pizza Enterprises (DPE) has other wow factors to boggle the mind.
DPE is the largest franchisee in the world for the Domino's Pizza brand, holding the exclusive rights in Australia, New Zealand, Belgium, France, the Netherlands, Japan and Germany.
It was Australia's first publicly listed pizza company and is the largest pizza chain in Australia today, the country where it all began for DPE Europe CEO Andrew Rennie.
Andrew is an original shareholder of the business, the fourth in fact, after swapping his 13 franchises for stock in 2003. Today, headquartered in France and overseeing 1,000-plus stores, he regards the milestones of his career with a sense of awe.
Fast facts:
Did you know?
The three dots featured in the Domino's logo represent the first three stores operating in 1969.
The original plan was to add one new dot to the logo for every store that opened. The idea was quickly abandoned as the business took off and the number of stores grew.
A humble beginning
It's been a whirlwind ride for a boy from the farm, where dialling a pizza wasn't on the menu. Andrew grew up about 300 kilometres north-west of Sydney, just outside Tamworth, Australia's country music capital.
It's a town raised on steak and potatoes and where a takeaway meal was a hamburger with the lot.
He left school at 15 to become an avionics technician in the Royal Australian Air Force, as well as shearing sheep, labouring and playing professional footy on the side to build the nest egg he needed to launch him into business.
In 1994, after a decade of service, Andrew moved to Darwin in Australia's far north to buy Silvio's Dial-A-Pizza, a tiny franchise sporting a small but loyal customer base.
Within 18 months, Andrew had catapulted his pizza store to the number one sales store in the country. Within a decade, winning multiple awards along the way, he had expanded to operate another dozen stores.
Game changing milestones
In 2003, Andrew merged his stores with Domino's, becoming the fourth shareholder of the company and its National Corporate Operations Manager.
"That was obviously a big step for me, to go from being the franchisee to the franchisor, and I faced another big learning curve in 2005 when Domino's went from private to public," Andrew admits.
"The next big milestone was buying into Europe in 2006, when we bought into France, Belgium and the Netherlands; around 155 stores.
"An Australian company going into Europe was a huge step and involved a lot of learning," Andrew adds. "We had to think about what the local consumers wanted.
Catering to local markets
Customers in Germany are different from those in France, who are different again from those in the Netherlands and Belgium.
We couldn't think of ourselves as this one brand with one style of pizza, we had to ensure we catered to their taste in terms of their preferences.
"With the different geographies in Europe, we had to be adaptable, compared with Australia where you only catered to Australian tastes."
With the different geographies in Europe, we had to be adaptable, compared with Australia where you only catered to Australian tastes.
Appointed president of the French and Belgium operations, Andrew relocated to France where he grew the brand to 200 stores, transforming it into the largest pizza company in the region.
In August 2010, he moved back to Australia to take up the new position of COO, and was promoted to CEO for Australia and New Zealand in 2013.
Later that year he was appointed to the role of European CEO of DPE, with Germany added to his patch.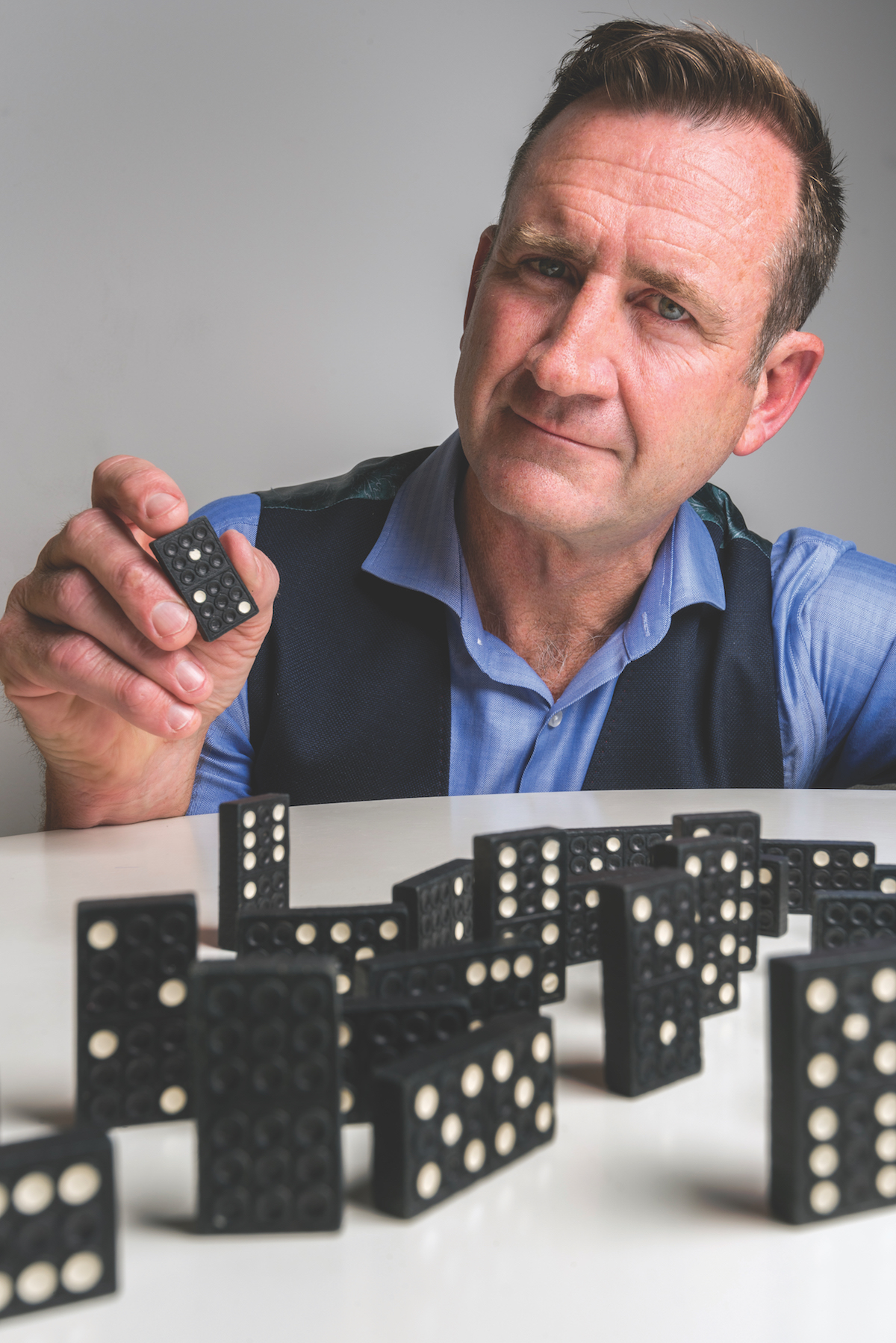 Fail, fail fast, learn, come back stronger
It's clear Andrew isn't one to sit idle. But he's a leader who takes the good with the bad, including when he "doesn't always get things right", as he admits he didn't last year, with the market punishing the company for the miss.
Andrew took the blame squarely on the chin. The company had failed to meet its targets and a glitch in Europe's online platform contributed to the earnings miss.
"We were priced to perfection and when you have something in your strategy that doesn't quite go to plan, you miss out."
"I've learned a lot from that and as we say internally if you're going to fail, fail fast, learn what you can and come back stronger than ever. That's exactly what we've done and we aren't looking back."
Investing in cutting-edge innovations and emerging technologies
While Andrew understands it's vital to constantly tease the tastebuds of customers, particularly when the demand for healthier ingredients is accelerating, he's more excited by the technology emerging that will change the way pizzas are produced and delivered.
He's investing heavily in the company's digital infrastructure and supporting strategies such as using drones and robots to deliver pizzas door-to-door. These innovations are what he envisages will keep DPE ahead of its competitors.
In 2016, New Zealand became the first country in the world to trial a Domino's drone delivery.
In less than five minutes, avoiding traffic lights and congestion, the Peri-Peri Chicken and Chicken and Cranberry pizzas were delivered to a home in Whangaparaoa, about 25 kilometres north of Auckland.
New Zealand was chosen for the experiment because of its more flexible aviation regulations, which allow unmanned aircraft operators to fly approved drones weighing 15–25 kilograms in daylight for distances under 120 metres. While the two pizzas were delivered safely, it will be a while before drones are replacing drivers.
The trials were conducted with small drones carrying 2.5 kilograms, whereas Domino's average deliveries weigh in at 3.5 kilograms, requiring larger drones to be deployed.
"They are very much a reality though," Andrew insists. "Over the past 10 years, we have invested heavily in our IT and digital infrastructure and we're continuing to invest heavily in innovation.
We also have a partnership with Starship Technologies to deliver pizza with robots. We've been doing that in Hamburg and the Netherlands.
"Over the past 10 years, we have invested heavily in our IT and digital infrastructure, and we're continuing to invest heavily in innovation."
"But more importantly, we are putting other tools in place to make franchisees more successful and more efficient," Andrew adds.
"GPS driver trackers have been a great safety initiative, cutting the number of driver accidents by half. We are constantly developing more efficiency for our franchisees, which results in faster deliveries for our customers."
"Obviously, if you can deliver the pizza faster from the time it leaves the oven, it's a much better result."
Making healthier food choices
Technology aside, Andrew also has online targets and store expansion very much in his sights. He's even prepared to get a little involved in the kitchen when it comes to making healthier food choices.
"Our goal is to be 100% free of preservatives in the next two years," he says.
"DPE is working very hard to decrease all the flavour additives and preservatives in our products and we're up to about the 85–90% mark now."
"In the next three years, we also hope to expand from 2,200 stores to more than 3,000, and we're targeting our online sales business to increase to around 75–80%."
"I think we'll achieve that. It's been a successful journey so far, but we have a long way to go."
Andrew attributes his years as a semi-professional rugby player to helping him understand teamwork and leadership. His approach to leadership is simple: hire great people and no micromanagement.
A freedom to grow
"I believe in hiring people and giving them the freedom within a framework to do their job," he says.
"If I have to micromanage someone, I clearly haven't hired the right person, unless of course they're in training and you're teaching them a new skill set."
"I tend to lead from the front. My role is to remove any barriers and roadblocks in the way of their success. Obviously, if I can help the people working for me be more competent and accomplished, it promotes me and makes me more successful.
I'm all about giving people the opportunity to reveal their skill set and see what they can do given the right environment."
"One of the things I was most proud of as a franchisee was watching several of my team members who started with me at 15 years of age go on to become successful multi-unit franchisees."
"One of the things I was most proud of as a franchisee was watching several of my team members who started with me at 15 years of age go on to become successful multi-unit-franchisees."
"I'm very successful today because of them; I wouldn't be where I am today without their achievements."
In fact, Andrew says that almost all of the CEOs in each of DPE's seven countries started as franchisees.
Domino's Group CEO and Managing Director Don Meij began as a delivery driver at Silvio's Dial-A-Pizza, while Nick Knight, CEO of DPE Australia and New Zealand, also delivered pizzas before buying his first franchise.
"We all started as franchisees, and I think having been there we have real empathy and understanding of how franchisees think during their struggles."
Remembering roots, futuristic vision, and final words of wisdom
"Part of our success stems from never forgetting where we came from. We have a real entrepreneurial approach to running a public company because we started at the bottom."
Andrew is unable to play rugby anymore and has taken up a more solitary sport to keep fit. He gets on his bike, often riding long distances to clear his head and plan the road ahead.
"On a long-distance ride, you tend to go into a subconscious state where you can switch off," he says.
"While riding is a great way to keep fit, it's almost like meditation for your brain and quite often you find solutions to problems, or stimulating ideas and vision for the future."
"DPE's vision is clear. It will deliver more than a million pizzas in its countries every day, whether by drone, robot or human, and no doubt someone, somewhere will conjure up yet another pizza combination to add to the 34 million already available."
Meanwhile, Andrew will continue to live by the best piece of advice he's ever been given: "You have two ears and one mouth and they should be used in proportion," he laughs. "Very important.