After graduating with a BA in Economics and Finance, Burger King Spain's CEO Borja Hernandez de Alba took a job at one of Spain's biggest banks, Banco Santander. It seemed like the most sensible route to take, but Borja says that, sadly, he was bored by the industry. "So then I thought: 'What can I do that would be more challenging?' And I decided to do an MBA," he says. "I went to Boston and did my MBA at the Sloan School of Management at MIT."
It was an experience that led him to work in what, to Borja, was the most unlikely of places: Burger King. It wasn't so much the actual MBA itself, but rather returning to Boston for a fellow alumnus's wedding that steered him towards the world of quick service restaurants (QSR). "It's a funny story, actually," Borja laughs.
"I went to a wedding in Boston and was sitting with one of my friends who went to work at Burger King. He spent all dinner talking about Burger King: about the values, about the culture, about how good it was to be able to work there. I decided right then that I wanted to work at that company too. So I started to contact people here in Spain and, two months later, I was working for Burger King. It was an unexpected wedding: I went to spend time with my ex-colleagues and ended up changing careers."
Borja Hernandez de Alba's values
Those values that first captivated him are something that Borja holds dear to this day and they're always top of mind when he is looking to add new members to the Burger King team. "One of my favourite values is 'ownership': I like people – and want to hire and develop people – who are able to take ownership. People who know that whenever there is a problem, it is their problem. They need to feel responsibility for every project that they do, and for any problem that could arise day to day.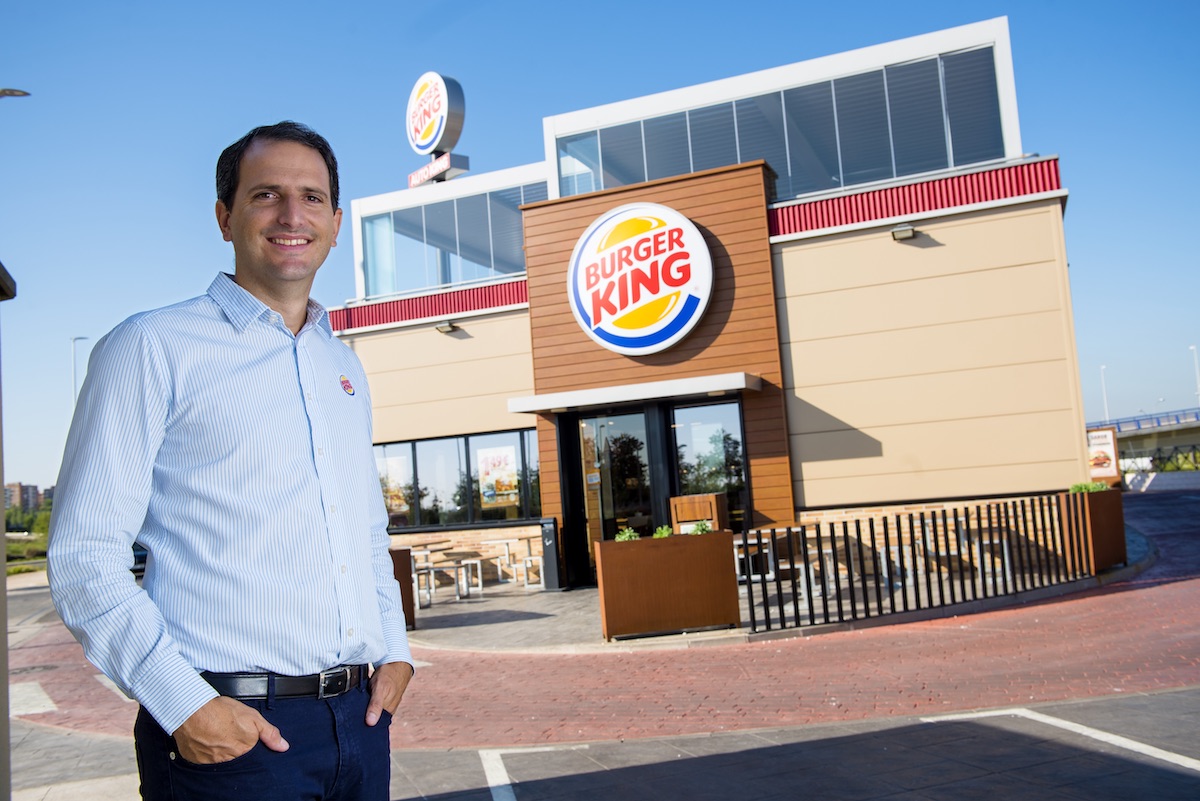 "The second one I like most – in Spanish it's called superación, but it's like the desire to improve. I want people who never lie down, never lie back, who always want to change, and who make decisions that are based on the future and moving things forward. For me, those are the two main ones: ownership and the desire to improve. They are two of the values that I always try to find in our team members," Borja says.
"Next comes dynamism and a hands-on approach. We always need to be ready to change, to react fast, to be more agile than our competitors. And ethics, of course. No decision can be taken without them; that's a must. It's also important that we are willing to work hard to get results and not just try to look for a quick fix.
We always need to be ready to change, to react fast, to be more agile than our competitors.
"Last, there's meritocracy. So, if you are able to improve, if you take ownership of your project, if you are dynamic enough to react fast and you act with ethics and responsibility, then we will reward you and appreciate you. That's why we have a good salary and bonus scheme, and we give opportunities to anyone who can demonstrate our values."
A new approach to corporate recruitment
It is not only these values but perhaps also his own slightly unconventional path into the business that informs Borja's approach to recruitment at Burger King. A big fan of innovation and progression, Borja took an entirely new approach recently when recruiting at the corporate level.
"One of the things that we are trying to do is to make sure that we have the best people," he says. "One of the key positions here in the restaurant business is our supervisors. It's a multi-unit management position, so every supervisor has seven or eight restaurants that they control and take ownership of the results.
"Historically, everyone recruited for this role came from our restaurant level – people who had been working with us for 10 to 15 years. They had worked their way up from crew to restaurant manager, from manager to supervisor, and they brought a lot of knowledge regarding the operation 'on the floor', so to speak.
"They also brought a lot of knowledge about the guests, as well as experience in making sure the restaurant was running correctly from an operational point of view. But we found that sometimes we were missing out a little bit on knowledge regarding business management."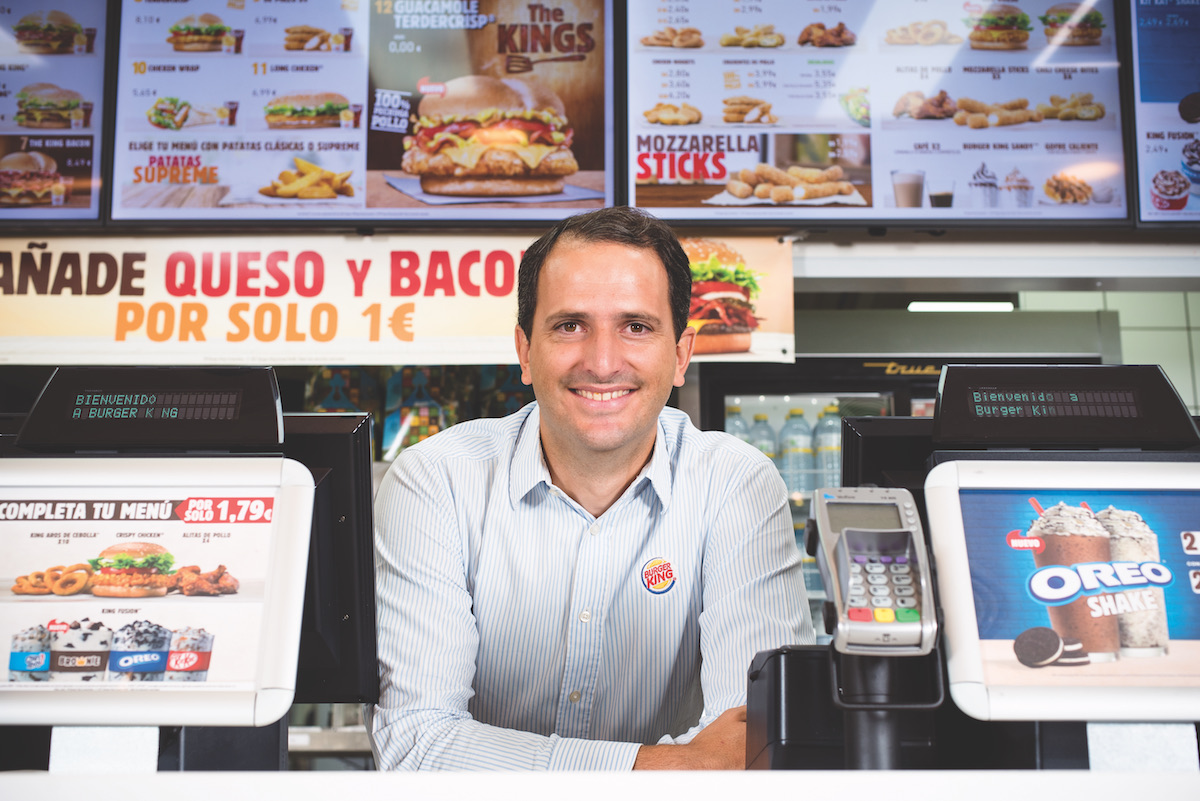 Recognising this gap, Borja decided to change his approach. "This year, we launched a program at the universities throughout Spain. As a business, we approached 11 universities – I personally went to five – to find suitable people for these roles. We wanted to find future economists' and engineers' profiles. We sought people who really wanted to take the lead, who could take it one step further and run a business the day after they graduate."
Borja says that they received around 1,000 resumes from soon-to-be graduates. And he adds that they were impressive, too. "I would never have thought that these people were willing to come to the restaurant industry," he says.
"But recently we hired a group of young individuals with a lot of hunger to grow, a lot of hunger to learn, and they will be the future leaders of the company. They will start out with the unit managers and, hopefully, in the next couple of years, some of them will come to headquarters and will be leading the growth of the company. We don't just want the best people in the office, or the best cooking processes in the restaurant; we are trying to look for profiles that maybe haven't previously been used in the restaurant business to lead our growth and to lead our operations.
Growing the Burger King brand
All this, of course, is about maintaining an edge in the very cutthroat industry of QSR, where the Burger King brand is leader with the largest number of restaurants in Spain. The country sits second globally behind the US, recently edging ahead of Germany for the number of restaurants. Borja sees enormous opportunity to further develop the brand and its presence in the region.
"The opportunity here continues to be huge – not only in opening new restaurants, bigger restaurants, and more convenient restaurants, but also in improving the brand. Burger King Spain is one of the strongest and healthiest brands operating worldwide. Still, we are far from where I think we could and should be. What I like most about Burger King Spain is the opportunity to grow the brand and the opportunity to learn more."
For Borja, the answer once again is innovation. "One of the biggest challenges," he says, "is managing the expectations and needs of our guests, which continue to grow. We are a fast-food business. Five years ago, people were only looking for fast food. You went to a restaurant and you wanted to be served quickly, with good-quality products. These days, it's not enough to be in the market to grow in the market; you need to have an intimate understanding of your guests. We are pushing very hard to be more technology oriented and are making the restaurants more comfortable for our guests.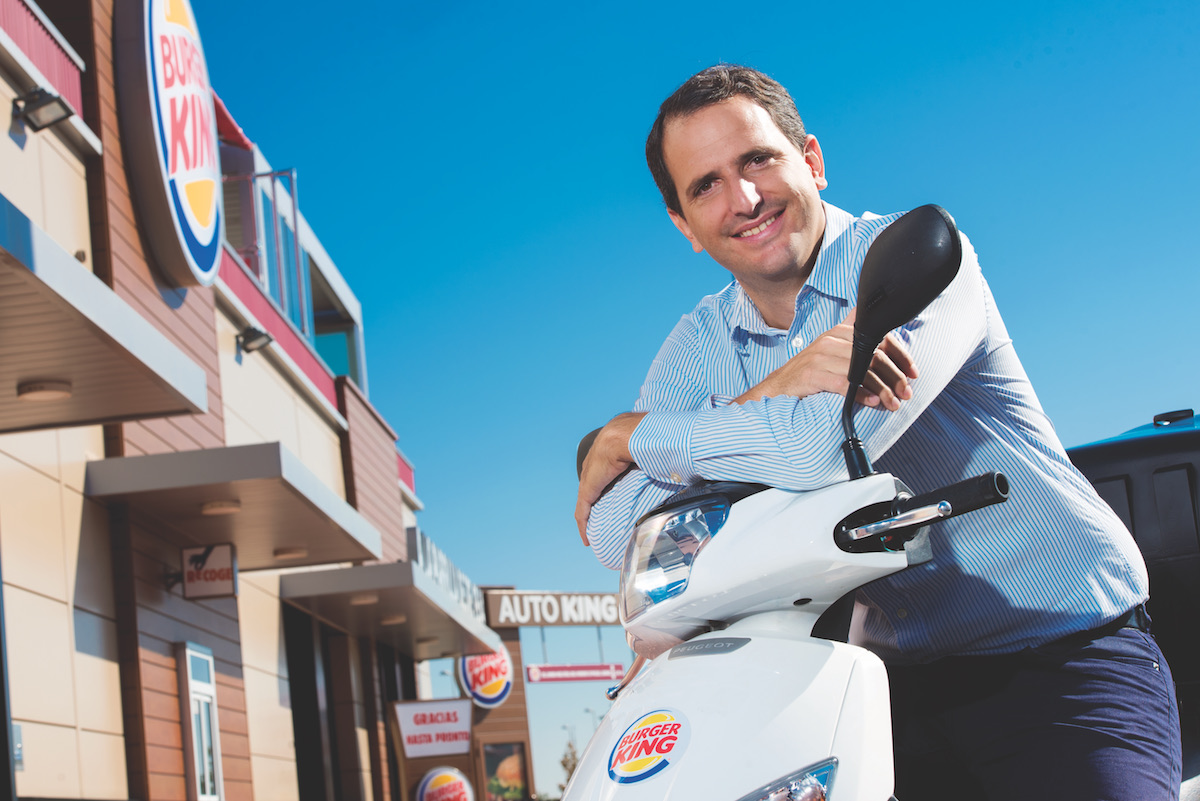 It's not enough to be in the market to grow in the market; you need to have an intimate understanding of your guests.
"I think the biggest challenge is to never relax. You always need to be changing, growing, improving your business in order to compete; otherwise, another company or another brand will come along, and guests will get bored with you. The challenge is to remain agile and always be riding on top of the wave."
Embracing digital technology
A large part of this agility and evolution has come through embracing digital technology. Borja sees it as a way of connecting with guests in a more customised way, tailoring their experiences and "getting closer".
The BK app that Burger King Spain launched, for example, was one of the first of its kind in the country and quickly gained millions of subscribers, all looking to enhance their experience with special offers, events and promotions. It was a two-way street, with Burger King learning about its guests' wants and desires with every click, further enabling its ability to connect with customers.
It has also installed self-serve kiosks in its restaurants to simplify the ordering experience, particularly for visitors who are travelling. With the touch of a button, German guests can read the full menu in their own language, for example. Borja proudly says that another innovation was the introduction of home delivery, where Burger King controls the entire distribution and logistics process from the restaurant to the customer's front door.
Burger King Spain teamed up with Sony PlayStation to give delivery customers a unique experience.
Perhaps the most innovative technology offering, however, has been Burger King's foray into the gaming world. No, animated Whoppers and fries don't fight it out in race cars or alien landscapes – although the deal does involve Sony PlayStation.
Partnering with Playstation
In an extraordinarily cool twist on home delivery, Burger King Spain hired nine professional gamers to be online playing multiplayer games like FIFA '17, Call of Duty and Grand Theft Auto. After setting up a Burger King delivery account, people could go onto the PlayStation Network and join in on these games, hanging out with the pros playing football or taking cover from enemy fire.
But Burger King wanted to deliver more than just a great gaming experience; it wanted to deliver burgers. So these pros were also equipped to take gamers' orders while playing. Without needing to pause the mgame when hunger struck, all people needed to do was to speak to the professional gamers through their headsets, as if ordering home-delivered Burger King from an avatar in real time was an everyday occurrence. Needless to say, it was a huge success and aided Borja's mission to market the brand as 'cool'.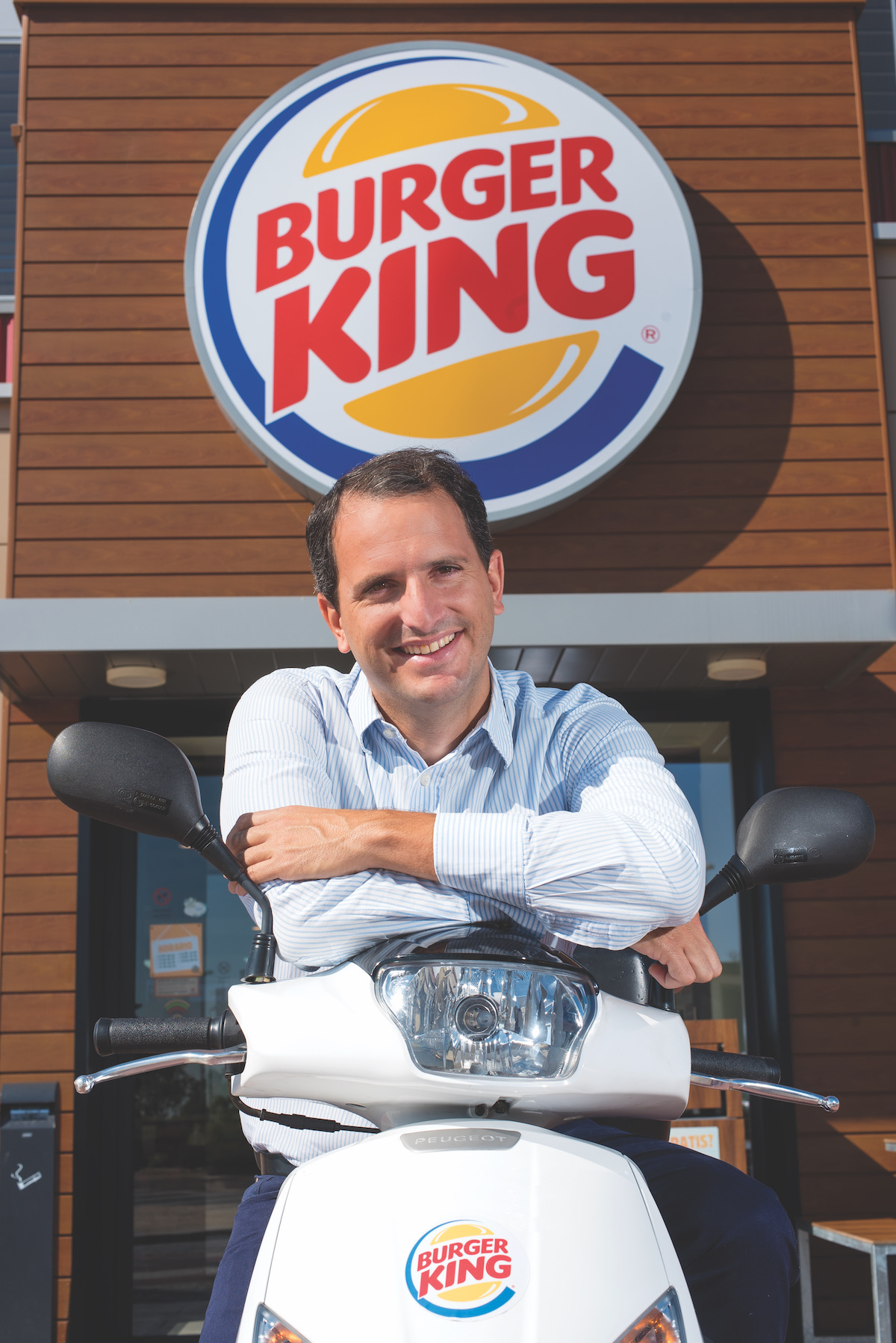 What I like most about Burger King Spain is the opportunity to grow the brand and the opportunity to learn more.
As he explains, it's one of his key strategies as CEO. "The first one would be to continue to grow, to continue to improve the brand regarding image and restaurant remodelling, and having everything as digitally enhanced and enabled as we can. The second one would be to continue improving and changing the marketing strategy that we have today. We need to position the brand as cool. The brand here is very strong but it still isn't necessarily perceived as cool, and that's one of the biggest changes we need to make regarding the marketing strategy."
A wealth of Burger King management experience
Of course, Borja is also under pressure to improve revenue. "I need to spend a lot of time improving the profitability not only of my company but of all my franchisees," he says. "We have around 50 franchisees here in Spain, so one of my greatest challenges is improving the profitability of the individual Burger King franchises while also promoting growth for the company and the brand."
Fortunately for Borja, his first few years with Burger King involved exposure to a lot of different markets, each with its own unique challenges and idiosyncrasies. He says that in four years he had four different roles, often in different countries. "It was kind of hectic moving from one place to another, but that's one of the things I like and enjoyed most about Burger King."
It taught Borja a lot about the business operations, from both a corporate and a franchise perspective, so he now feels well equipped to handle any issues as they arise, quickly and efficiently.
"Looking after more than 24 countries, when I was in the UK running EMEA, gave me the opportunity to see so many things that I never would have seen if I were only in one country. I went through the Russia crisis of 2014, where all imports were completely forbidden into the country and we needed to find a way to bring products inside. That was an extraordinary challenge.
"I also experienced launching a new market, such as South Africa. There was no Burger King presence in South Africa, so we had to create everything from scratch. It allowed me to learn so many things that help me to react a lot faster. Whenever something is not working or could be working better here in Spain, I have so many benchmarks to consider, to look back on. What did we do in Russia, what did we do in the Nordics, what did we do in the UK when this happened?
"I think the main takeaway from those early experiences would be to be able to react faster and be able to think from both sides – the Burger King operations side and the franchisee side."
Giving back
Named after its co-founder, Burger King's McLamore Foundation is dedicated to improving access to education. As well as scholarship programs in the US, Canada and Puerto Rico that have given more than US$3.5 million to 3,200 students this year alone, it has also teamed up with Room to Read to provide literary environments to children across Africa and South East Asia.
In five years, the partnership has established 90 projects including libraries, schools, literacy programs, and local language children's books in South Africa, Tanzania, Zambia, Cambodia, India, Sri Lanka and Nepal, impacting more than 85,000 children and families. The foundation also partners with TECHO in Latin America, providing literacy and skills training for the community centres.