Rockstar Frank Zappa once said, "You can't be a real country unless you have a beer and an airline." Indonesia agrees, but though not everyone the world over might know the name of the airline (Garuda Indonesia), its most famous beer – Bintang – is celebrated across the globe.
Anyone visiting or living in tropical Indonesia never fails to catch a happy snap on a beach or at a local bar, Bintang in hand. For Michael Chin, President Director for brewing company Multi Bintang Indonesia, the perfect moment for sipping on a Bintang beer is on a sunset walk with his family along Bali's Seminyak Beach.
"I also love having a Heineken on a great night out with colleagues," adds Michael. "And since I'm a golfer, I enjoy drinking a Bintang Radler while I'm golfing with my mates. These are probably my three favourite beer occasions."
Michael Chin is living the dream
Prior to his current role with Multi Bintang, Michael was managing Asia Pacific Breweries Singapore, and before that held various senior sales positions under Guinness Anchor, with all roles operating under the global Heineken brand. "When I joined the Heineken company in 2002, I was surprised. Many of my then-new colleagues had been in the company for 20 or 30 years apiece, but they were looking amazingly youthful every morning, and were so committed to their jobs," says Michael.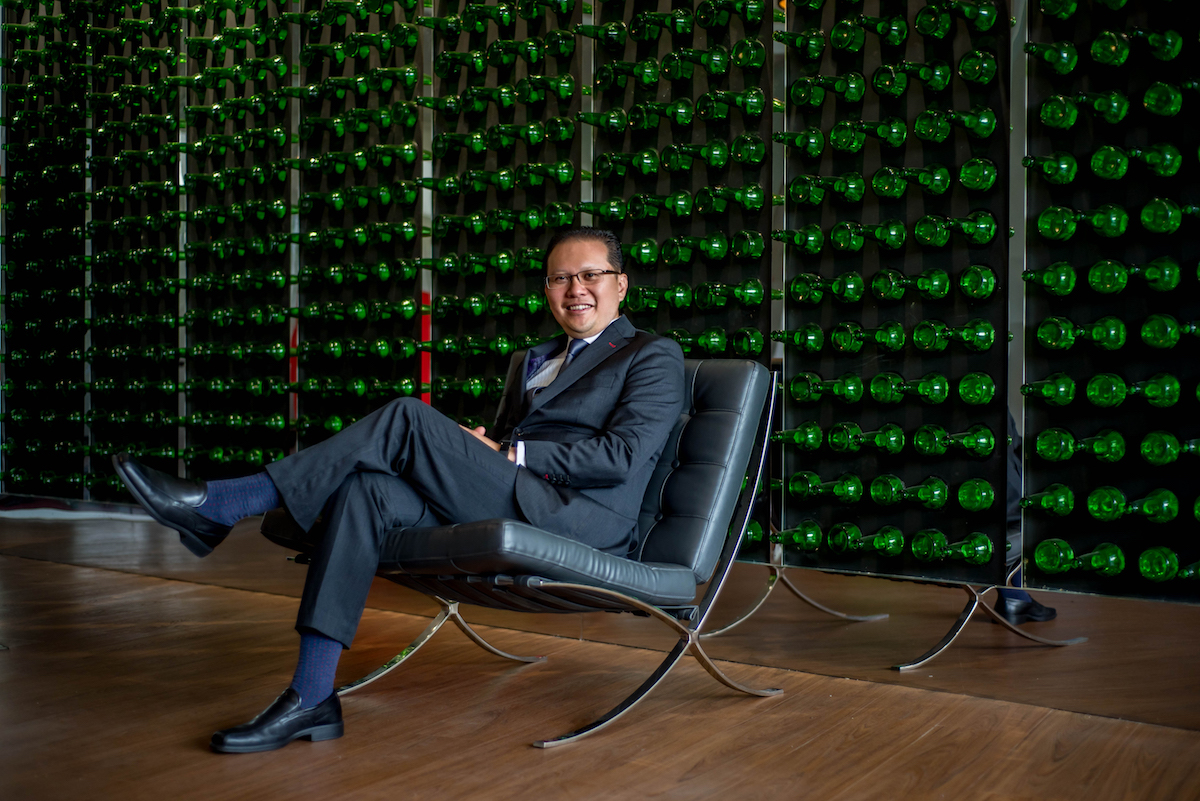 "It didn't take me long to realise their secret – they loved their jobs. Heineken is a truly great place to work. Over the past 15 years, I have had the opportunity to work on many iconic brands. I had the opportunity to learn and grow in different roles and environments and, I have to say, different levels of complexity."
With brewing continuing through a world war and two financial crises, Multi Bintang (which translates as 'many stars'), is still very much a part of Indonesia's heritage and history, not to mention its role as a strong contributor to the local economy. Michael describes the country's beer and beverage industry as vibrant.
"Indonesia is an attractive market for alcohol beverage companies due to its massive population, with increasingly middle–high income, and high GDP growth," he says. "But more than that, it's an industry that really celebrates the enjoyment of life."
Multi Bintang Indonesia adapts to market changes
The past few years have brought about some major changes, however, that have been putting the sector to the test. First there were various mergers and acquisitions, then the disruption of the newly introduced craft beer phenomenon. If that wasn't enough, Indonesian retail regulators also imposed a ban on the selling of beer in mini-markets – eliminating one of Multi Bintang's key selling channels.
"One morning, we woke up to the stark realisation that our world would never be the same again, but of course we have to respect and abide by the law even though we may not agree with it," says Michael. "We quickly realised that we needed to adapt our business model to fit the changes, and fast. It took us a few months, but we started seeing changes in consumer behaviour and, as they started to shift, we followed, and even led the change where possible."
Fast facts:
Indonesia, like some other ASEAN countries, is a 'dark market' for beer, meaning the industry must appeal to consumers without advertising its products.
Sure enough, there became evidence of a slow but definite shift from mini-markets to on-premise licensed outlets like bars and restaurants, as well as an increase in beer purchases through hypermarkets and supermarkets. To maintain market penetration, Multi Bintang had to change its product offerings to focus more on the packs of four or six drinks for home stocking, rather than relying on single-can purchases for immediate consumption, as was the case in the mini-market setting.
"One of the best things we did was realise that if the law prohibited us from selling beer in mini-markets, then we would have to also focus on non-alcoholic beers. That spurred many innovative ideas around non-alcoholic beverages as well as non-alcoholic malt drinks in the mini-markets," says Michael.
Embracing innovation & diversification
Internally, Multi Bintang has shifted gears and worked to have a more innovative culture, including regular taste-testing across each segment to identify new strengths and opportunities, as well as doing research to see if consumers' taste profiles are changing.
"Traditionally, when we look into beer segments, we always consider how hoppy or how bitter a beer is. Nowadays, we look beyond that, with new things like citrus or apple with our Radler line, as well as spices, woods, caramel, honey, chocolate, even roasted and smoky flavours. Those are the segments that we continuously taste-test now," adds Michael.
"Our first innovation in the last three years was in the Radler category, which is beer with 2% lemon. With that we captured consumers in the citrus-taste segment, and it was a huge success. The next year, we introduced the Radler Grapefruit 2%, which was also a massive success."
---
Multi Bintang's Sustainability Agenda, along with parent company Heineken, has a very broad-reaching Water Stewardship Program, including:
Plans to reduce water consumption in the brewing process by 25% by 2020;
Partnering with NGOs to plant 8,000 trees in Mount Gede (Tangerang) and 10,000 in Mount Belirang to support and protect water catchment areas;
Joining forces with the United Nations Industrial Development Organization (UNIDO) to host two major stakeholder workshops on Indonesia's water issues;
Establishing water alliances with other stakeholders, including government allies, companies and municipalities in Indonesia.
---
Those innovations have been a precursor to ongoing diversification of the Multi Bintang brand, producing up to 12 new products in the past few years. While its core market remains in beer, the company's 'transformation beyond beer' movement has spurred the creation of more low- to no-alcohol beers, as well as the creation of a new cider category, with more focus on alternative brands like Strongbow and Fayrouz.
"With this, we're attracting new consumers who had previously chosen not to drink beer because of its alcohol content," says Michael. "This has also created new 'beer occasions' for our existing consumers. For example, designated drivers for the evening can pick a non-alcoholic beer and still enjoy themselves. Beer can also now be more of a family occasion that can be enjoyed after dinner or on picnics."
Stars by name, stars by nature
While the company Multi Bintang has long been synonymous with its flagship brand Bintang, Michael says it only makes sense that it continues to grow its star offerings, otherwise it wouldn't be named 'many stars'. "We are proud of Bintang. It has been our flagship for many years, but it's not just Bintang we want out there as an iconic brand. We want many stars, just like our name, and we want Multi Bintang to be known as a great company with multiple iconic brands, and to be admired as an innovator."
We are proud of Bintang. It has been our flagship for many years, but it's not just Bintang we want out there as an iconic brand.
Most of all, Michael thinks the name refers to the people he works alongside, with the company's competitive professional development and graduate programs producing some of the best in the global industry. "Our people are stars, so we call our program 'We Brew Stars'. There's a lot of incredible talent working within our company. They are the unsung heroes who make it all happen, and we want to showcase them."
As Multi Bintang continues to adapt and evolve, Michael believes it will make the company an even more attractive place to work, and like his Heineken colleagues before him, it's 15 years on and he feels as though he joined just yesterday. "I truly enjoy being in this industry. It's been more than 15 years and it still feels like it's fresh and exciting, and every day I'm learning something new."