After the Saltzmans became qualified pharmacists, they put everything they had into the first Dis-Chem store in Mondeor, Johannesburg. The store opened in 1978 and, at the time, the country's pharmaceutical industry was considered not only risky, but expensive.
This didn't stop the couple, however. "Honestly, I didn't know then what I do now," Ivan tells The CEO Magazine. "We were just looking at one opportunity at a time and the first one was that store."
Ivan says taking that first plunge into the pharmaceutical market was the hardest and most concerning decision they've made. "We were both very young and we put all our money into that first store," he says.
"We have always been self-funding." The inaugural store pioneered the discount chemist concept in the country, offering several product categories that had not been provided in South African pharmacies before.
With the Mondeor store up and running, the Saltzmans were ready to expand. "I realised I could do more in a shopping mall so I started looking for a vacancy," Ivan recalls. In 1984, the second Dis-Chem store opened in the Randridge Mall in Randburg. It was yet another gamble for the Saltzmans. "The major players turned it down because of a perceived high rental price,"
Ivan says. "You could call the move risky – the accountants would have called it that – but it was in fact well worth the trouble." By the end of the 80s, the family business had broadened its non-pharmaceutical (or 'front of shop') product range. This was followed by more pharmacies.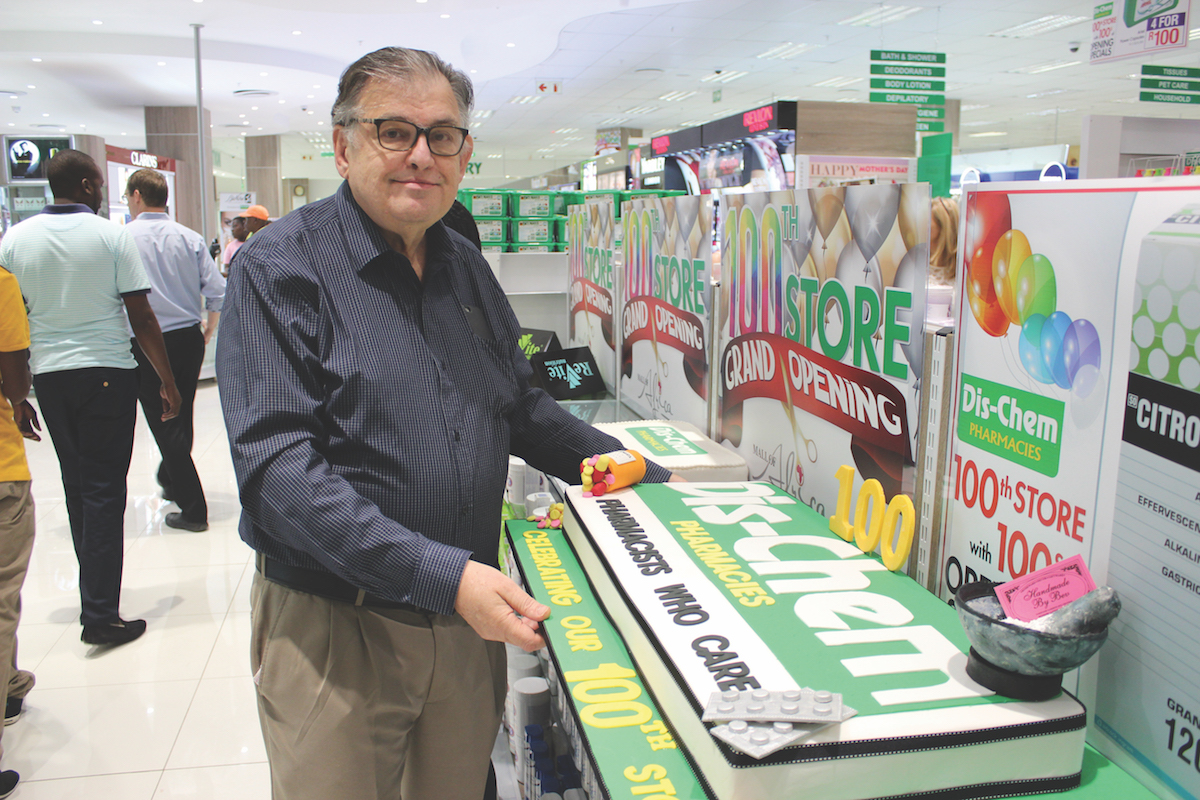 You could call the move risky – the accountants would have called it that – but it was in fact well worth the trouble.
"As we opened more stores, the risk became less," Ivan says. "The opportunities always outweighed the risks in any case, until we got to a stage of opening multiple stores simultaneously.
If you have a good store, your expansions are not risky. A few new stores are not going to wipe you out if you make a mistake." Apart from pharmaceuticals, Dis-Chem offers beauty products, health products and sports supplements. It also has services such as hair salons and clinics. Since the mid 90s, the company has also produced its own brand of non-pharmaceutical products.
The year 2003 signalled a shift for the industry in South Africa as the government allowed non-pharmacists to own pharmaceutical businesses.
Previously, the law required pharmacies to be approved by the South African Department of Health and supervised by a registered pharmacist. The deregulation was designed to create more affordable medicines and, at the same time, offered a chance for major supermarket franchises to enter the market.
However, the Saltzmans did not feel threatened as Dis-Chem had already created
a strong presence in the country. The company continued to grow, refining its business model and later launching its loyalty program.
Dis-Chem maintained its upward trajectory and began a partner initiative that involved acquiring a majority stake in an independent store and converting it to a Dis-Chem. It later obtained a controlling interest in pharmaceutical wholesaler CJ Distribution and pharmacist training provider Pharmacy Development Academy. These moves proved valuable in strengthening the expanding business.
Ivan highlights the support the company receives from its suppliers, which keeps its business flourishing. "We have partnerships and we get stock from our warehouse, but we're not dependent on that alone," he explains.
"We also have a great merchandising team. The point of warehousing is that you get to pull your stock through as quickly and as efficiently as you can; and it has to be accurate and available for the pharmacies."
When it comes to the success of his thriving business, this CEO also considers his partners as vital. "I want Dis-Chem to be seen as the fastest growing company with positive growth that's gaining considerable market share at a rapid pace. And suppliers are always very receptive to that kind of plan."
Dis-Chem wants to improve its efficiency, beginning with its logistics. "We opened a warehouse in Cape Town last year and we recently completed another in the KZN Cape," Ivan says. "That should give us a greater reach in those provinces."
Ivan further identifies the benefits of having better logistics capabilities. "We're able to supply the independent market that wouldn't normally buy from Gauteng [!in!] because of the time delays," Ivan says. "Our opposition has warehousesin the Western Cape and KZN Cape so now we can compete in real time."
Having created a strong base in South Africa, Dis-Chem has set its sights further afield. "We're obviously looking at other markets in the Southern Africa region," Ivan says.
"We have plans for more stores, but will take it one country at a time."
The company opened its first store outside of South Africa in 2014, in Windhoek, the capital of neighbouring Namibia. Ivan acknowledges the challenges that come with opening stores in other countries. "Pharmacy is a highly regulated industry," he says. "Each country has its own set of regulations, and they tend to be skewed against foreigners."
We have plans for more stores, but will take it one country at a time.
One of the company's biggest milestones was in 2016, when it listed 27.5% of its shares on the Johannesburg Stock Exchange. This became the second-largest public listing after food company Bidcorp. That same year, Dis-Chem opened its hundredth retail store. Ivan says that as the company progresses, it plans to open 20 stores or more per year should the opportunities arise. "We have the capacity to roll them out," he notes.
The company currently numbers 131 stores and has an online platform underway, and Ivan sees the potential for further expansion throughout South Africa. He asserts there is still space to grow "without cannibalising existing stores".
"It is a young company and there is plenty of space available that doesn't have a Dis-Chem presence. We have a lot of stores that are yet to mature and we look forward to opening new ones."