Elite executives are often asked, 'What's the most rewarding aspect of your job?' It's a simple question, but due to the diverse nature of industries, it's not totally unheard of to be met with dead-air. Of course, that wasn't the case with Dr Ko-Chung Lin. How could it be, when the corporation he co-founded is on the verge of saving many, many lives?
PharmaEssentia was established in 2003 by Ko-Chung and a group of Taiwanese-American executives and scientists, aiming to develop effective, safe and cost-effective pharmaceutical products for the treatment of human diseases. Fourteen years and countless clinical tests later, and in cooperation with Austrian multinational pharmaceutical company AOP Orphan, the team is using a game-changing drug candidate called Ropeginterferon alfa-2b (P1101) to prevent cancer.
Ko-Chung Lin is living a scientist's dream
The diseases PharmaEssentia are targeting with P1101 are rare blood cancers, such as Polycythemia Vera. And after years of intensive trials, only a final sign-off from the governing medical bodies in Europe and the US stands between patients and the drug.
"We have conceptualised an idea, and now we're making it a reality through Ropeginterferon alfa-2b," Ko-Chung smiles. "We found out it works in the treatment of Polycythemia Vera, and now we're just waiting on the final approval to save patients' lives. I've been a scientist for 40 years, and it's the dream of any scientist to be in this position. It's very rewarding."
I've been a scientist for 40 years, and it's the dream of any scientist to be in this position. It's very rewarding.
Testing has revealed that P1101 delays disease progression, has limited side effects, and has the potential to deliver a curative response. Patients can also self-administer at home, and on a monthly rather than fortnightly basis – a significant improvement in both convenience and comfort from current treatment options.
Most excitingly, PharmaEssentia's potential is limitless. It has received another US$125 million in funding after being listed last year, has set up subsidiaries in the US, Japan and China, has more than 150 employees, and carried out its own manufacturing at the Central Taiwan Science Park.
"That funding allows us to maximise our current major candidates. So, we are currently running two phase-three trials simultaneously, and two more are scheduled to start at the end of this year. "Second, that funding allows us to build up our US operations, with our subsidiary in Boston opening three months ago."
PharmaEssentia pushes the industry forward
While PharmaEssentia is well on its way to becoming a major international biopharmaceutical company, there was a time when it was purely a pipe dream. "An American scientist and friend of mine was informed that the Taiwan Government wanted to repeat the success story it had with semiconductors," Ko-Chung reveals.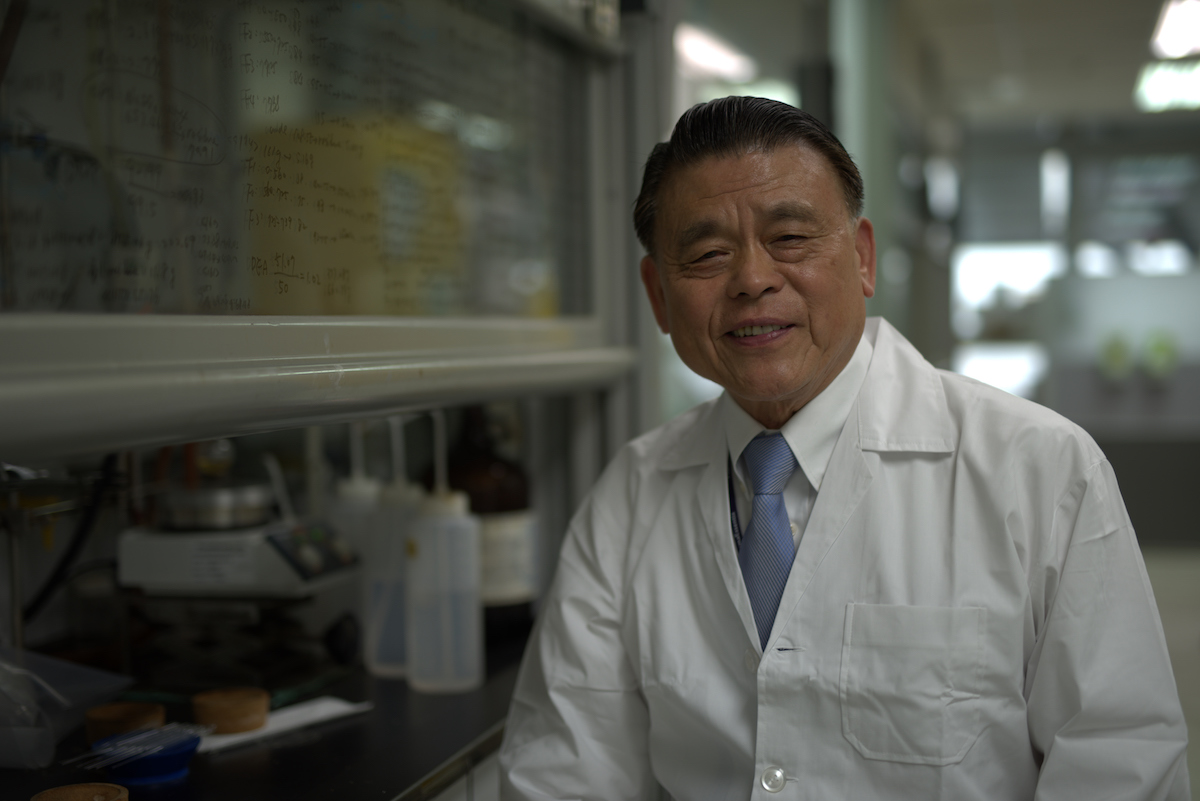 "Dr Fu-Kuen Lin, the inventor of EPO at Amgen, saw an opportunity in the biotech industry, and that was almost 25 years ago. When we learned that, we invited him to come back to Taiwan to our locations to just talk to the people. He thought, if we could get sufficient funding and attract some of the world's best scientists we would be challenged to help not only Taiwan but push the industry forward globally."
In 2002, after two decades working as a scientist in the US with companies like Biogen, Ko-Chung returned to his native Taiwan to lobby for funding. Knowing, like his co-founder, that it would be the key ingredient to the success of their operation.
Securing funding
Fortunately, he landed a big fish in the form of the Taiwan Government's National Development Fund. "It was imperative that we got the government on board, because it gave an assurance to private investors. They associate government involvement with ongoing development and evaluation," he says.
"As a result, we raised another 60% of funding from six private investors. When we first started, we knew the funding wouldn't be easy. Taiwan wasn't very familiar with biotech success, and long-term investment with no guarantee of success is not an easy sell," he explains.
"If you invest in other markets like manufacturing for instance, you can produce a result in three to five years. But in biotech, it will take 10 to 15 years at least before you can expect to see any sort of return. Our company is now in its fourteenth year, and only in the past 12 months have we had a product be reviewed by the European Medicines Agency (EMA)."
Despite the fundraising challenge, Ko-Chung secured an initial sum of US$17 million, enough to set up a US-standard lab at Nankang Software Park. A second round of funding in 2006 almost doubled the previous total, and its entry into the Taipei Exchange has since guaranteed its long-term financial security.
Determined to beat cancer
While it's full steam ahead with the P1101 phase-three trials, PharmaEssentia has also been granted the rights from business partner Kinex to sell Oraxol in certain Asian countries – an oral formulation of paclitaxel, a chemotherapy agent commonly used in first-line treatment for breast cancer.
PharmaEssentia has found that Oraxol dramatically reduces the side effects experienced with paclitaxel, and Ko-Chung and his team are exploring the drug in relation to breast cancer – the leading cause of cancer death in women. As you can see, occupations don't come much more gratifying than leading a biopharmaceutical company that is determined to beat cancer.
"We'll be giving this company to the young people to actively get involved and to help to participate," Ko-Chung continues. "I don't want to say this is a legacy but it is such an important job, don't you think?" Indeed, we do.