The Singapore National Eye Centre (SNEC) is one of the largest eye hospitals in Asia, conducting 27,000 major surgeries and seeing more than 300,000 outpatient visits each year.
In addition to its clinical work, the centre has a thriving research arm, the Singapore Eye Research Institute (SERI).
For Professor Tien Yin Wong, Medical Director of SNEC and Chairman of the Board of SERI, the goal is nothing less than an international standing.
Tien Yin says he started ophthalmology so long ago that he can't remember why he chose the field over other early interests such as cardiology and surgery.
When he settled on medical and surgical eye diseases, however, he initially had a singular focus on becoming proficient as a clinician and gave no thought to the possibility of one day occupying a leadership role.
"Building up your clinical skills to a reasonable level takes a long time in this field. You need seven or eight years of accumulating enough experience just to become proficient at what you're doing."
"I'm sure it's the same in any profession, whether you are a doctor or lawyer, that when you're young, you never think about management at all."
"Most doctors are actually very low in the hierarchy. When you start in the field, going into management is not even on the horizon."
Tien Yin attended medical school at the National University of Singapore (NUS), where he was a President's Scholar.
Determined to pursue further studies at a time when clinicians were not encouraged to undertake postgraduate research, he took leave without pay to complete his master's and then a PhD.
He chose Johns Hopkins University in Baltimore after being inspired by a lecture delivered by its Dean Professor Alfred Sommer, the ophthalmologist credited with discovering the link between vitamin A deficiency and blindness.
Tien Yin then completed clinical ophthalmology training at SNEC. A prolific career in academia followed, and today, Tien Yin has given more than 300 talks that engaged audiences around the world.
He has also published more than 1,000 peer-reviewed journal articles on topics from macular degeneration and retinal vein occlusion to the epidemiology of retinal diseases.
His work has included pioneering multidisciplinary use of retinal imaging as a predictive tool.
This interest was developed when he established the Singapore Advanced Imaging Laboratory for Ocular Research (SAILOR), which has now evolved to become the SNEC Ocular Reading Centre (SORC), and continues Tien Yin's multidisciplinary and collaborative approach to his work.
It uses digital analysis of ocular images to detect and treat diseases including diabetic retinopathy, age-related macular degeneration, glaucoma, corneal diseases and pathological myopia.
It has also added to the understanding of microvascular pathology in cardiovascular and cerebrovascular diseases.
Another focus of his work is diabetic retinopathy, a complication of diabetes that can lead to irreversible blindness.
Currently, awareness levels are dangerously low with only 50% of diabetics cognisant of the risk.
With a regular screening of diabetic patients, however, Tien Yin is confident that diabetic retinopathy can be eliminated.
He has advocated for greater connections between institutions like SNEC and general practitioners to ensure that all patients assessed as diabetic are also clearly informed about the risk of diabetic retinopathy and are screened as early as possible.
Referred to as a 'pioneering clinician scientist' in the local press, Tien Yin has accumulated an award list so long that recounting them could fill this article.
Some of the most notable accolades, however, includes the Sandra Doherty Award from the American Heart Association; he was the first ophthalmologist to ever receive the honour.
He also became the first two-time winner of the Outstanding Researcher Award at the NUS and the Woodward Medal from the University of Melbourne.
Further, he has won The President's Science Award and the National Clinician Scientist Award, which are the highest honours a medical scientist in Singapore can win.
Having secured more than US$50 million in grants during his stellar career, Tien Yin brings an extensive understanding of the world of research funding to his various roles at SNEC and beyond.
He continues to be heavily involved in the academy and is currently Vice-Dean of the Office of Academic and Clinical Development at Duke-NUS Medical School, a collaboration between the American and Singaporean universities.
The quest for excellence
Now an experienced administrator in addition to his work as a retinal specialist and clinician scientist, Tien Yin has firm ideas about how a medical institution should be run.
"Besides having good people, organisations need a vision and a team that supports this vision. Without this, strategy can't be executed," he says.
"You always need a strong leadership team and a core with a very strong sense of purpose."
"I'm confident we have an experienced senior management team that has the passion and a vision for us to achieve this international standing."
Having collaborated with many eye hospitals in Asia, Tien Yin laments the challenges they face.
"Unfortunately, many are limited to providing good clinical work in the local community and managing year-on-year incremental growth and balancing the budget due to a lack of critical talent, infrastructure, government support, and a range of other reasons."
"Therefore, they may not have the ambition for global recognition."
Having worked internationally in the US and Australia, Tien Yin has developed an understanding of what makes a great academic healthcare institution and has come to appreciate the importance of an institution aiming high.
The goal of achieving international distinction is front and centre for SNEC, but Tien Yin says this hasn't always been a focus in other hospitals.
"I've seen healthcare organisations where they don't know where they want to go. This means they don't have a clear plan of how they're going to get there."
"You do not become internationally renowned by having an ad hoc strategy. You need to have purposeful, single-minded plans to get there, both in the short and medium term."
"You do not become internationally renowned by an ad hoc strategy. You need to have purposeful, single-minded plans."
Tien Yin says some hospitals are held back by a lack of funding, while others are undone by unproductive levels of rivalry within the institution.
"Sometimes, they simply don't see themselves as being able to achieve international prominence to compete with the top institutions in the US."
"They just don't see it within reach. And they may not have the people or the culture to do it, so they ask themselves why try."
In contrast, he says ambition has always been part of the modus operandi at SNEC.
"Of course, we deal with normal day-to-day issues, but we have a very strong track record and always ensure that achieving international eminence is one of our main goals."
"Because of that, the people who join us, including the younger faculty and staff, see this as an important part of who we are."
Tien Yin has clear ideas about the type of staff he wants working at SNEC and says the organisation has established a talent pipeline of driven young professionals willing to align their passion with his vision.
"People do not join SNEC if they just want a simple, stable career that cruises along year to year. When they join us, they need to feel that eventually, they will need to be working at the cutting edge."
"That ambition is extremely important to the senior leadership team here."
Tien Yin has seen the Singaporean healthcare system change significantly over the course of his career, and for the better.
It has evolved from a basic healthcare model that involved seeking to copy or emulate international best practice, to the current knowledge-creation and learning model, where Singapore healthcare institutions are no longer solely focused on providing good basic clinical work but can create new discoveries and treatment.
In the current model, there are also far more established career paths for clinician scientists, as well as greater incentives for research.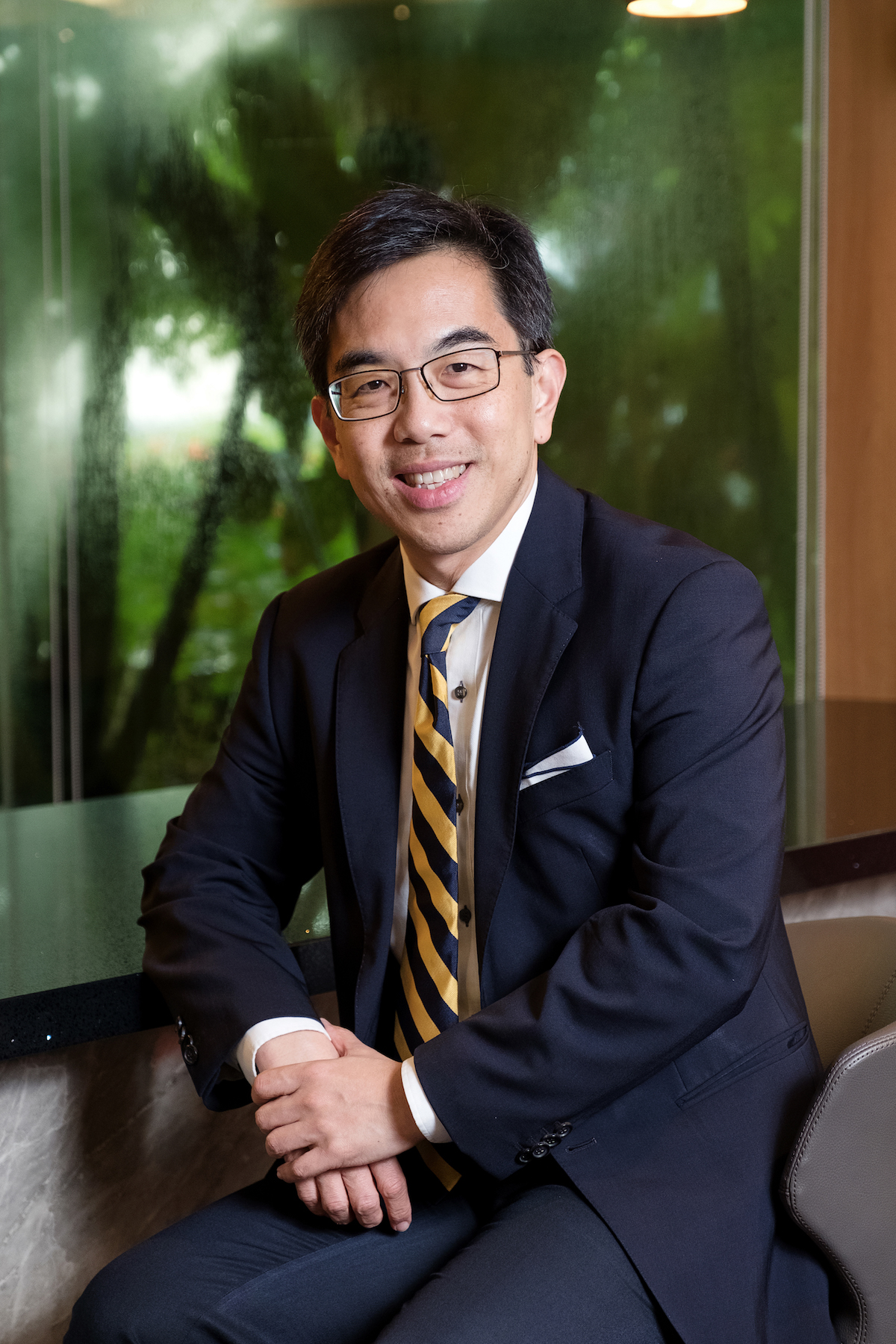 Leadership style
Tien Yin leads a team of 70 ophthalmologists at SNEC and his role includes overseeing an extensive and broad-based research and education program.
Asked how he would describe his approach to leadership, the word he settles on is "exacting".
"I would say that I'm probably a little too demanding," he concedes.
"I expect that the people I work with share the same vision as I do, and work with the same passion. I do not tolerate sloppiness well."
"If people come to me with an issue or problem and they have not either analysed it in detail or discussed the problem with different people to come up with possible options and solutions for the problem, then honestly, I am somewhat irritated by that."
Tien Yin makes no bones of the fact that he expects high standards from his staff.
"I set the bar high for people who are working for me. I expect them to understand that."
He applies the same lofty standards to his own work, however, saying matter-of-factly that his role involves both clinical work and the more elevated task of providing young staff with a role model.
"I need to meet junior people as I have to mentor and hopefully inspire them. Role models are essential," he says. "I have to do a lot of hands-on things."
"I set the bar high for people who are working for me. I expect them to understand that."
Tien Yin has broad experience as chairman of medical research departments and committees, including chairing the departments of ophthalmology at NUS and the Royal Victorian Eye and Ear Hospital, the University of Melbourne.
He says being a productive chairperson closely follows the same principles that apply to being an effective CEO.
"You do need to take a helicopter view in that role. What you need is a sense of the surrounding external environment. When you have that, you are able to steer the ship according to how the external environment is changing."
"A successful chairperson is someone who can strike a balance between looking inwards and being aware of the external environment," Tien Yin says.
He adds that a leadership team is only as good as its members.
"You also need a strong, supportive leadership team. That is my number one tip for new CEOs, because an effective, diverse and productive team will help you move along and bring up issues along the way."
Tien Yin says any CEO or chairperson needs to have clarity on what their role does, and does not, entail.
"They should always focus on areas they are responsible for. And they should always know when something does not need to be done by the CEO or chairperson."
"It is important to delegate and then refrain from micromanaging the delegated work. Something like external engagement or fiscal decisions, that is the CEO's job or the chair's."
"They shouldn't be letting other people take responsibility for that. On the other hand, they certainly shouldn't be wasting their time on something someone else can do."
The value of auditing
Another distinctive feature of SNEC is its extensive auditing of every one of the 15,000 cataract operations it does each year.
The process has allowed the centre to compile comprehensive data about these operations and to conduct exhaustive quality assurance checks.
It has also proven highly beneficial for the training of young doctors, especially as they start in the field.
SNEC has a specialist Clinical Audit Department which comprises of 10 people. This group is tasked with overseeing all clinical governance activities at SNEC and its branches and affiliates.
It scrutinises more than 10,000 case notes annually, with reference to more than 30 indicators.
Tien Yin says clinical auditing is now an established part of SNEC's operation, but there was initially a lot of scepticism about it.
"When we started that process, people were very afraid. In fact, a lot of our senior doctors were saying, 'Why are you auditing me, are you suspicious of me?' or 'Why are you checking up on us? We're not school children', and so forth."
"However, over time, when we started receiving the data and seeing where the issues actually were, it became an obviously important part of ensuring high standards."
"It facilitated us to continue increasing the quality of our surgical work. It improved the outcomes and lowered risks."
"Now, the senior doctors have completely bought into the concept and the junior doctors just see it as part and parcel of working at SNEC."
The future
Changing patterns of eye disease will create new priorities and test the capabilities of eye facilities in new ways.
In the 27 years since SNEC was founded, the Singaporean population has almost doubled and has brought with it an ageing population and an increase in chronic and degenerative eye conditions.
"These problems will not be simple to solve," Tien Yin admits.
"It won't be a matter of addressing these issues with a simple surgery; they will likely require multidisciplinary care, a longer follow-up for each phase and, in a lot of cases, lifelong check-ups."
Tien Yin says the centre wants to move away from its current focus on its headquarters at Hospital Avenue and place more of its resources into primary and community-based care.
This is a major project for the centre, he explains, and one that will require quite a shift in mindset and significant partnership-building.
SNEC is aiming to provide a more holistic experience for patients who continue to be treated at its main site.
"Patient experience is a very important part of the care process," he notes.
"These days, people don't just want their eye problem solved. Instead, they want a pleasant visit and a full experience – they have to feel that their eye care is not onerous."
As the centre meets these challenges, Tien Yin says innovation and entrepreneurship will be its watchwords.
And that there may be further opportunities to expand the centre's services or to look at more effective financing models.
The sector is also advancing quickly in South East Asia, which will provide interesting competition in terms of the centre achieving true international recognition as the leading eye care facility in the region.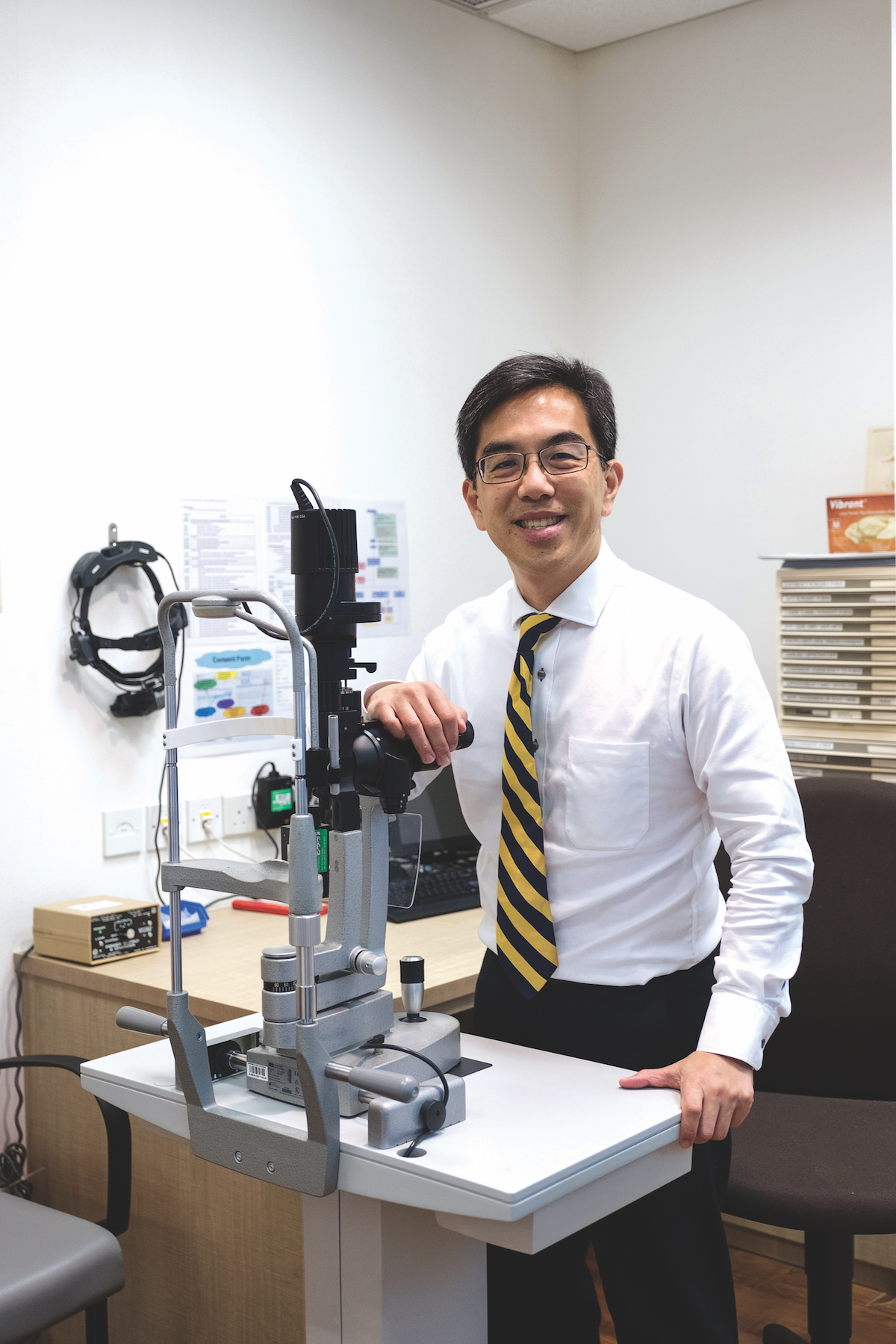 One example of SNEC's commitment to innovation is its cutting-edge artificial intelligence (AI) project, a world first.
"We are now able to use very advanced techniques to help us in the way we screen, diagnose and detect diseases using computer systems. It's truly a very exciting area."
Developing this technology involved collecting more than half a million retinal images from people of different ethnicities to build a comprehensive dataset.
The AI system was then trained to recognise diabetic retinopathy, glaucoma, and age-related macular degeneration.
Tien Yin believes the technology could eventually reduce the workload of graders and optometrists who do this testing by up to 80%, freeing them to spend more time treating patients.
The project was also highly collaborative in nature, involving not just SNEC and SERI, but the NUS School of Computing, and eye centres in China, Hong Kong, Mexico, Australia and the US.
Preliminary results from the project have been hugely promising and have already been published in the Journal of the American Medical Association, (JAMA), a highly reputable medical journal.
These projects show an evolving institution that is moving towards Tien Yin's vision of international leadership.
However, he is adamant that there is no place for complacency in an institution with such ambition.
This also applies to himself, despite his lengthy list of honours and years of high-level experience as a physician, researcher and manager, Tien Yin insists there is always new knowledge to be gleaned.
"Even now, all this time later, I'm learning every day. And whenever I see a patient, I'm still learning."
"Even now, all this time later, I'm learning every day. Whenever I see a patient, I'm still learning."