Renaud Boisson's journey into perfume and scent retailing began with mass-market products. Working at YSL Beauté, which was then part of the Gucci Group and is now owned by L'Oréal, he was given responsibility for some key international markets, including the Middle East and Africa. Renaud explains that younger managers are often given responsibility for these markets.
"That was one of the most interesting times for me," Renaud says of these early assignments. "They were difficult markets, but also selling mass perfumes was very different to what I'm doing today. It wasn't the same people whom I am talking to now."
Renaud was later tasked with getting the company's portfolio into stores. He explains this was an important step in the company's expansion and brought him closer to his long-term goals. "For me, that time was a very nice introduction to working with more luxury products," he says. "That was my goal when I started: I always wanted to work in a more luxury-product environment."
Renaud Boisson seeks a change of scene
While Renaud enjoyed the new challenges in this role, he was soon offered a position at Interparfums. The company intrigued him, and he was also seeking to work in a new region, a request Interparfums was able to accommodate.
"I said that I'd be extremely happy to work for Interparfums and I really would consider the offer if they could find another region that I would be happy to start something in."
Initially joining as an export manager, Renaud was based in Paris and tasked with overseeing the Asia–Pacific business. In 2010, he progressed to a managing director role. By then, it had become clear to Interparfums that it would be advantageous to have senior management based in Asia to facilitate its introduction into the fast-growing Asia–Pacific market.
That same year, Renaud travelled to Singapore to help open the company's first office in Asia–Pacific. In January 2016, he was appointed CEO of Asia–Pacific and has continued to oversee a rate of growth that has outstripped overall market growth in the area.
Interparfums Asia–Pacific works with beautiful brands
Renaud has seen some major changes in perfumes and scents in the nearly three decades he has spent in the field. When he started, there may have been 20 perfumes launched in a year. Now that number is more like 300. This means that a major part of the challenge of his role is keeping on top of all the new releases and building on Interparfums' strong existing portfolio with exciting new products.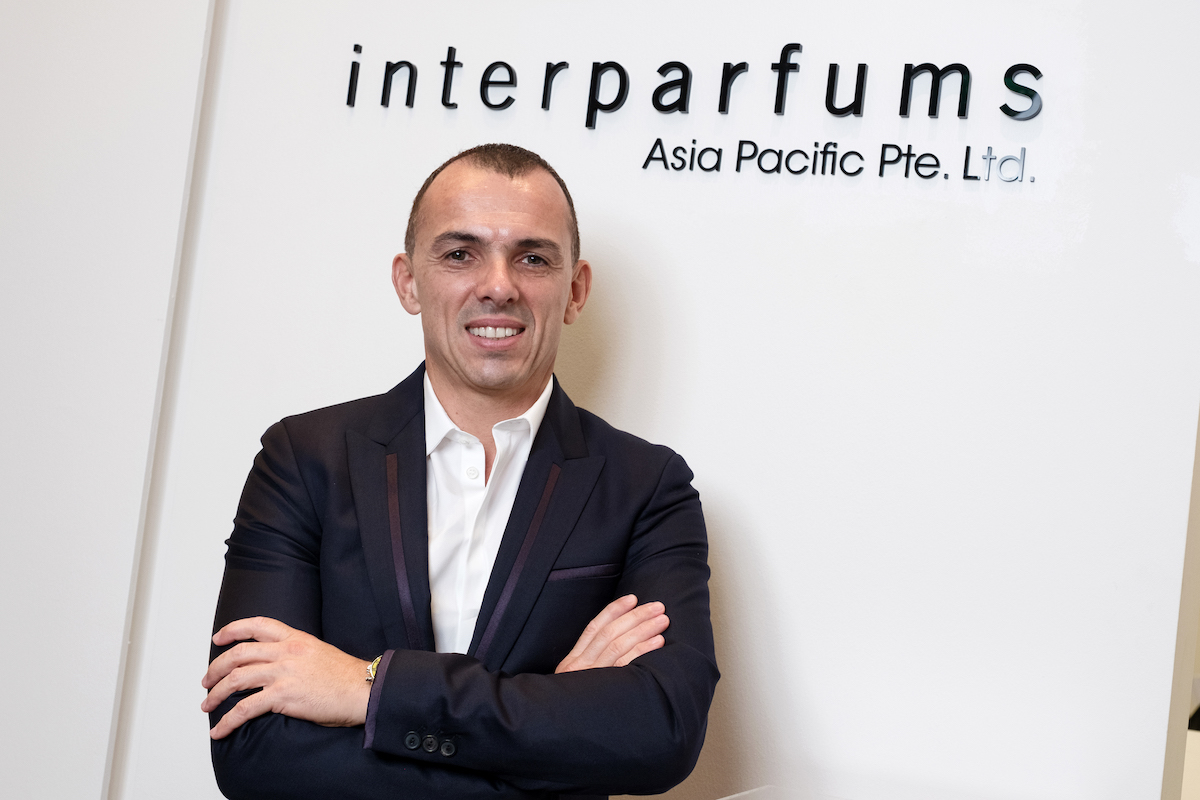 We had to reinvent ourselves and refocus. We had to find some new brands.
Perhaps the greatest challenge Renaud has faced, however, came when Interparfums stopped handling Burberry fragrances and cosmetics in 2013. At the time, the fashion giant accounted for half of all Interparfums' turnover. "That was a big change for the company and we had to reinvent ourselves and refocus," Renaud recalls.
"We had to find some new brands. That's what we did, and now we are working with some really beautiful brands." Renaud notes that the move to Asia–Pacific was a steep learning curve. "I had worked in other regions previously, but that was the only region I didn't know much about.
Targeting the travel retail sector
It was, however, an ideal location given Interparfums was targeting travel retail as the next growth area. The travel retail market is particularly strong in Asia, and Interparfums has a dedicated travel retail team in Singapore.
"When I joined the company, I highlighted to the bosses that travel retail was actually one of the areas for potential development," he says. The sector has been a key component of strong growth across retail generally.
"In 12 years, we have achieved something quite remarkable. For travel retail, I think 18 per cent of our business is in Asia–Pacific. We are very happy with our travel retail development and still have more scope to grow this department in the future.
"There are a number of nations in the region that could allow for this growth. Korea is our biggest market, Japan is a substantial market, and China is a huge, fast-growing market for cosmetics. Slightly smaller markets like Australia, Singapore and emerging markets like Malaysia and Indonesia also present very exciting opportunities.
"Somewhere like Indonesia has a lot of potential," Renaud enthuses. "You have more than 200 million people there and a large consumer cosmetics market. Then you have countries like Thailand and Vietnam, which are probably the next big change for our industry."
Maintaining partnerships across multiple markets
Renaud says the challenges vary greatly across the region. "There are very different ways of working from one market to another, all with different cultures. You need to carefully address those in your communications and your strategy. Things like the anti-corruption law in China, which saw a slowdown in business and really affected most of the luxury brands in perfume and cosmetics, are something to be aware of."
Despite the complexities involved in working across a number of Asia–Pacific markets, Interparfums has maintained several fruitful long-term relationships with perfume distributors across the region, for more than 20 years for some of them. Renaud shares that the work on these partnerships extends far beyond the initial negotiation and can often require careful relationship management. "You always need to rework the contract, talk again with the brands, and renegotiate."
Not taking these business relationships for granted has helped Interparfums to achieve and maintain ongoing partnerships. Emphasising the mutual benefits from these arrangements has also been valuable; Renaud mentions one Hong Kong partner Interparfums works with which started as a very small concern but is now the leading distributor of perfumes and cosmetics in China. "It started from scratch and we are the ones who really helped it. We helped each other."
A friendly, family-like atmosphere
Renaud says another key to achieving this loyalty from distributors has been highlighting the friendly, family-like atmosphere within Interparfums. "We do everything in a very nice spirit. That's quite important for us," he explains.
Maintaining this atmosphere within Interparfums means facilitating feedback and involvement from all levels of staff. "The culture here is one where we give a lot of importance to our team," Renaud explains. "You have to lead and make decisions and everything, but people who express themselves in this company really have a chance of being heard. It's easy for people to say to me 'Renaud, I don't agree with this.'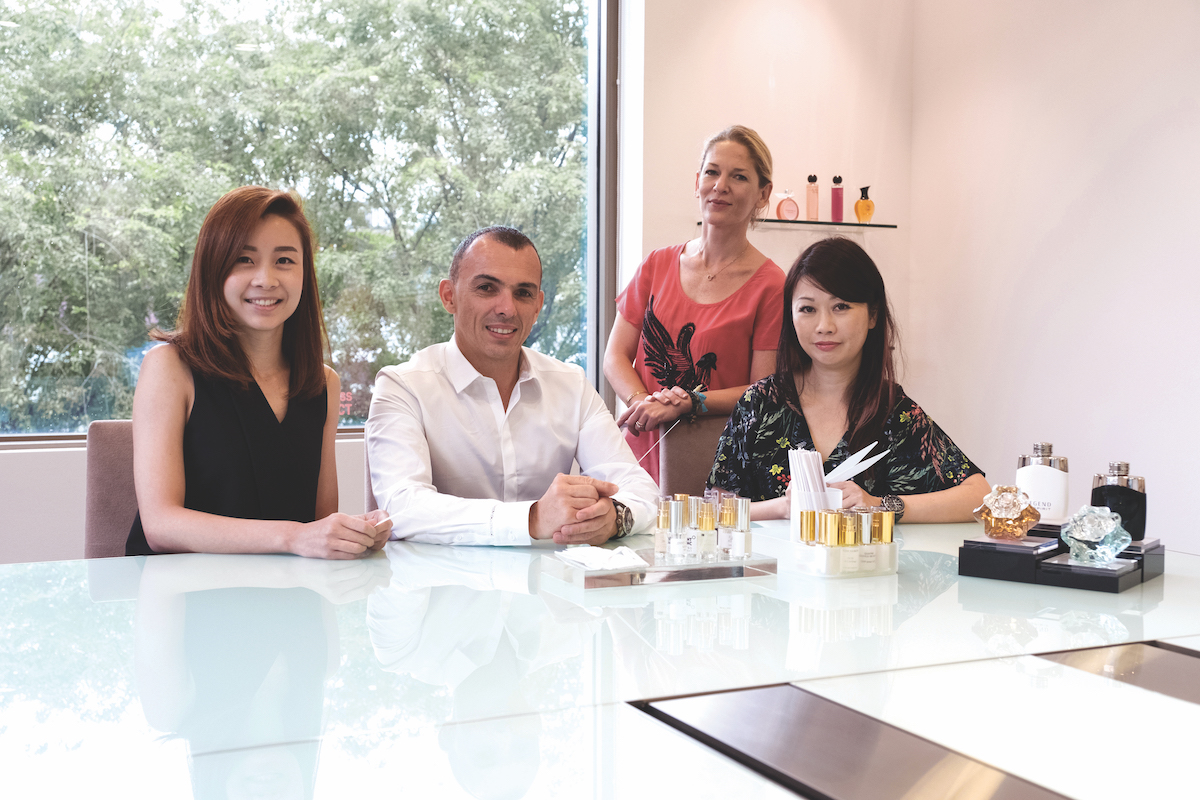 The culture here is one where we give a lot of importance to our team.
"It's even more important here in Singapore, where we have a really small team. It's very important to keep that family atmosphere in the company and to have a nice spirit in our work."
The impact of ecommerce
As with many companies working in or with retail, Interparfums is grappling with the challenges presented by the rise of ecommerce. "At the moment, we're all trying to understand how it works and to organise ourselves so that we have the best solutions in digital," Renaud explains. While print made up around 60–70 per cent of Interparfums' spend on advertising 10 years ago, it has now decreased to around five to 10 per cent.
Renaud believes that ecommerce may not impact perfume retailers as significantly as other retail sectors because consumers often want to try a perfume or scent in person before buying it. Still, Renaud considers the trend away from bricks-and-mortar retailers as one that must be carefully calibrated.
"I really believe the path to success in ecommerce lies in linking it with traditional retail. You need to link the retail customer and the ecommerce together in a 360-degree approach. Maybe the retail of the future will be a showroom more than a shop, but I believe it's important to still have some kind of physical store."
Renaud's favourite fragrance?
Renaud regularly visits his native France and has long-term plans to return there, but for now he is relishing the opportunities that his work at Interparfums' Singapore base presents.
"We still have a lot of projects here in development, so it's exciting for me. I really enjoy the company and I enjoy the position because it involves working with an emerging region and so many different cultures."
As for his own favourite fragrance, Renaud has a particular affinity for Mont Blanc's Legend range. While many perfumes fall out of fashion quickly in what is now a crowded marketplace, Legend is an outlier to this trend as it continues to rise in popularity some six years after its release.
"It's my perfume, it's a classic, and it's still flying off the shelves," Renaud says. As Interparfums continues to build on its Asia–Pacific base under Renaud, it shows every sign of having a similar staying power.