Roy Quek is the first to admit that Singaporean couples have more important things on their minds than the birds and the bees. Time-poor and work-obsessed, they are more focused on advancing their careers than making babies, and it's a factor the executive chairman of Thomson Medical believes contributes significantly to the country's declining birth rates.
Despite the availability of paid maternity leave, and the introduction of paid paternity leave in January this year, Singapore's fertility rate remains at 1.24, far below the ideal replacement level of 2.1 needed to keep the population from shrinking.
"Couples are too busy working," Roy says. "Plus they are getting married later, if they get married at all, and children are just not a priority. We have high-density living, a lot of stress, a very fast-paced life; it's not easy to appreciate the birds and the bees so much. There are too many other distractions these days."
Thomson Medical has seen decades of deliveries
Before Roy joined Thomson Medical in 2015, he enjoyed 21 years in government, serving various ministries, including Defence, Education, Community, Youth and Sports. He was also deputy secretary of the Ministry of Health and the founding director of the country's National Population Secretariat.  
While he is realistic that Thomson Medical can't influence bedroom habits and encourage a baby boom, the centre has remained a preferred option for delivering babies for generations. Incorporated in 1979, it enjoys a healthy reputation for providing the best in gynaecology, obstetrics and paediatric care, and accounts for nearly a quarter of all births in the country. It has also received multiple awards for its dedication to fertility treatments.  
"Having operated for nearly 40 years, we have the children of children returning to come in and give birth. It's all about trust and our reputation, not only of the centre but also the people running it. Families feel comfortable coming here because they know that's where they were born, or, increasingly, where their parents were born." However, while women and children have always been a primary focus, the centre is gradually expanding operations to include new areas of specialities and services.
Roy Quek expands the scope of Thomson Medical
Thomson Medical is aiming to become a fully integrated healthcare system offering the full spectrum of medical care, but more space is needed. While the 38-year-old premises on Thomson Road are a familiar and comforting sight, the complex is bursting at the seams and an alternative site is being sought to enable development of the existing hospital to increase the number of beds from 190 to 300. 
In time, primary care and specialist outpatient operations will be housed in outlying centres for patients to access their outpatient care. "We want to exceed expectations," Roy says. "We aim to build long-term relationships and become life partners with our patients and their families, looking after all their healthcare needs. My focus since coming on board has been to build a whole life cycle spectrum of services that will carry them from birth all the way to end of life. 
"We also understand the responsibility we have. In the past, you would accept everything the doctors said. These days, people research and will question a doctor. They are armed with more knowledge about what they want and how they want to get it done. People have become a lot less forgiving of poor-quality service and low standards of care."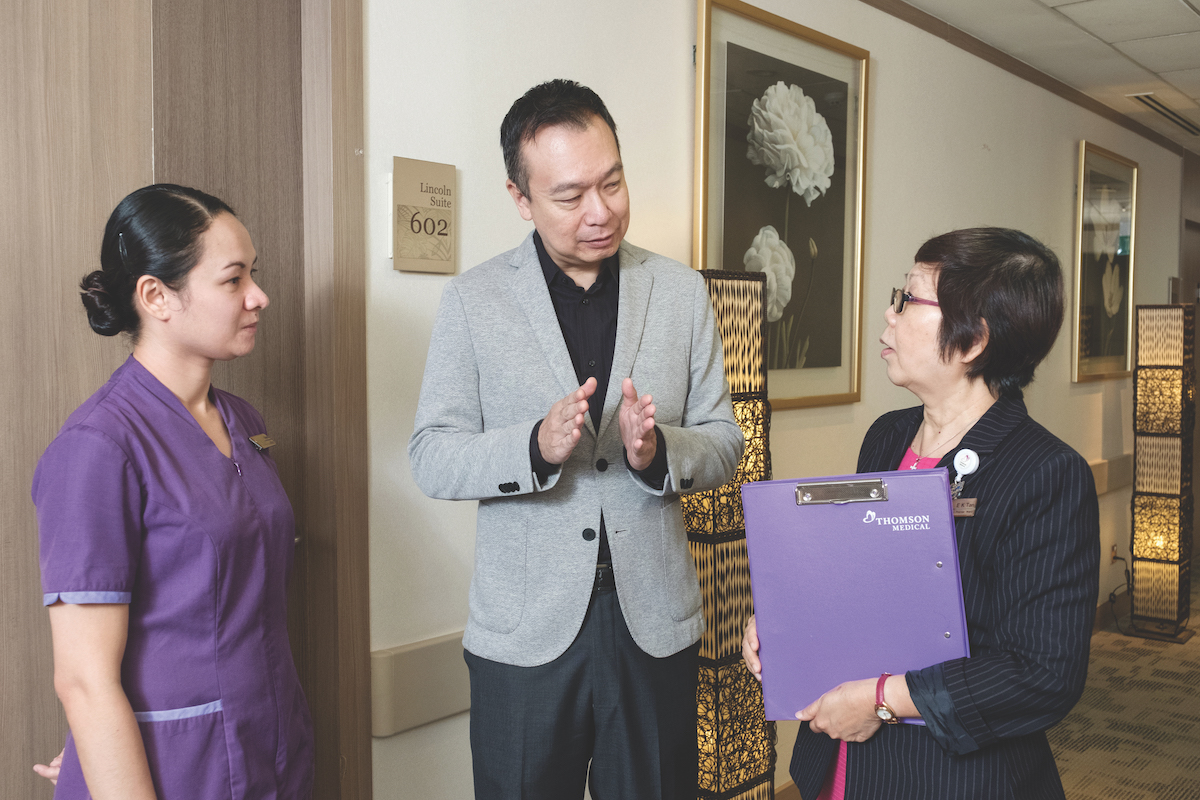 We want to exceed expectations. We aim to build long-term relationships and become life partners with our patients and their families.
Preventive health is another area Thomson Medical is expanding upon. The Thomson Wellth Clinic is a one-stop lifestyle service that educates people about their overall wellbeing and how to stay fit and healthy. It offers early health screening, diagnostic radiology services, referrals to specialists, and medical aesthetics for all ages. "We don't want to see you just when you're sick," insists Roy. "We want you to come in healthy and show you ways to stay healthy. A lot of the people we deal with are young; we want to educate them about good health as they age." 
Navigating the private sector
Roy concedes his leap two years ago from the public to private sector has not been without its challenges. He quickly recognised that there would be no more government budgets and resources to work around.
"I can't take that for granted in the private sector," he says. "We have to raise the money ourselves, and it takes great financial discipline to make every dollar and every cent count and go further. That's not to say the government is in any way not careful with money; it just has a very different approach to the way we account for the money.
"But I have exceptional partners in the corporate sector who have helped to make the transition a lot more seamless and painless, while on the clinical side we have top doctors and nurses, some of whom have been with us since almost day one. "The reason for their commitment is simple," Roy adds.
"Women's and children's health is a unique and special business to be in. It's quite joyful to be delivering new life every day, every week, every month. It's lovely to see the children that you delivered grow up and be healthy, upstanding adults. I think that's what keeps our doctors and nurses going. In the private healthcare sector, there's no better place than to be at Thomson."
Family-oriented service
Expertise aside, Roy believes Thomson Medical's main point of difference from other centres is that it operates as more of a family establishment than a business. "We see ourselves providing a service that we will be proud to have our own family members use," Roy explains.
I think there are three key qualities that you need as a leader," Roy adds. "To have vision, integrity, and to be people-centric. Relationships are for life.
"Thomson started as, and continues to be, a family-oriented service where you are treated like one of the family. We don't see it as purely running a business; we don't see it as purely transactional. We see this as looking after you because you are one of us. I think that is something we've been able to develop over the past four years, and it's basically become a branding, for us; we believe in it strongly." 
Committed to helping others
Through mergers and acquisitions, Thomson Medical has expanded operations to Malaysia and Indonesia, with a long-term plan to establish a pan-Asian private healthcare platform. "Basically, we want to provide a private healthcare system where members are able to access clinics and get the best outcomes wherever they go. Singapore will be our company's flagship, the base from which our ideas, standards and innovations can flow."
With a working history in health and education, it's clear that Roy is committed to helping others. He remembers his parents raising him with very transparent and strong values which led him to the areas of health and education, his passion to serve the community reinforced by strong mentors along the way. 
"One of the things someone once told me, and indeed my mother also did, was to never do unto others what you would not like done to you. That's been a guiding light for me throughout my life. I try to do what I can to help others; the same to be done for me if I ever needed someone to give me a lift up, and I hope I'd be able to find people around who would help me. 
"I think there are three key qualities that you need as a leader," Roy adds. "To have vision, integrity, and to be people-centric. Relationships are for life. Whether they are with your patients, colleagues, or business partners, it's for life."