When Alfonso Lim took over the reins of his family's business in 1980, he had an entrepreneurial spirit, an eye for growth and a legacy to uphold. As Chairman and CEO of Limketkai Manufacturing Corporation (LMC), Alfonso's hard work and determination have seen the company grow from a small agricultural business into the Philippines' largest manufacturer of corn products, while sister company Limketkai Sons Inc. (LKKS) became the region's leading real estate developer.
It all started in 1927 when the family patriarch, Lim Ket Kai, began acting on his dream of agricultural progress in his humble hometown of Cagayan de Oro in the Philippines.
The business soon expanded into the trading and exports of agricultural commodities, and in 1965 began milling to produce corn grits and flour, animal feeds, copra and, eventually, corn and coconut oil, margarine, shortening products and other edible oils. More than 90 years and three generations later, this dream is now a legacy that spans multiple businesses and industries.
Alfonso Lim on heading up the family business
Alfonso graduated from the Mapua Institute of Technology in 1963 with a bachelor's degree in mechanical/textile engineering. "Soon after college, I set up an engineering firm with some of my schoolmates. However, a year later, my father asked me to join his business – an electronics manufacturing company – where I started as a salesman and was quickly promoted to sales manager. I was then transferred to our family's agri-manufacturing business as the Manila branch manager where I assisted my father and elder brother, Florentino, who was then the executive vice-president. I served as the company's corporate strategist and planner."
In 1966, the growing businesses were consolidated as Limketkai Sons Inc., while the manufacturing division was spun off into Limketkai Manufacturing Corporation in 2000. As the holding company, LKKS refocused on mainly real estate developments.
"When my father and my brother Florentino passed away in 1972 and 1973, respectively, my eldest brother, Macrobio, assumed the presidency and board chairmanship while I took over as executive vice-president," says Alfonso. "But after a few years, I assumed the president and CEO role of the company, and later took over as chairman of the board.
"Other siblings have also assumed management positions to take care of the family businesses." With six brothers and two sisters, Alfonso explains how they have professionalised their relationships to avoid any conflict of interest.
"We have a rule that each member of the family is only allowed one of their respective family members to participate actively in the business," he says. "Each member holds a key position to ensure our duties and responsibilities don't overlap. And our board of directors is responsible for resolving any personal or professional issues."
Alfonso is a "strategist at heart"
Alfonso's business philosophy and management culture is a blend of Chinese wisdom and Western concepts. "I lead by example. I demand excellence from myself, and I expect my organisation to strive for excellence and to perform at its best," he says. "To maintain our lead in the industry, we must stay informed, reassess ourselves, innovate new products, and upgrade and expand our facilities."
Alfonso mentions one Chinese proverb in particular that guides the way he does business, which roughly translates to 'Be prepared for danger, even in times of safety.' "I am a strategist at heart," says Alfonso. "I meticulously plan every business venture, always making adequate provisions for long-term eventualities. That's my nature.
Be prepared for danger, even in times of safety.
"When I sensed new opportunities for growth and expansion, I diversified into real estate and established the Limketkai Centre, a 40-hectare commercial and business district development strategically located in the heart of metropolitan Cagayan de Oro." Housed within the centre is the region's largest shopping mall and the 18-storey, five-star Limketkai Luxe Hotel. Under construction now is a 10,000-square-metre casino, linked to the hotel.
With completion expected in January 2019, Alfonso firmly believes, the casino will further enhance the city's status as a world-class urban metropolis for domestic and foreign tourists. "Over the years, the family's businesses have grown tremendously. Our board of directors has acknowledged my contribution to the Limketkai Group's impressive growth, recognising my hard work, dedication and foresight."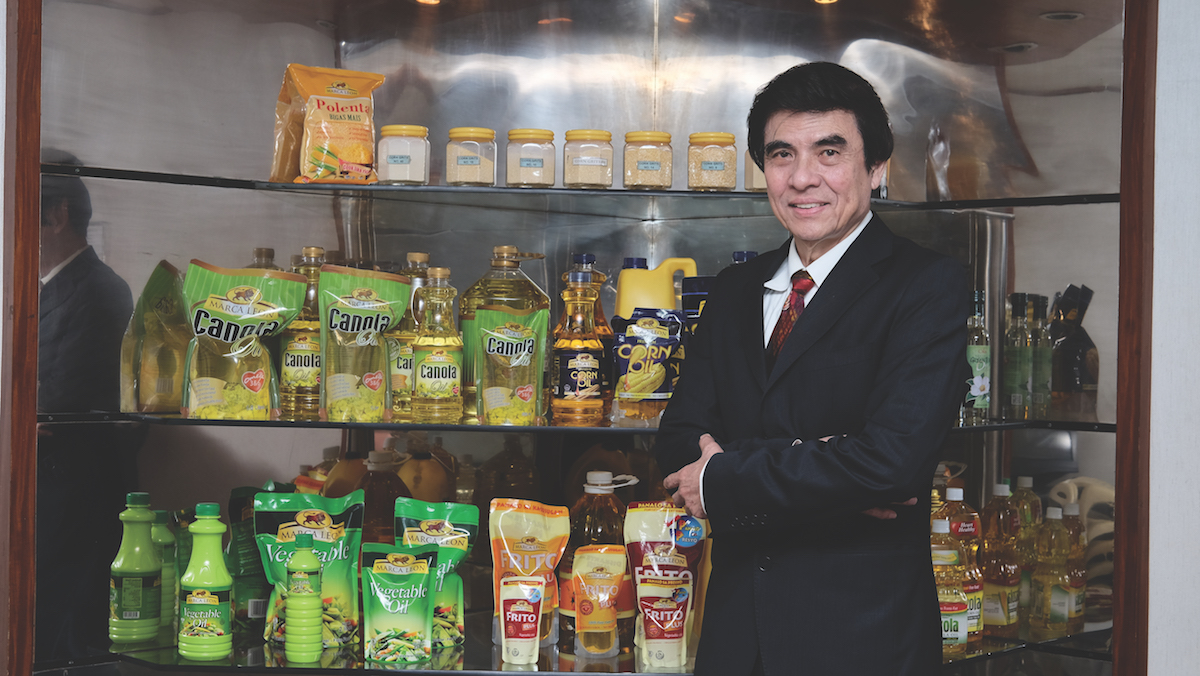 Alfonso was commended for pioneering investments in corn silo storage with drying facilities, for his innovative strategies in corn oil extraction from corn bran and corn mill modernisation, as well as for the success of the landmark Limketkai Centre.
Limketkai Manufacturing Corporation is committed to high quality
The group's manufacturing arm, LMC, operates several milling, refining and manufacturing plants, grain drying and storage facilities, and distribution centres throughout the Philippines. "We now have a comprehensive distribution system developed from decades of operational experience," says Alfonso.
This built-up network covers the whole Philippine archipelago with strategic sales offices and regional distribution warehouses in Luzon, the Visayas and Mindanao, encompassing all trade channels in support. "We are currently in the process of expanding our oil refinery operations, and building a new site in Luzon to supply China's export market and meet the strong demand in Luzon and Metro Manila," explains Alfonso.
"This site enables us to increase our refined coconut oil production capacity while operating at a lower logistical cost compared with the present system, where products must be shipped long-distance from Cagayan de Oro to Metro Manila.
"The Philippines' manufacturing sector is burgeoning and our manufacturing scope has expanded significantly," says Alfonso. Manufacturing comprises more than half of the Philippines' industrial sector and accounts for almost a quarter of the country's GDP. LMC currently enjoys 12% of market share in the edible oils industry, of the more than 20 industry players in the Philippine market, and dominates the region's corn retail market by 70%.
"We remain committed to products of the highest quality, and we regularly upgrade our facilities and operations," he says. As the largest manufacturer of corn products in the Philippines, LMC practices stringent quality control.
We continue to make inroads into the edible oil market previously dominated by rival international brands.
"Through prudent leadership and effective management strategies, we continue to make inroads into the edible oil market previously dominated by rival international brands," says Alfonso. As a result, the company has become the Philippines' leading quality edible-oil provider, under its Marca Leon, Frito Plus and Mazola brands.
Taking pride in CSR
LMC places a strong emphasis on innovation to become more productive and competitive. "Over the past 10 years, we have adjusted to the changing consumer market by introducing new product lines such as shortening and margarine for the bakery market," says Alfonso.
"We have also expanded our corn products from animal feeds to food applications such as corn grits for staple foods, breakfast cereals and snack foods, as well as beer products for the institutional market.
"LMC has introduced coconut oil to the institutional market for their manufacture of filled milk, ice-cream and spreads. We have also entered the budding Chinese market, where we have begun to export our coconut oil."
The emergence of a health-conscious market prompted the production of a variety of lifestyle organic products. "We tapped into this trend by producing our own brand of 100% organic coconut-sap sugar, made from local flowering coconut trees, under the brand Sorel Coconut Sap Sugar," says Alfonso.
The company prides itself on being a responsible corporate citizen, committed to creating value for the community and upholding sustainable practices. "In manufacturing Sorel, our subsidiary company, Tropical Organic Harvest Philippines Corp., is committed to the quality of its products by practising organic agriculture: a holistic process where we make sure that our farmlands and crops are non-GMO and all natural," explains Alfonso.
"By doing this, we are able to enrich the soil and make it more fertile in order to prevent the depletion of natural resources." This is confirmed by the stamp of approval that Sorel coconut sugar has received from USDA Organic and the Food and Drug Administration of the Philippines, as well as from the Halal-, Kosher- and Ceres-certifying agencies.
LMC's key growth areas
Alfonso is focused on several key areas for growth across his real estate and agri-manufacturing companies. "Given the enduring success of the Limketkai Centre and Limketkai Luxe Hotel, we are confident of launching a hotel chain, shopping mall and other similar undertakings in Metro Manila and surrounding growth areas," says Alfonso.
Currently, there is a remarkable demand for residential condominium units in Cagayan de Oro City, which has grown to a daytime population of around one million people and a regional population of 4.5 million.
"The city is the financial, educational and political centre of northern Mindanao, with people visiting for business and academic pursuits as well as entertainment, recreation and government transactions," explains Alfonso. "We intend to capitalise on this popularity by developing 11 high-rise residential towers in the Limketkai Centre."
In its manufacturing division, LMC is expanding its corn storage and post-harvest corn-drying facilities at Bukidnon to increase the stockpile during harvest season. It also plans to expand its coconut oil refinery complex in the Philippines in tandem with its oil storage logistics centre that is based in Shanghai, China.
"This centre will have complete pier facilities, which are currently under construction, as well as a cold-storage warehouse to accommodate Philippine tropical food product imports – another exciting new business venture for us," says Alfonso.
"We are also looking to join the envisioned Maritime Silk Road section of China's 'One Belt, One Road' initiative, to tap the huge and growing market there," he adds. Aimed at providing new infrastructure and economic aid to in-need countries, the scheme will connect 70 countries across Eurasia, Africa and Oceania through two routes – one overland and one maritime.
If its diverse and accomplished history is anything to go by, the Limketkai Group is looking at a promising future with Alfonso at the helm. "Complacency is our greatest challenge. As a company, we must always aim to move forward and not rest on our laurels," Alfonso concludes, his eye firmly on the future.