When Samson Paper CEO Dennis Seng Jin Lee was first considering a move to China, it seemed like a high-risk, high-reward proposition. It was a challenge he found appealing. "Many people would not come to China at that time; it was considered an unknown. During the Asian financial crisis, the uncertainty level got higher. But I told myself: If I dare to take the move, my chances of success are very high."
Being a property developer and an importer of European goods into South East Asia, Dennis had developed a keen appreciation for where a market would move. Further, he viewed it as an emerging market. "I thought China would have growing demand for paper," he remembers. "It is one of the major products that is in demand when a country does well and disposable income gets higher. So I saw a strong future in bringing paper to China."
Dennis Lee leads with a 'big, fast, strong' strategy
He started as a minority shareholder of Samson Paper and thought he was a good fit for the paper industry as his passion and confidence grew after gaining success right upon entry into China's growing market.
Soon after that, he decided to acquire majority shares and became the largest shareholder of Samson Paper. Dennis wasn't interested in merely dipping his toe into the Chinese market. "Having gained majority interest of the company, I could take the lead and drove myself with the BFS strategy: 'Big, fast, strong'. I always wanted to be the biggest. But to be the biggest is not enough; you have to do it fast, ahead of others. Then to stay big, you need to be strong and have the capability to overcome all business challenges and obstacles."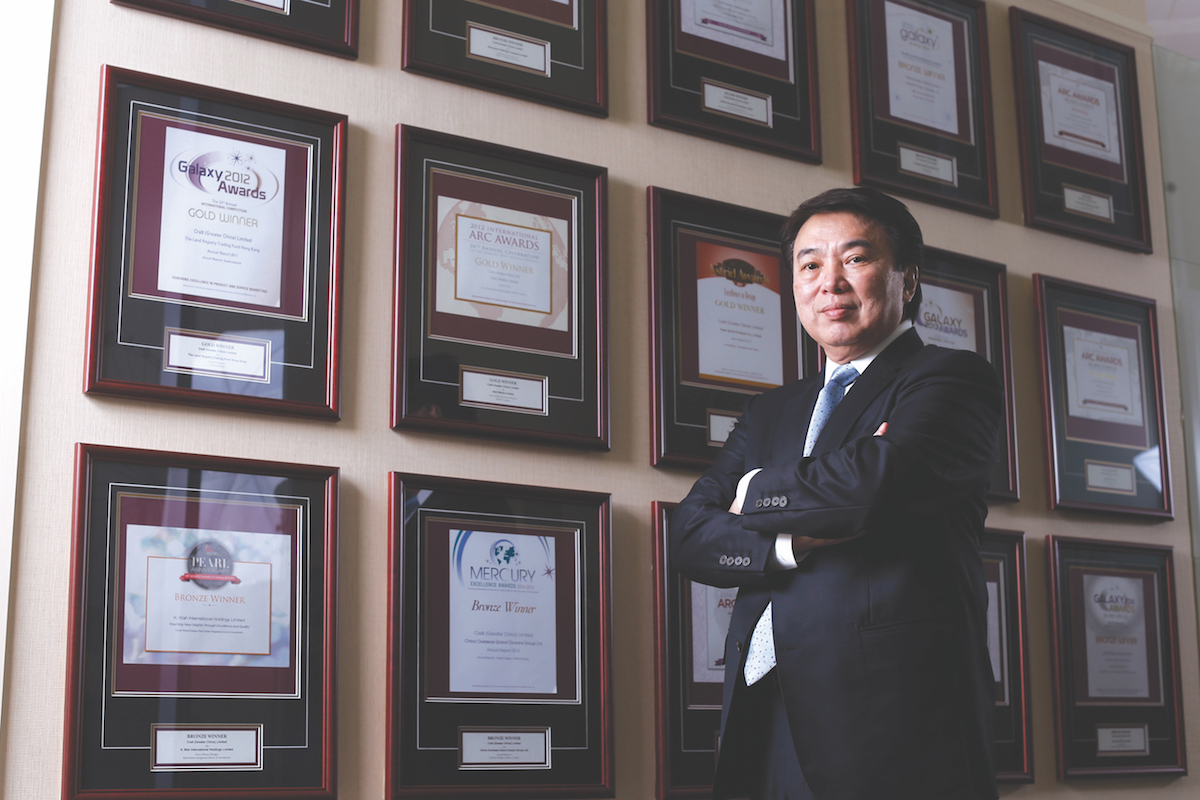 Dennis transitioned the company, formerly run mainly by the founding family, to a more meritocratic model to drive growth. "I turned the company's ideology around. I wanted to run it as a corporation rather than as a family business," he explains. "Everyone who comes to work here should be an experienced professional in their field. Any family members who are strong and have the ability to work for us, of course I will take them, but the best people must work for us."
Samson Paper Holdings takes an ethical approach
The company was listed on the Hong Kong Stock Exchange in 1995. Opening it up to outside influences meant access to greater resources and experienced management. It has since expanded beyond Hong Kong and China into new regions such as the US, Singapore, Malaysia and Korea. It has achieved vertical integration, acquiring both brownfield and greenfield paper mills, which has allowed it to be involved in both the manufacture and
trade of paper.
This growth has been underpinned by a strong platform of ethics and principles, Dennis says. "Trust must always be in place, and the key is that you work with transparency. This way, you create comfort for both the suppliers and the customers."
Trust must always be in place and the key is that you work with transparency.
The company's ethical approach includes a strong focus on governance, Dennis explains. "You shouldn't just focus on profit. You must also ensure you have strong internal audits, good governance systems, and a management that can govern the business well. This creates trust, which is the most important thing."
With trust comes strong connections to both suppliers and customers. Dennis says his approach is to view stakeholders as involved in an ongoing relationship rather than just a transaction. "My vision is to be 'The Right Paper Man' for my customers. Coupled with my BFS strategy and strong financial credibility, I can secure and offer them the right paper solutions with a full range and all-rounded support," he reflects.
"It must be a win-win situation. We want to be able to discuss with them, 'How do we tackle the market? How do we improve this product?' " In this way, Dennis says, the company can leverage the market knowledge of its suppliers and customers, resulting in more long-term, strategic partnerships that are mutually beneficial.
Dennis' philosophy on staff retention
As Dennis turns his mind to succession planning, he is faced with a welcome challenge in that Samson Paper employees are now highly valued and in demand with competing firms. Even so, the loyalty level of his management team and business leads are unwavering – most of them have worked for him for more than 15 years and some as long as 30 years.
This ties in to his philosophy on staff retention: "Train them well enough to be ready to leave, but reward them so they don't want to leave." He remains confident in the talent pool Samson Paper has built, and expects a new group of leaders to emerge in the next five to 10 years.
There are always problems, but if the company has no problems, then it has no business.
Beyond passing on industry expertise, Dennis says training should aim to create employees who are resilient, adaptable and business-minded. "They must be able to create new business," he says of his ideal employee.
"They must be leaders and entrepreneurs. I want people who don't give up or give in, who don't take the easy road. There are always problems, but if the company has no problems, then it has no business. That is the mindset I try to pass on to my people: problems are good, problems are opportunities."
A positive mindset is fundamental to success
Alongside a commitment to training, Dennis believes that maintaining the right mindset and working with a positive attitude are fundamental elements to business success. This begins with management who, he says, must be adaptable. "They must be willing to learn and train our people, and to accept new market conditions."
For his employees, having the right mindset means understanding how their success is interconnected with the success of the business. "People's expectations are getting higher; they want a better future and career path," he says.
"They must always work towards growing the company. When the company has strong profits, we can give the staff a better future. With the right attitude, right mindset, and honest, hard work, our people will succeed. And when they get a job done well, they will be rewarded."
Dennis is a believer in his employees having a high level of ownership of their work and an understanding of the bigger picture. "My main objective is to let every one of my staff have a very high sense of belonging. I want everyone to treat the company as if this is their own business. People work better and are much happier if they work like this, and the rewards will come."
A focus on education
His advocacy for education and training goes beyond upskilling his own staff. Under Dennis's leadership, Samson Paper has supported a number of initiatives that aim to increase access to learning for the community.
"You must have education for the youngsters; they are the future of the company and of the country," he says. "We also have programs for the poor and the sick, but my focus is on education. I was not born rich. I wanted to study, but money was an issue at the time, so I know how difficult it is."
His time at the company has yielded personal accolades like the Entrepreneur of the Year Award, yet Dennis insists the credit for the company's successful transition from family concern to a modern conglomerate is shared with his staff.
"I'm very thankful that my journey in China has gone right. It is something not just done by me but by a whole team of people, I believe in that team of people. I am very appreciative. They built the company up to what it is today and they will be the future leads to carry on my vision to be 'The Right Paper Man' for our customers." he says.