Celebrating its fortieth anniversary next year, Hyva Group is a leading global provider of innovative and highly efficient transport solutions servicing a range of sectors, from transport to construction. It is committed to being the world's best provider of lifting, loading, stacking, compacting and tipping solutions to the commercial vehicle and environmental service industries.
Marco Mazzu: "I chose Hyva and it chose me"
Named Hyva CEO in April 2015, Marco Mazzu is a seasoned executive and industry insider with 20 years of leadership experience with Fiat, Case New Holland and Iveco across the US, Europe and South America. "Hyva is directly related to mining construction and trucking – two areas I am experienced in and passionate about. That's one reason why I chose Hyva and it chose me," he explains.
Founded in the Netherlands in 1979, the Hyva Group has a global network across 130 countries with more than 25,000 customers, and 2,000 employees and 36 subsidiaries. The company has 13 well-equipped manufacturing and distribution facilities across Brazil, China, Germany, India and Italy.
Its products are used worldwide by the transport, construction, mining, materials handling and environmental service industries, and designed and marketed under several well-respected brands: Hyva, Kennis, F.lli Ferrari and Amco Veba. "Hyva has built significant brand recognition in the industries globally. We have a strong presence alongside stakeholders in the global market," explains Marco.
---
Celebrating two million cylinders
In October 2017, Hyva produced its two millionth hydraulic telescopic cylinder, used in dump trucks and tipping semitrailers.
The production landmark was celebrated in cylinder production facilities in Germany, Brazil, India and China, as well as in customer events and commemorative display exhibitions.
Recognising this historic milestone, CEO Marco Mazzu said, "Two million cylinders is an exceptional achievement."
---
Hyva produces the strongest front-end hydraulic telescopic cylinder in the world, ensuring all components meet global market demands in terms of quality, price, availability and after-sales service.
Hyva prides itself on its customer-driven culture
"Since I started in 2015, we have worked hard during the low points in the mining and construction commodity curve, and now plan to leverage the recovery of China and other markets," says Marco. He believes that Hyva's strength lies in its combination of entrepreneurial spirit and customer-driven culture.
"Our people are our power – we place strong emphasis on the value of people and the development of leaders. In annual meetings, we bring our first-, second- and third-level leaders together to ensure all staff are treated fairly and given the opportunity to innovate and develop their skills. This is one of the most fundamental values of a successful company."
Our people are power
Hyva prides itself on its customer-driven culture. "Customer focus is built into our DNA. We are very conscious that customers demand the highest standards from a recognised brand such as Hyva," says Marco. "Our entire team works together to uphold this reputation. In this business, however, there is more than one customer."
For this reason, Hyva continues to place strong emphasis on supplier management and developing close technical partnerships. "Our entire supplier process – from sourcing, to delivery to day-to-day management – is supported by the flow of transparent and open two-way communications. We won't partner with someone unless they can demonstrate they have a strong supply chain and solid procurements in place," says Marco. "Technological innovation continues to play a key role in simplifying and enhancing this process."
A record of innovation and leadership
Hyva's core business stems from providing tipping solutions to the construction and mining sectors. "We have the responsibility of maintaining Hyva's number one position in its traditional business as well as ensuring it is perceived as a premium and trustworthy brand," explains Marco.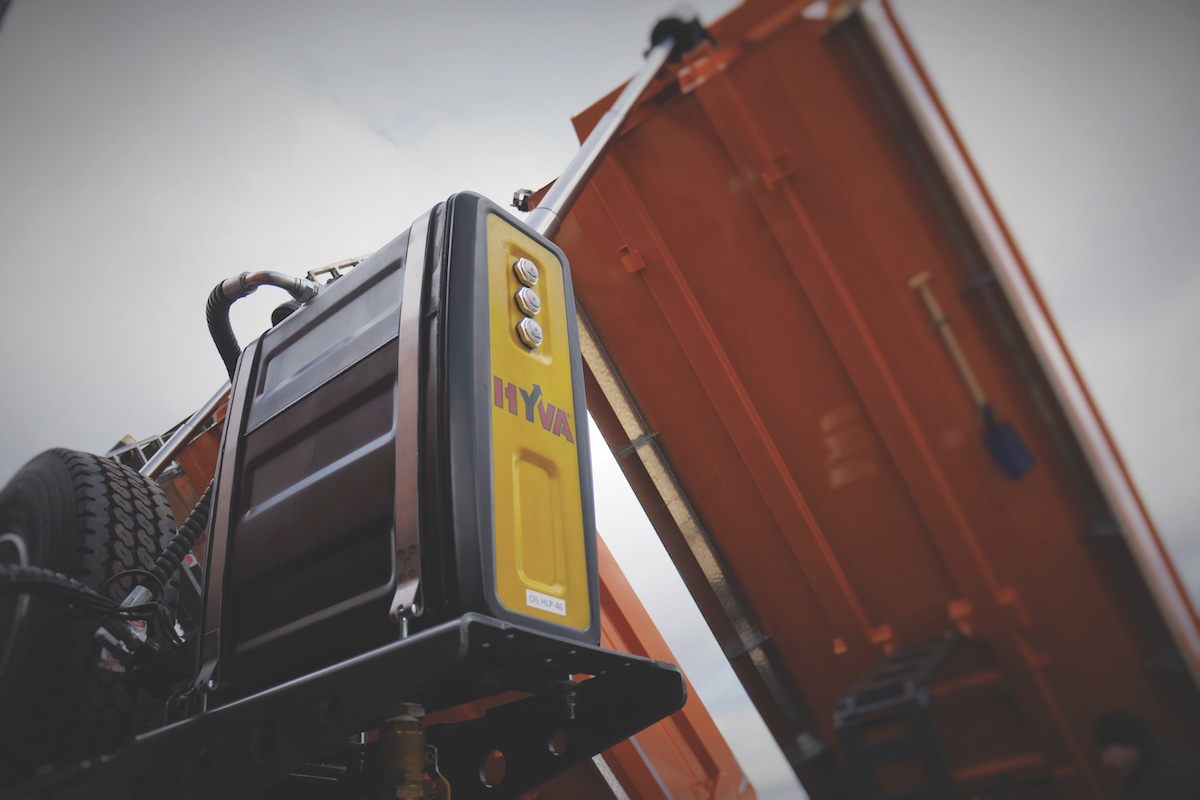 "Over the past two years, we have continued to expand throughout the world and distribute our new tipping system, Alpha." As the fifth-generation of front-end tipping solutions brought to the market by Hyva over a 30-year period, the new Alpha series will extend and consolidate the company's record of innovation and leadership in the space. "It is lighter, faster, safer and more efficient – putting us far ahead of our competitors."
Marco has also recognised the opportunity to grow product lines including truck-mounted cranes, container handling systems, and waste compaction and management systems in the coming years.
He expects that technology will play a key role in these developments. "Our current innovations are focused on electronics, sensor management and providing technical information to enhance the tipping process. The ability to provide real-time data that can be integrated with the data of our customers is something we are very excited about – it will help us keep our edge in the market."
The next generation of innovators
Hyva is in the process of expanding its crane and waste handling compaction equipment throughout several regions including South East Asia, China, India and the Middle East. "Over the past year, we have started the production of a completely new range of cranes, with completion expected in 2020. Our longstanding and geographically dispersed teams are key in this expansion. The closeness of our global teams is our biggest asset.
"We are also transforming our crane centre in Italy into an excellence hub for innovation, development and service support," explains Marco. Hyva is investing heavily in increasing production capacity in Germany, India and China. It is currently expanding its German warehouse which is urgently needed as the business continues to grow.
"To achieve these goals, we are leveraging our relationships with key stakeholders, using our existing knowledge and expertise, and training new teams to become the next generation of innovators."