The average worker in the United States stays at one place of employment for roughly 4.1 years before moving on, but when Monica Turner reflects on her long career with Procter & Gamble (P&G), it is with no regrets.
"I've had what I call multiple careers in one company," she tells The CEO Magazine.
She currently holds the role of President North America for the company's largest and most profitable market, which has more than 65 brands and serves more than 370 million consumers across the United States and Canada.
Although much has changed since Turner first joined P&G as an intern in 1987, she says the company's appeal from all those years ago remains undiminished and stems from its commitment to always do "something of value".
I'm part of a company that does something of value and importance, and it's exciting.
"As a consumer-centric company, we intentionally make sure we wake up every day and do something of service to our consumers, our communities and, importantly, to our employees," Turner explains.
"I'm part of a company that does something of value and importance, and it's exciting."
Exciting, too, is the opportunity to continue driving sustainable growth in what is commonly seen as a mature market.
"What we are finding is we are able to accelerate our momentum," Turner explains.
"We're proving that when consumers are at the center, everything we do is making our business better, and also making the lives of our consumers better."
Flipping challenges
Turner's own role in driving this momentum is key, with her ability to identify opportunities a major advantage for P&G.
"I don't necessarily see challenges, I see the possibilities within challenges," she says. "Everyone who has the opportunity to work with me or for me will always know that I'll say, 'How do we flip it?'"
Of course, the COVID-19 pandemic offered up an abundance of challenges for Turner and her team to try and "flip".
"We were able to make our business better and serve our employees and communities better," Turner says. "That's a positive outcome."
At the beginning of the pandemic in 2020, when panicked consumers ran to their nearest supermarkets to stock up on toilet paper, leaving empty shelves, Turner says it swiftly highlighted impending issues with the supply chain.
"Were we going to be able to have enough capacity to truly serve?" she recalls. "We needed to make sure we could actually drive more capacity."
Many considerations came into play, from sourcing the materials to transporting the products, particularly given the scale of P&G's North American operation, which includes 23 manufacturing sites across 17 states in the United States and another manufacturing site in Canada. During the pandemic, P&G's operations were deemed essential as they make, pack and ship products people need every day
"We were working with our suppliers and logistics, while also understanding consumer needs to make sure we were getting products to where they needed to be," she says.
"I'm very thankful our frontline workers were working 24/7, and they also helped us understand what we could be doing better."
This involved growing its own fleet, which added all-important capacity to better serve its retail partners – an expansion that wouldn't have taken place at such a fast pace if not for the pandemic, Turner admits.
We were able to make our business better, serve our employees and communities better. That's a positive outcome.
It's one of the positives that came out of the situation and one the company still stands by, even as the world has learned to live with the virus.
"It gave us the opportunity to accelerate our investment in infrastructure and the digitization of our supply chain, enabling it to operate more efficiently and effectively. Our investment in our supply chain will continue to benefit us for many years to come."
This ability to pivot is an important component of a growth mindset, which is something Turner believes is now more important than ever for modern leaders.
"I believe in possibilities. It's the orientation by which I set up my day," she says. "Impact happens because we're here, and I'm inspired every day to make a difference."
The right investments
Developing the next generation of leaders is also a top priority for P&G, with Turner describing its people as the company's "absolute greatest asset".
"We're a company of superior brands that delight consumers, but we're also a company of people and those people are better served when we as leaders are investing in their growth and development," she explains.
"Today, I also believe not only do leaders have to have a growth mindset, they must also be willing to invest and develop the organization and be intentional for every person within their organization."
With some of the world's most outstanding leaders among P&G's alumni, Turner is committed to extending that opportunity to everyone within the company's ranks. To do this, P&G uses a training methodology called '70, 20, 10'.
"We have 70 percent on-the-job learning, 20 percent classroom learning and 10 percent learning through relationships," she explains.
We're a company of superior brands that delight consumers, but we're also a company of people.
Turner says relationships were particularly relevant to her own learning process as she made her way up through the organization, which is why she continues to devote time to it daily.
"I think leaders have to be consummate learners," she says.
"I'm not only role-modeling it for the organization, I'm making myself a better leader for the organization by creating an environment and culture of learning."
One fast-evolving space that requires continuous learning is data automation and digitization.
"At P&G, we aim to lead constructive disruption across our business, collaborating with experts to leverage data and technology to accelerate digital transformation," she says.
Turner talks about P&G's approach to digital in three ways – the explosion of ecommerce, the optimization of the company's operations and the upskilling of the organization.
"On the commerce side, consumers and the way they're choosing to shop just exploded our digital commerce business over the last three years," she says.
"In order to make sure we're able to meet the need from that standpoint, we started to build digital infrastructures strengthening one-on-one relationship with consumers."
The company's consumer-centric approach uses data and technology to deeply understand consumer needs and deliver superior products and experiences.
The Pampers rewards program is a case in point. "Our Pampers Club is one of the largest databases of consumers, and it really builds relationships with parents, starting out when the baby is born," Turner explains.
"It enables us to have a lifetime with moms and dads because our other brands start to pick up from there. It's important that our Pampers brand creates these types of interactive content. It starts the relationship journey."
Technology is also helping P&G to optimize its product distribution where long wait times were hindering productivity.
"We created data and real-time algorithms to develop what we call an air traffic control system," she explains.
"This way, we can monitor where the trucks are on the road so they can get exactly where they needed to be in order to drop off that particular load without any wait time."
Our employees care about sustainability, and this allows for us to have them contribute to different areas where they'd like to make a difference in the world.
P&G is equally determined on the sustainability front, with Turner highlighting a commitment to finding solutions while creating superior products for its consumers.
"We have the opportunity to be entrepreneurial, to bring our understanding breakthrough ideas to the table," she reflects.
An example of its progress in this area is its dishwashing products, Dawn Powerwash and Cascade Platinum Plus Dishwasher ActionPacs. Both help to change bad habits around wasting water through their innovative formulation.
"The formulation breaks down so much grease that you don't have to use a lot of water because the formula itself cleans the mess, so you're just rinsing," she explains. "This improves your ability to reduce water consumption.
"When consumers adopt this habit, they will no longer fill their sinks, or rinse their dishes before putting them in the dishwasher, which saves water and energy automatically."
P&G's employees are encouraged to drive these types of changes, and have opportunities to work on a particular area they feel passionate about.
"Our employees care about sustainability, and this allows for us to have them contribute to different areas where they'd like to make a difference in the world," Turner says.
"I think that's exciting for new people coming into the company. They can bring their ideas about sustainability to the table and consider how we might innovate to be more sustainable. This is what drives the type of business ideas that are going to continue to sustain us, and it also makes us a more sustainable company."
A powerful force
Keeping all stakeholders satisfied is essential in order to drive sustainable growth for P&G in North America, according to Turner.
"We are serving consumers in daily use categories where performance plays a significant role in driving brand choice. Our strategy of driving the irresistible superiority of our brands will continue to be a key catalyst of our market growth in North America," she affirms.
The North American organization is proud to be a leading value contributor for P&G. "We're sustainably growing in a very mature market, where we're leading different constructive disruption areas to be a force for growth and a force for good," she says, highlighting that P&G's iconic brands such as Vicks and Old Spice are as capable as its newer brands of playing their part in its vision.
Its iconic brands are innovating to win with multicultural and new generations of consumers, including through its advertising and partnerships.
We have a collective possibilities mindset in this region. We have amazing partnerships and amazing people.
P&G is also working with multicultural creators, providing opportunities to diverse talent in front of and behind the camera. One example is "Widen the Screen", an expansive content creation, talent development and partnership platform to increase P&G's reach and resonance with all consumers.
"We have a collective possibilities mindset in this region. We have amazing partnerships and amazing people, and that gives me confidence we'll accelerate our momentum for many generations to come."
Sponsored by: CPC Logistics
A private fleet company that specializes in transportation and logistics.
Read More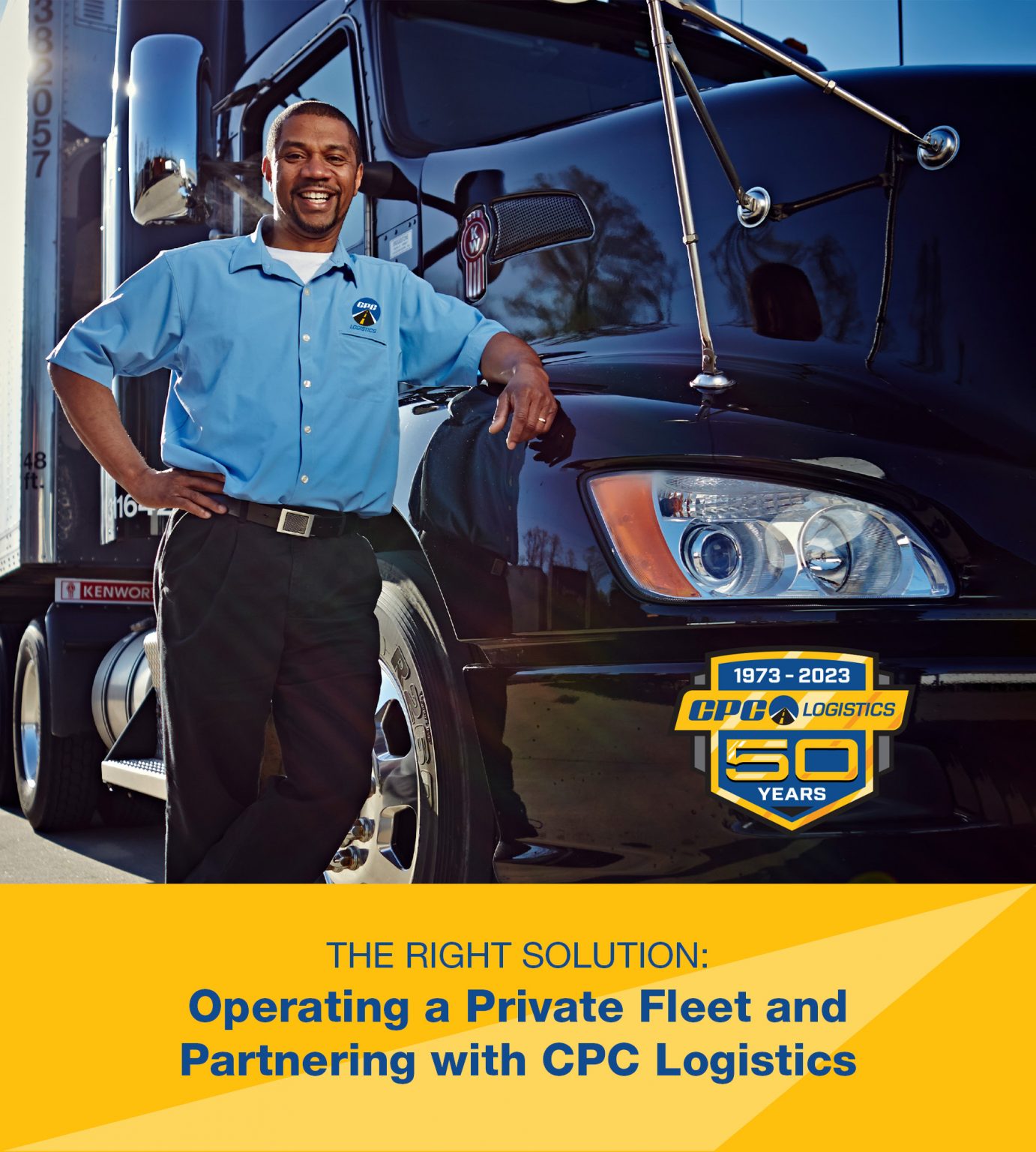 ---
"For 50 years CPC has handled recruiting, screening, hiring, Department of Transportation compliance, general employment administration and labor relations to maintain a qualified staff of truck drivers for our customers' private fleets. Focused on safety, CPC delivers superior service with competitive costs." – Daniel Most, Chief Operating Officer for CPC Logistics
"P&G North America's strategy increasingly relies on data, technology, human potential and consumer-centricity. Alongside P&G North America, we look forward to strategically incorporating these factors to improve customer and consumer experiences." – Yang Shim, EY Americas Technology Consulting Leader