Becoming friends with a group of sports-mad boys at high school in Wollongong, Australia, saw Stasi Prandalos neglecting homework time and failing to get the grades required to study law. However, he learned a valuable lesson about working hard for what you want to achieve.
"I knew where I had failed, where I had let myself down, and I said, 'I'm never going to let that happen again'," explains Stasi. While a career in law was no longer an option, Stasi decided he'd have to go out and find a job. It was 1984 and he came across a position with Jord Engineers. After a two-hour train trip from Wollongong to Sydney to attend the interview, Stasi remembers fondly how the owner was impressed by his initiative. He subsequently landed the role and stayed on for 10 years, travelling throughout Australia and internationally. 
It was with that company, now Jord International, that Stasi was fortunate to have some brilliant mentors, who took a particular interest in seeing him evolve and grow professionally. "These mentors invested a lot of their time in me because they believed in what I could achieve. I took on what they said and I kept going to the next level, then to the next one; I just kept growing. So I was very fortunate in that area, in getting those little breaks," says Stasi. 
Stasi Prandalos makes the move to Malaysia
His success grabbed the attention of Grove Italia, a manufacturer of pipeline valves that was represented by a division within Jord. Its Australian business was booming, and eventually the managing director of the firm travelled to see the reason why.
"As he was leaving, he put his head next to mine and said, 'How would you like to work in Milan one day?' I was 25 years of age and I never, ever imagined in my life that I'd be leaving Australia to work in Italy," recalls Stasi. Just 18 months later, an official offer came through offering him a position in Kuala Lumpur. Although it wasn't Italy, he decided to say yes to the opportunity and relocated there in 1992. It was a very exciting time with Stasi given the mandate to grow the business in Asia to a turnover of US$20 million within a three- to four-year period. 
"There was no business plan that they gave me; there was no information other than those few words. I did what I could, and by 1998 we had managed to turn over US$78 million. We had spectacular growth," enthuses Stasi. "It was an amazing journey; it was like putting a surfboard on a big-sized wave and just riding, riding all the way until you get to the beach. It was a time filled with tremendous results and success."
I did what I could, and by 1998 we had managed to turn over US$78 million. We had spectacular growth.
The business was acquired by US corporation Dresser Inc. in 1995 and Stasi became vice-president of Asia–Pacific for its Valve Division. A decade later, the company was sold to its main competitor in the industry, Cameron, and Stasi decided it was time for something new. He remembers the period as the first time he'd felt somewhat lost in his career. But that was all about to change. 
Launching MIR VALVE
With the knowledge gained in his previous pursuits, he combined Italian technology with European standards and established a manufacturing plant in Malaysia, launching his own business venture. Working around the clock, he put together a business plan and set about looking for an investment of around US$10 million. Stasi the entrepreneur was ready.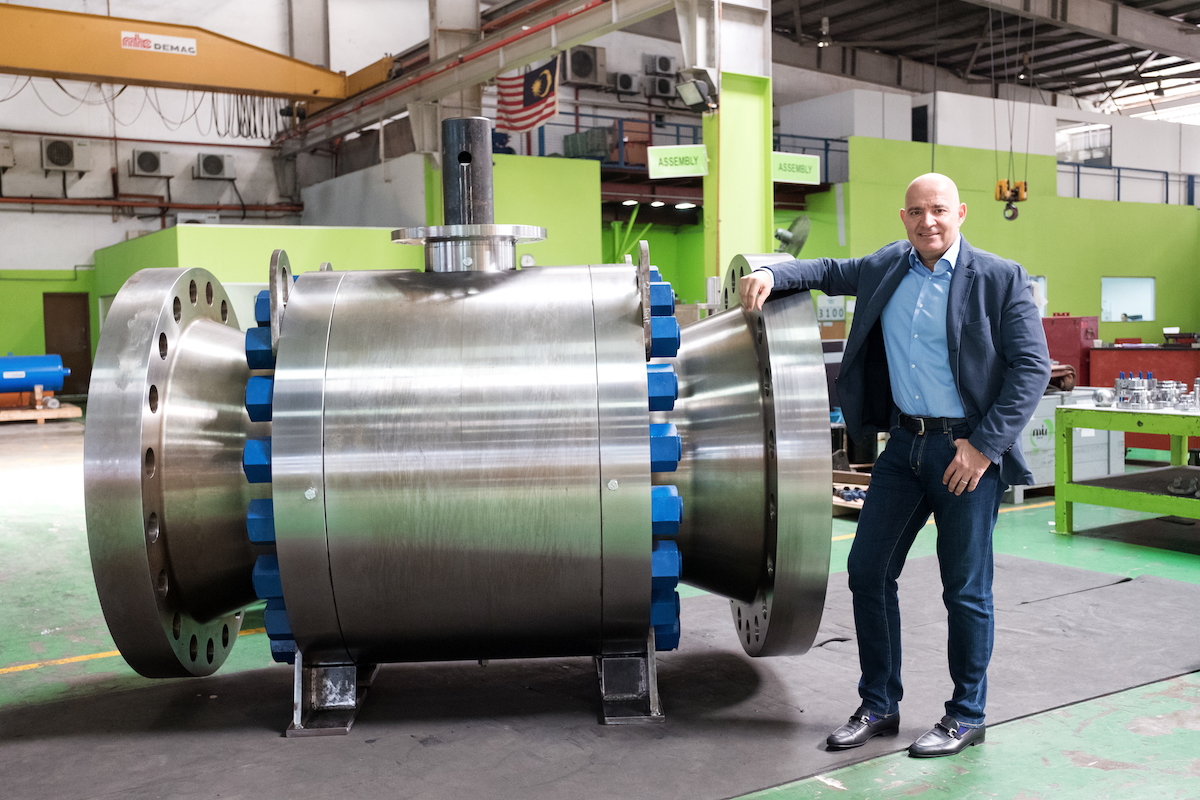 After visiting 53 potential investors, trying to raise the seed capital, he got lucky with number 54. He realised he needed to invest his own cash too and managed to raise enough to start up. Stasi was left with just US$150 in the bank. "It was a scary step, with a lot of anxiety and a lot of tension. But I still decided to start the company, launching MIR VALVE on 1 August 2007." Now, 10 years on, it seems the risk was worth taking. 
MIR VALVE manufactures pipeline ball, gate and check valves, operating in subsea, offshore and onshore oil and gas and petrochemical refining industries. Stasi says that getting his brand known and accepted in the industry was a "brutal challenge". The past decade has seen MIR VALVE's revenue rise from zero to around US$30 million, and Stasi predicts that once the oil boom cycle comes in, it will quickly jump up to US$80 million.
Physical & mental health are key to Stasi's success
The company employs 150 people, with headquarters and a manufacturing plant in Kuala Lumpur, plus offices in Jakarta, Seoul, Tokyo, Dubai, and Milan. It exports to 30 countries worldwide. And while sport at school may have cost Stasi his academic dreams, he now sees physical and mental health as a vital factor in business success.
"Today, to operate in the business world at peak performance, you've really got to be fit and healthy, in terms of your diet, your home life: everything around you has to be very balanced," he explains.
Stasi eats healthily, drinks very little alcohol, exercises at least four times a week as well as practising yoga twice a week, and meditating several times. When asked for entrepreneurial advice, he gives the following words of wisdom: "When you embark on your journey to become an entrepreneur and start your business, you need to watch your mental and physical health very carefully, because the highs and the lows of the journey that come with being an entrepreneur push you to the limit. If you're not careful, you're going to get very ill, so you need to watch those things."