In 1978, when patriarch Soetikno Tanoko founded Avia Avian, he faced many challenges trying to compete as a national manufacturer in a market already crowded with quality international products. Fast-forward 40 years to 2018, and he now has the next two generations on board and the future is looking very bright indeed.
Beginning with just one manufacturing plant in Sidoarjo, East Java, the company expanded to a second facility in Serang, West Java, in 1996, followed by a third one in Medan, North Sumatra, in 2007. Avia Avian is currently the largest decorative paint company in Indonesia.
"We sell our products through about 40,000 shops, and the latest milestone was a joint venture with DuluxGroup of Australia," Wijono Tanoko, Soetikno's eldest son and President Director, says proudly. Continuing its foray into the growing Asian markets, and spotting Indonesia as a particularly vibrant marketplace, DuluxGroup is partnering with Avian to sell some of its Selleys adhesives and sealants range starting in mid 2018.
"This is another step that we have taken in our effort to be more professional and
to continue with our business expansion. Essentially, our aim is to supply to as many building material shops as possible throughout the country. This year, our company should be listed on the Indonesia Stock Exchange. We are in the process of preparing for that."
Overcoming the challenges: from sales to delivery
Wijono says that one of the greatest challenges to overcome when building a national company in Indonesia is geography. "Indonesia essentially has 17,000 islands so, as you can imagine, the logistics are not going to be easy," he says. "To achieve our current position in the decorative paint market, we have opened our own distribution centres. Currently, we have 68 distribution centres spread across the country.
Indonesia essentially has 17,000 islands so, as you can imagine, the logistics are not going to be easy.
"Within each, we have a centre manager, supervisors and sales people. Then, to support the product supply, we have our own trucks to make deliveries, even in remote areas.
We have about 1,800 salespeople and 400 trucks. Delivery is not easy, outside the island of Java, if you rely on third-party trucking services. What that means is that we have to invest our money in all these trucks so that we can guarantee delivery to all the retail shops around Indonesia."
Another hurdle has been competition. Wijono goes on to explain that the big international players have all set up in Indonesia, attracted by its large population. "Indonesia is the fourth most populous country in the world," he says.
"That being the case, all the big multinational companies in paint have entered Indonesia. To counter all these big competitors, we need to be constantly innovative, both in product development and in our sales and marketing strategies. For us, the need to develop is obvious. We have good products that we have been supplying to all of the 40,000 shops, and we're competing by launching up to three new products a year."
Supplying product for both DIY handymen and professional tradespeople, Avia Avian currently manufactures a broad range of paints, stains, adhesives and sealants that have won the company numerous accolades. It has won the Superbrand Award for the past three years, which is an international award for Indonesia's consumer choice brands.
It has also been awarded a Top Brand Award for the past 12 years, a remarkable achievement and one that the company is extremely proud of. Added to that are several readers' choice awards, quality awards, and even an award for its use of social media in promoting its wood and iron paint products.
Wijono says that the company has fully embraced new technologies not just for marketing, but for management purposes too. "On the sales and marketing side, what makes us unique as a paint company in Indonesia is that we have equipped all 1,800 of our salespeople with salesforce automation. Every one of our salespeople is equipped with tablets so that we can monitor them with a GPS-based check-in and check-out system.
"Unfortunately, in a developing country like Indonesia, the level of discipline can be quite low, so when salespeople are supposed to be visiting stores, they don't always do it. The tablet has given us a way to make sure that all our retail shops are visited by our salespeople. With the tracker, you have to be within a certain distance from the shop
in order to do your check-in. Only then will the system accept that you're actually
at the shop.
"We implement a similar system for our drivers. So if they are making unauthorised stops that do not belong in their delivery schedule for the day, the system will flag an alert, and they will get a warning. We have taken these all these measures in order to have full control over a lot of things. That is crucial to our success. Obviously, with all these things in place, one of the most important aspects is having an enterprise resource planning [!erp!] system. All 68 of our distribution centres are connected by Microsoft's Dynamics NAV system online, so we can basically monitor everything, every day, from the head office."
Wijono explains that the ERP system improves the monitoring of goods at each branch office and the timeliness of distribution, and reduces response time for customer handling. Really, its main goal is to support the ability of every branch office to order online, and improve delivery time and overall customer satisfaction, all of which are crucial to the success of the company.
The company's embrace of technology extends to its customer service, through a free app that customers can download from iTunes or Google Play. Called Avian Brands, the app is designed to make shopping for products a much simpler and more efficient process. "The app allows end users to find their nearest shop by enabling location services, and they can then search for whichever paint product that they are looking for.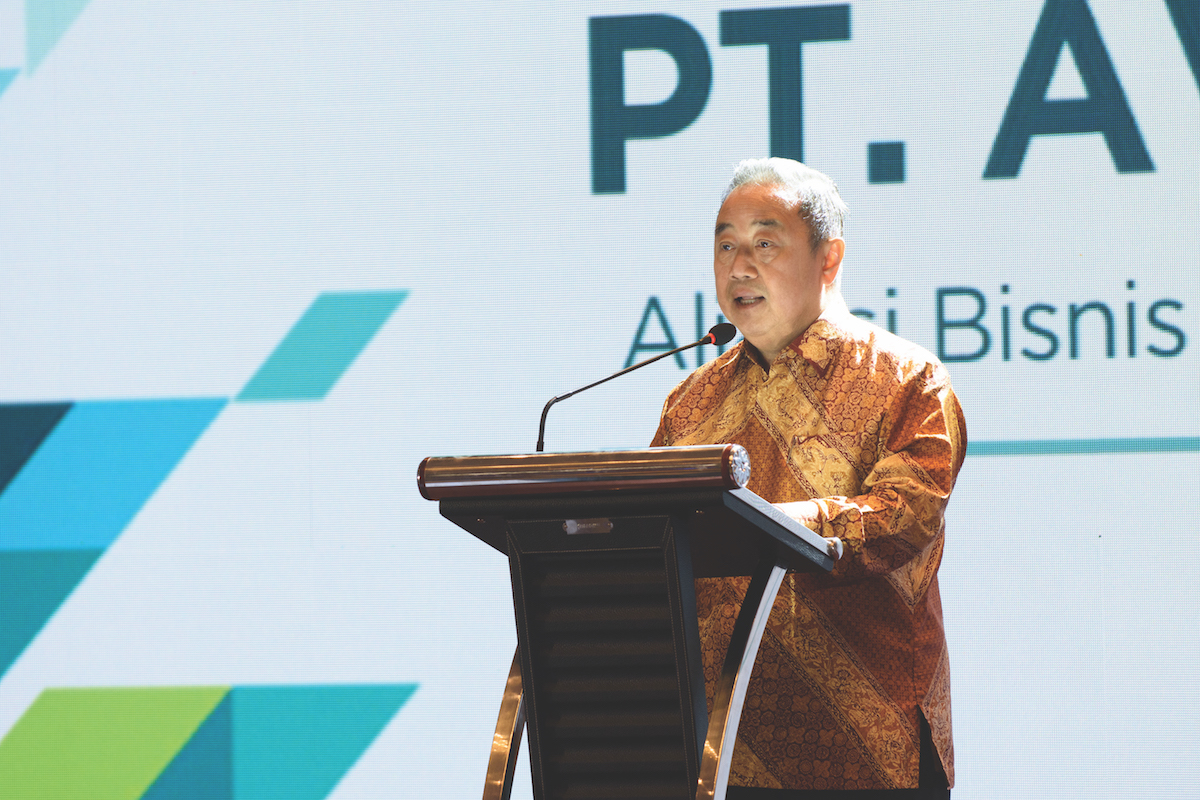 The app is there really to help make purchasing easier. The last thing they want is to drive all the way to a store only to find that it does not carry the product they are looking for." Wijono explains that this is particularly important in a country like Indonesia, where there aren't many big-box stores (also known as megastores or supercentres) where the size and range of the stock is vastly greater than that of smaller suburban hardware stores.
Good corporate governance is key to tackling competition
Competition in the market is tackled by Avia Avian through a commitment to good corporate governance. "We have an open-door policy," Wijono says, "meaning that if staff have any problems – sexual harassment issues or anything else – we have a dedicated, internal audit department with a phone number that people can call with complete confidentiality. We tell our staff, 'You can tell us anything you need to anonymously.
We guarantee your privacy, so if there are any issues with any department, feel free to tell us.' In addition, we have had a good corporate governance policy in place for the past five years now. Every supplier that wants to come into the company, and every new employee, is made aware of the policy and it is something that they must acknowledge and sign. If they're not willing to sign it, then they cannot work for us.
"We want to make sure that when people work for us, transparency and accountability are valued. We do not allow bribes. We do not tolerate sexual harassment, because we want everybody who works for us to be comfortable and feel that yes, while we are still a family business, we do not behave like many other family businesses in Indonesia. We are aware of what we need to do to elevate our company to the next level, so that we can compete with all the multinationals."
We want to make sure that when people work for us, transparency and accountability are valued.
As President Director, Wijono says that his leadership style is firm but fair. He says that you need to be able to nurture the people you have working for you. "While we do set targets and KPIs [!key!] – we always set ambitious targets and that is the reason why we have grown relatively fast from being a small company to becoming the number one player in the country – I think one of the best things that we have done over the past decade or two is to always nurture our people. We do have strict targets that we need to meet but if the market condition is soft, we don't berate our staff because we understand that there are certain things that are beyond their control.
Nurture the people working for you
"Ultimately, the company is only as good as the people we have working for us. Compared with many of the other paint companies, we can proudly say that we have some of the best people in the industry working for us. They helped us to grow to where we are now, and we owe our success to them. Without them it would be impossible for us to continue our growth. Our people, as cliched as it may sound, combined with our good products, have allowed us to continue to gain market share. I truly think the combination of having good people and good products has allowed us to be where we are now."
Because of this, Avia Avian not only ploughs profits back into the research and development of new products, it also invests in its people. Each year, the company offers extensive training programs and competitions for its staff to increase their knowledge and skills as well as strengthen cooperation among team members. The training covers a broad range of topics, from safety and quality control to emotional and motivational mindset training, leadership courses, and even financial planning.
Not one to rest on its laurels, Wijono says that Avia Avian is looking for further growth. To achieve this, the company has set out some clear short-term goals. "The short-term target is to successfully launch the joint venture with DuluxGroup. As its local partner, we need to be responsible by delivering the agreed KPIs that we set up when we did our business plan.
"Another important goal is that we will be a publicly listed company this year, maybe towards the second half of the year. This is a huge landmark. We'll be the first paint company in Indonesia to be publicly listed. Then, after we list our company, we will look for M&A opportunities. There are many regional paint companies we would like to acquire. Obviously, synergy is the main consideration, so if the synergy is good, if the valuation is positive, then they are potentially a target for us to acquire. That's our plan for the next few years."