Video games are a way of immersing players in an alternate reality, pieced together using the latest technology but with something much deeper at their core – a story. This is where Warsaw-based CD Projekt Group excels, inspiring with storytelling and over-delivering on experience to create epic worlds such as those of games The Witcher and Cyberpunk 2077.
"We are not a tech company, we are entertainment," President and CEO Adam Kiciński stresses. "Of course, we are deeply connected with technology, but definitely not tech. Even though in some areas we have very innovative technology, I wouldn't say this is our advantage. Our advantage is to be able to create stories and worlds that are so rich and deep that they can really inspire people."
Originally a local distributor for video games, CD Projekt evolved into a local publisher before making the move in 2002 into game development with the first game in The Witcher series, which premiered in 2007. The following year it launched global digital distribution GOG.com, initially selling older titles that weren't easily available via existing platforms, then expanding it to include new titles as well.
Now it is looking at building franchises around its worlds, including TV shows and films, mobile games, books and comics, although it doesn't own the whole intellectual property for The Witcher, which has also become a successful series on Netflix.
"It's not only about the game itself, it's about being able to deliver entertainment to our fans, to enable our fans to have contact with those franchises, those characters, heroes through many other activities," Kiciński explains.
"There is just one simple condition to succeed, everything has to be great. We're not interested in just earning money, rather, we are interested in something outstanding, something that creates a market for itself."
Keeping gamers satisfied
The company makes an unspoken deal with every gamer who buys CD Projekt's products. "We get money, they get some fantasy," he says.
As simple as this may sound, the company works tirelessly to ensure the consumer is really satisfied, with the focus on quality rather than quantity.
"Business wise, this is probably one of the best methods to grow the company, because then you build your reputation with this, and you can sell more and more with every game," he says. "Of course, sometimes your reputation is harmed, but then you have to fix it and stay on course."
We are not interested in just earning money, rather, we are interested in something outstanding, something that creates a market for itself.
This is exactly what the company did with Cyberpunk 2077. When the game came out, initial reception was mixed.
"But that didn't prevent us from continuing and developing the franchise," he explains. "We invested as much as was needed to do everything necessary to satisfy gamers."
Now, more than two years later, Kiciński is confident the company has turned it around. The end result, Cyberpunk 2077: Phantom Liberty, will launch this year. "With our big expansion, I truly believe we'll be there, and despite all of those turbulences, we've stayed on course."
New games on horizon
While reluctant to reveal plans for the coming years, more immediate milestones include the release of the first installment of the new The Witcher saga, marking the start of a new trilogy. "We have in mind a series of three games. Of course, we are working on the first one, but also thinking about the story and the world of the second and the third," he says.
There's also a deep remake of the first The Witcher game – to be largely undertaken by an external studio to bring it on par with modern gaming standards.
The Witcher is based on a fantasy novel series by Polish author Andrzej Sapkowski, while Cyberpunk draws on the dystopian science fiction world of Mike Pondsmith's tabletop role-playing game.
"This is another pivotal moment in our history. After so many years of being able to work on the one game, we are finally working parallel on more than one production," he says.
Maintaining quality
Although juggling projects comes with its challenges, too, and managing resources and maintaining quality are key concerns. CD Projekt's transformation is still underway, with the company opting to implement agile methodologies to help it shift from a traditional way of working to a more modern and efficient setup.
"In terms of how we manage the company, there is no rocket science there," Kiciński observes.
The company was started in 1994 by his brother, Michał Kiciński, and Marcin Iwiński, with the company owned 50–50.
This is another pivotal moment in our history. After so many years of being able to work on the one game, we are finally working parallel on more than one production.
"So, from the very first day, there was no single person having more power than others. And that somehow started to be embedded in our culture and within the board," he explains.
Strategic decisions are made collectively, with a strong emphasis on internal collaboration and support. Kiciński describes it as a "multi-brain" concept. "It has its disadvantages, but at the end of the day, I believe it truly works," he says.
Partnerships with external companies are also critical, with CD Projekt selective in its approach. "We partner with those who we believe are real partners," he expands. "We partner with those whom we trust, and with whom we believe we share this or that goal. Trust, honesty and transparency are very important in our thinking about partnerships."
It has long-term relationships with its distributors, Warner in North America and Bandai Namco in Europe, with both arrangements commencing with the launch of The Witcher 2 in 2011.
"We have continued working with them till now," he confirms. "We prefer to have long-term partnerships, because then we know each other and it's much easier to cooperate."
It's all part of CD Projekt's winning formula, with the outlook appearing incredibly bright. The key, according to Kiciński, is not to overcomplicate matters. "I can repeat something that we've been saying from the very beginning," he says.
"Great games are king. This is key for success – you have to deliver great games."
Sponsored by: Bandai Namco Europe
Helping our partners from across the gaming industry publish and distribute their content digitally and physically.
Read More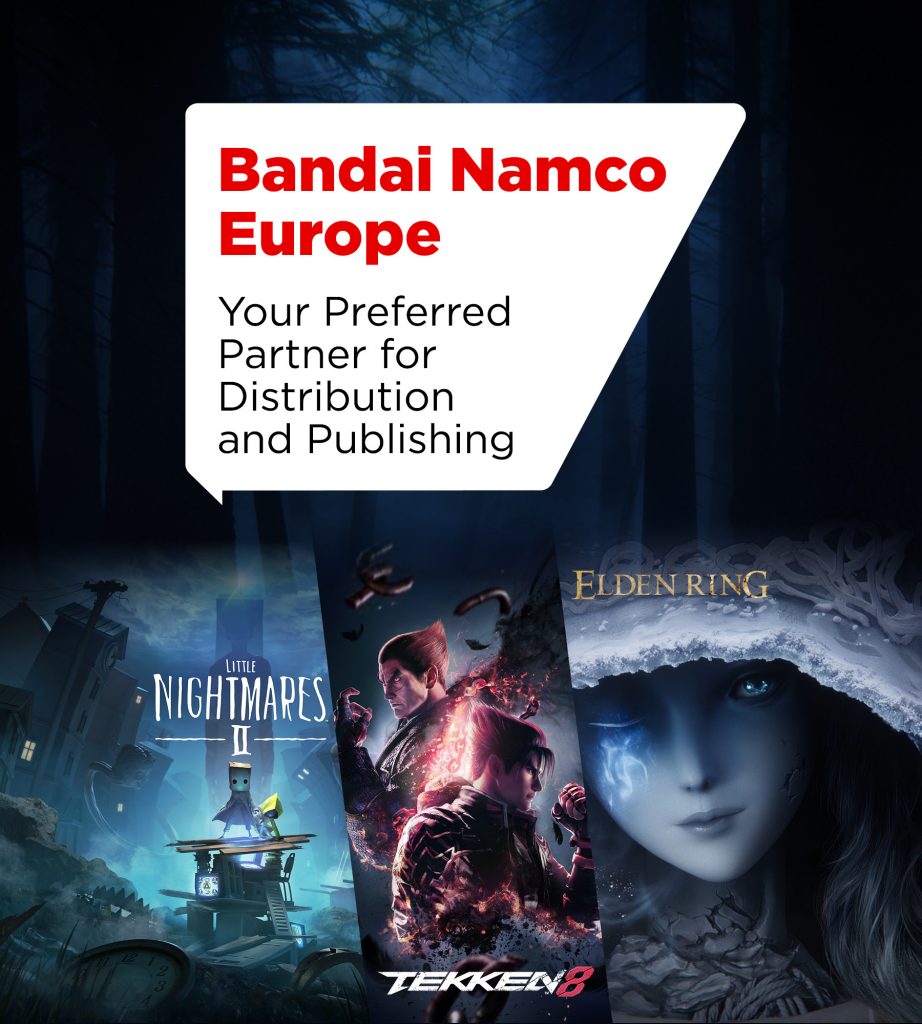 ---