Established more than 40 years ago, British luxury fragrance brand Molton Brown continues to find innovative ways to bring its collections to modern audiences. "What sets Molton Brown apart is the complexity and authenticity of our fragrances," Global President Mark Johnson tells The CEO Magazine. "It is about the quality of the extracts and the ingredients we use, and about the way we work with our master perfumers. We give them total creative freedom."
Mark emphasises that the company's success is due to its focus on two key areas: its brand (brand awareness, positioning and equity); and its engagement with consumers. "We've done a very good job of putting that foundation in place and putting Molton Brown at the forefront as a pioneer within the world of fragrance," he says.
Molton Brown makes its own trends
To stay ahead of the market, the company invests in new, innovative products, and Mark says its collections are much loved because they make a statement. "When Molton Brown was established, it started as a hair salon, offering natural haircare treatments, at a time of a very synthetic market," he says.
"Since then, and in many ways, we have been making our own trends." Molton Brown wants to create a fragrance experience that will have consumers coming back again and again. "A fragrance should be something you can experience in every aspect of your life," Mark continues. "How it makes you feel and the story behind it is really where we focus."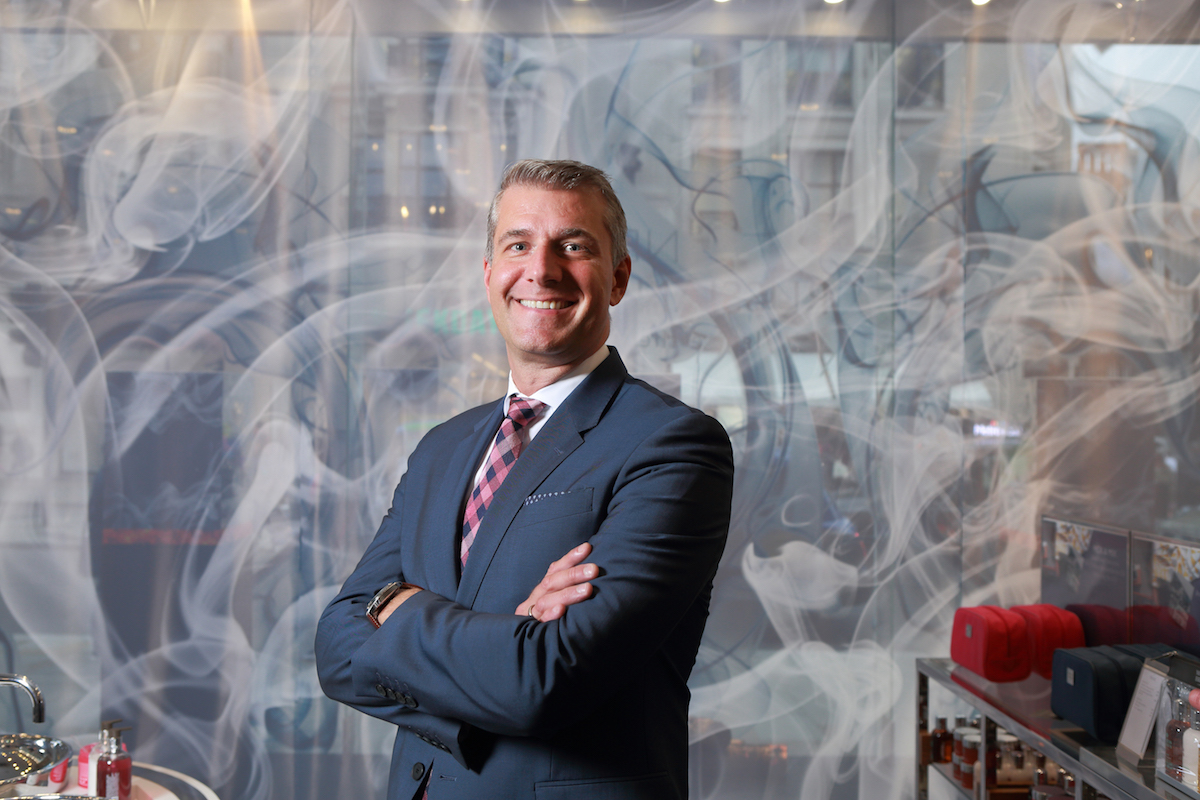 A fragrance should be something you can experience in every aspect of your life. How it makes you feel and the story behind it is really where we focus.
Molton Brown believes in maintaining strategic and long-term relationships with its suppliers to consistently deliver best-quality products to consumers. "We work with people and organisations that understand the experience we want to deliver and how we want to engage with consumers, rather than just filling a gap," Mark explains. "When you look at the master perfumers we have worked with over the years, in some cases we are now working with the second generation of families."
And it's not just perfumers who have remained loyal. Another major supplier is Pusterla 1880, which develops luxury cases and boxes for the likes of Bulgari, Elie Saab and Givenchy. The family business, which was founded by Alessandro Pusterla more than 130 years ago, links perfectly with Molton Brown's heritage and its high standards.
Mark Johnson builds the brand's presence
Mark joined Molton Brown in 2003 and was instrumental in establishing the brand in the US. With a background in accounting, he gained experience at a resort development company in New York where he became familiar with the world's luxury hotels.
Fast facts:
In 2016, the global fragrance market was worth an estimated US$48 billion, according to Euromonitor International.
After exploring options for his next career move, Mark jumped at the chance to work for Molton Brown. The US subsidiary started with a small team of five in New York, with Mark working as the financial controller. He then rose to general manager before securing the global president position in 2014.
One of the division's main focuses was to move the Molton Brown brand away from the idea that it was just a bath and body products store. "When we started the US division, our plan was to take this beautiful brand with its British heritage, replicate the operating model, and make it relevant within a new customer base," Mark says. "The biggest challenge was how to get people to identify and understand the fragrance credentials the brand has."
Maintaining the legacy of Molton Brown
Having worked at Molton Brown for 14 years, Mark says there are two things he is most proud of. "The first would probably be the success of building the brand's presence in the US and doing it in a meaningful way," he says. "The second is having the opportunity to become the global president and maintain the legacy of Molton Brown, something we have done very well over the past three years."
Mark's vision for the future is to nurture the company before it is passed on to the next generation. "I want them to inherit a brand with a rich heritage and put them in a very good place to continue to build upon that legacy and continue to be pioneers of sensorial experience," he says. "And from a pragmatic standpoint, I want there to be a greater Molton Brown presence worldwide."