For most of us, the question of 'what to wear?' goes together with working. For Vincent Yip, CEO at G2000, his company's own label is the first thing he puts on. He describes his style as understated, clean and simple, although he wouldn't call himself a fashionista. With no prior background in the apparel or retail industry, he admits to liking "the sort of industry where you get direct interaction with the consumers, where things are tangible and you can see things".
He continues: "I know a lot of people might get excited about the finance sector, and although a lot of money is made, it feels a bit remote in that you constantly see numbers but you don't see the real things pop up in front of you."
Vincent's background is impressive – he grew up in Hong Kong, was educated at Oxford University in the UK, worked as a consultant at McKinsey & Company, and is a current director of Malvern College Hong Kong. A strong attachment to his former home and a deep-rooted desire to work for a reputable Hong Kong brand saw him join G2000 in September 2015.
Vincent Yip surrounds himself with talented people
The Group was founded by Michael Tien in 1980, and by 1985 the label was introduced as a specialty clothing chain distributing fashionable men's and women's workwear. As CEO, Vincent's philosophy is about building a team of talented people. "By surrounding myself with those who are more capable than me and those who have different areas of expertise, I'm building a platform where they can connect to fulfil great things. This is rather than me trying to get everything done by myself," he says.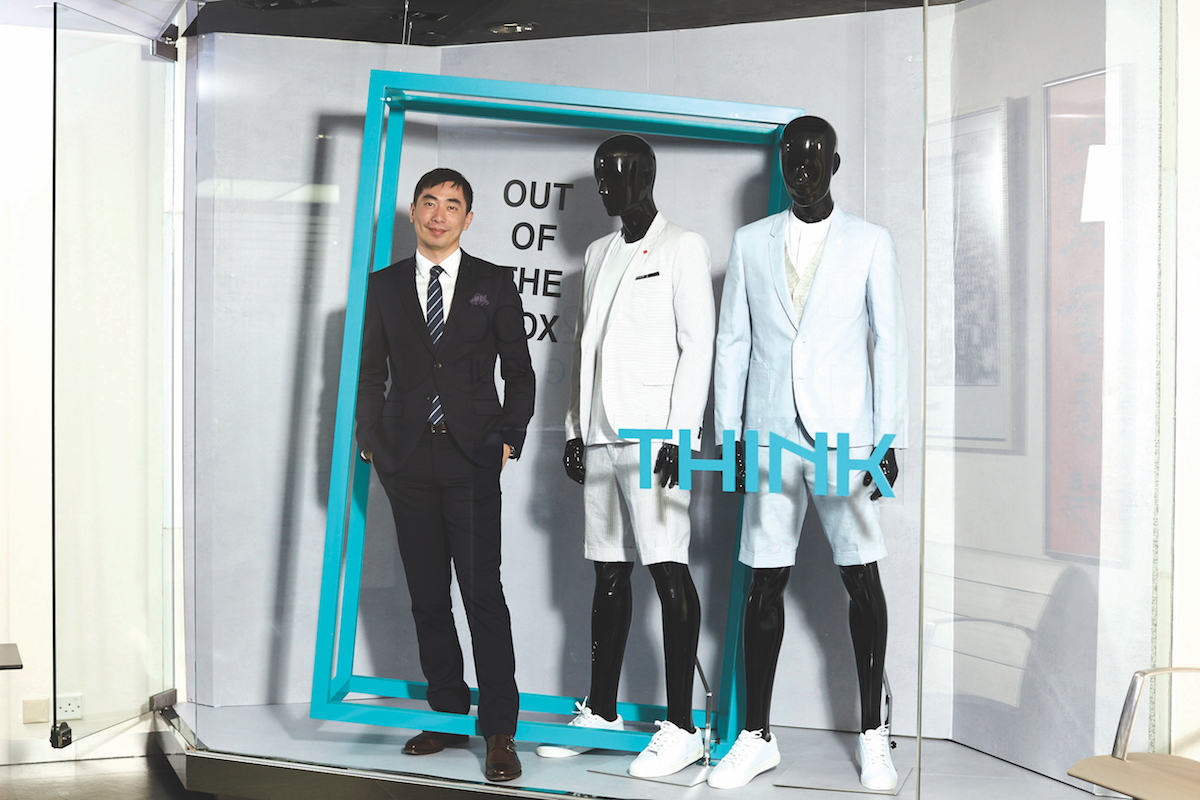 Preferring the tangible over the intangible and having a direct relationship and interaction with the end consumer means you won't find Vincent in the boardroom much, and the office is where he spends the shortest amount of his time. "You can keep an eye on the runway and the latest trends, but at the end of the day, it's what the consumer wants, what they're looking at. That is most important." Vincent says he gets his best ideas when he's out in the real world. Mixing with a range of customers creates a clear understanding of what's going on around him and where G2000 should be heading.
Sometimes you jump in there, and you create on the spot, and to do that it often helps to come from a completely unrelated field.
Coming into the apparel industry as an outsider has been an advantage for Vincent, allowing for an alternative approach. "Sometimes you jump in there, and you create on the spot, and to do that it often helps to come from a completely unrelated field," he notes.
G2000 is constantly redefining workwear
Part of Vincent's challenge has been adapting G2000's designs when the very definition of what we wear to work is changing. In the past, it generally meant one fabric, one colour – for a man: shirt, tie, and a suit, and the same sketch applied for women. But with terms such as 'smart-casual' becoming more prevalent, the Group is constantly redefining what is relevant workwear.
"Nowadays when consumers think about work clothes, it's very different to what they wore 20 years ago," Vincent explains. "With the rise of fast fashion over the past five to 10 years, brands are delivering clothing that reference a time frame; people are changing and switching every three to six months, so being current is a priority and quality may not be their highest concern.
For G2000, if you want to be presentable and confident at work, you need to be wearing clothes that are of a certain quality. That's our point of difference.
"But for G2000, if you want to be presentable and confident at work, you need to be wearing clothes that are of a certain quality. That's our point of difference. At the end of the day, it's about the quality promise we are delivering." Complementing this approach, the brand also represents value for money. "We're not going for luxurious high-end price points; we're appealing to people who appreciate that our clothes are affordable, yet high quality."
As a multibrand retailer offering an assortment of women's and men's apparel and accessories, G2000 caters predominantly to Asian body shapes and sizes. Although this market continues to be its primary customer – with strong sales particularly coming from those buying their first business suits – Vincent explains that the key is to go beyond those who are entering the workforce for the first time. "We need them to continue to come back to buy their second suit and third suit and so on. I want to be serving them as they progress with their career," he says.
Attracting the younger generation
Part of the success of G2000 has been getting away from "boring black suits", which has worked to attract a younger generation of customers. "Technology is at the forefront of how we respond to fashion," Vincent explains. "The younger generation better understands the rapidly changing, tech-connected world."
This goes from using cutting-edge functional fabrics to provide 'technical workwear' to using social media platforms like Instagram and WeChat to engage customers. The company is reaching the younger generation bracket of buyers with collections that resonate with the modern worker.
If you ask people in Hong Kong, 90 per cent of them will tell you that their first suits came from G2000.
Ecommerce is a particularly exciting development for G2000, thus Vincent says the business is ensuring customers have a good experience across both the online and the offline worlds. Strong product concepts and an unyielding passion to create contemporary, cool workwear means that Vincent and the whole G2000 team have a handle on the fabric of today's corporate workers.
"If you ask people in Hong Kong, 90 per cent of them will tell you that their first suits came from G2000," Vincent shares proudly. "In China, probably more than 50% would say the same thing. It's a demonstration of the kind of penetration the brand has in the Asian marketplace."