Richard Hong admits he takes more than a casual interest when a new intern joins TÜV SÜD. It's an intriguing insight into the mind of TÜV SÜD ASEAN's CEO – an intern doesn't usually register on the CEO's radar. Richard, however, understands the value of a good junior employee and how an internship can lead to a promising, successful career.
He knows this because he was an intern at TÜV SÜD. Equipped with the right attitude and guided by experienced mentors, Richard went from intern to CEO, a two-decade journey he enjoyed and appreciated every step of the way. "Yes, I do have a soft spot for our interns," Richard admits.
I can lead by example: an intern who became the CEO.
"We have a large internship program here at TÜV SÜD and it's regarded as very important. I want to send interns and new employees the message that this is a company that gives opportunities to anyone who shows a passion and is willing to work hard.
"I can lead by example: an intern who became the CEO," he says. "It shows what can be achieved. I didn't stay in the same department or division for many years; I was always asked after a while what other challenges I'd like to explore, and I took those opportunities up, moving into different areas to learn as much as I could."
TÜV SÜD ASEAN works toward a safe & sustainable world
Richard substantiated his natural impetus to succeed in his studies, acquiring a Masters in Industrial and Systems Engineering, a Masters in Finance – and he's currently doing his third one in psychotherapy. TÜV SÜD is a premium quality, safety, and sustainability solutions provider that specialises in testing, inspecting, auditing, certifying, training, and knowledge services.
Represented by more than 24,000 employees across 1,000 locations worldwide, TÜV SÜD holds accreditations in Europe, the Americas, the Middle East, Asia and Africa. By combining impartial expertise with invaluable insights, the company adds tangible value to businesses, consumers and the environment.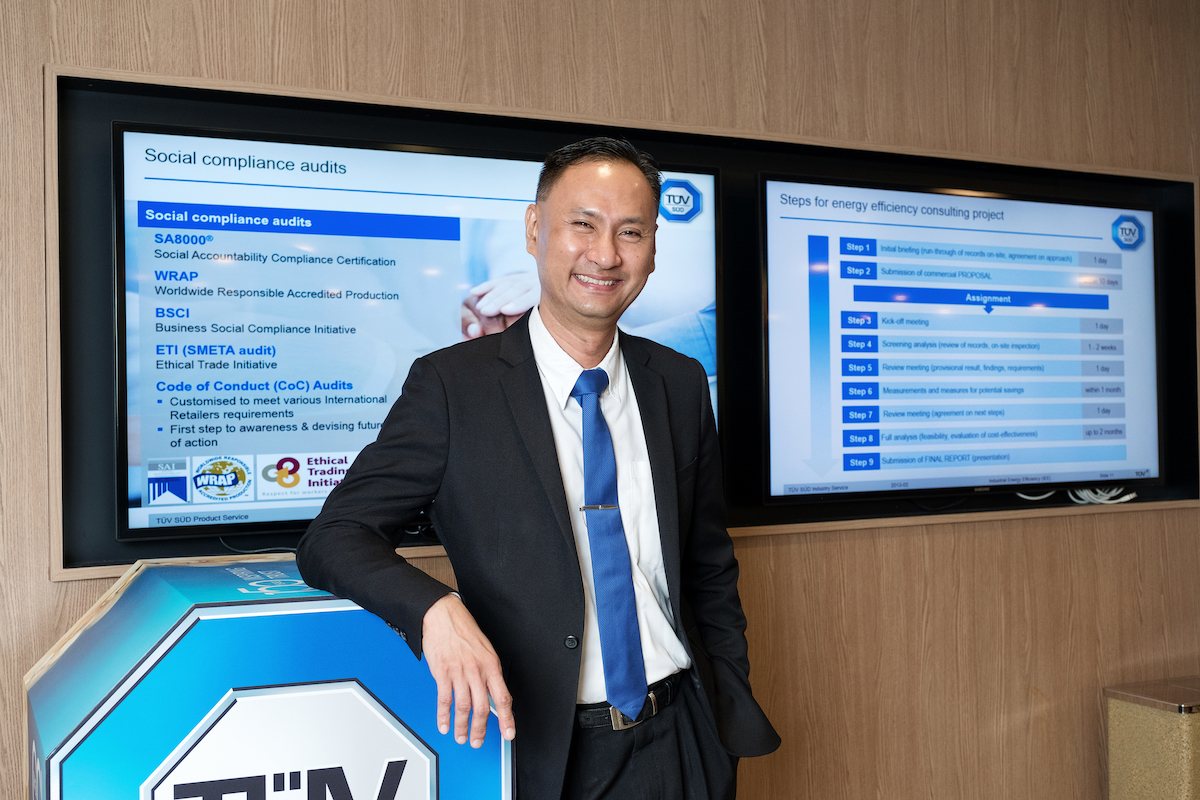 The aim of TÜV SÜD is to support customers with a comprehensive suite of services worldwide to increase efficiency, reduce costs and manage risk. "Each region is led by a CEO who works with the divisions in executing strategies, driving sales and operational excellence, and supporting mergers and acquisitions," Richard explains.
"But we all work as a team to come together with a common vision. Everything we do is impacting the world in a positive manner, whether we are testing a medical device, inspecting a power plant, or auditing a company to ISO 9000. It is always for the purpose of a safe and sustainable world, to ensure that accidents and risks can be negated and reduced."
Richard Hong values emotional engagement
Richard's ASEAN region comprises 7 countries, boasting a population of 625 million. Employing over 900 people in offices and laboratories in the region, Richard describes his leadership as balanced, combining objective analysis with emotional connections. "Of course, as a leader I must enable the team to think in analytical ways, to analyse the pros and cons, to come up with recommendations and options," he says.
"But emotional engagement is important too. I like to be psychologically and emotionally connected to my team members. I want to empathise with them and listen to them, observe their behaviour and inspire them towards a vision. I think some leaders lack these emotional connections with their staff," he adds.
"But it's important because you can't push numbers and targets down from the top. You need to show care and concern, look at the employees' perspective, and understand their issues."
While Richard may have insight into the complexities of managing different personalities, cultures and management styles, further challenges lie in making unpopular decisions. "Senior managers don't always have the perfect answer," Richard admits.
"You have to make the hard decisions and execute them, but you also have to explain why these decisions were made and how, sometimes, the company interest has to be considered above individual interest."
Did you know?
Headquartered in Munich, Germany, TÜV SÜD is one of the world's leading technical service organisations. It was founded in Manheim in 1866 by steam boiler operators who were concerned about the safety of equipment after a boiler explosion.
Further associations sprang up throughout Germany, expanding into other fields of operation, including electricity, motor vehicles, fire safety, power stations, passenger lifts, cableways, nuclear power stations, environmental protection, product safety and management systems, eventually merging into TÜV SÜD.