The 6th of October, 2007 is a date etched in the memory of a nation. New Zealand, once again hot favourites to bring rugby union's Web Ellis Cup to home soil, found themselves facing bogey team France on one of the game's most atmospheric stages, Cardiff's Millennium Stadium. The end result — 20 to 18 in favour of the notoriously erratic les Bleus — earned the class of 2007 the most dubious of distinctions: the first All Black team to fail to reach the semifinals of this hallowed event.
The stuff legends are made of
The 2007 Rugby World Cup, which South Africa's Springboks went on to win, marked a watershed for the national rugby team in New Zealand. There was public outcry for a significant shakeup of the coaching and playing roster, but following an extensive review, New Zealand Rugby held faith in the coaching team led by Graham Henry — which ultimately went on to secure New Zealand's first Rugby World Cup win since 1987. The rest, as we know, is the stuff legends are made of.
In the 10 years since that fateful night in Cardiff, the All Blacks have won the two Rugby World Cups held in 2011 and 2015, lost a mere handful of test matches, and the team has been hailed as one of the greatest the sporting world has ever seen. With the most partisan supporter base in the game, Steve Tew, who became CEO of New Zealand Rugby (NZR) at the start of 2008, recalls how the whole country watched with considerable interest as the post-mortem was undertaken.
"We had an external review completed by two independent experts, and that report gave us a pretty good foundation. One of the critical learnings out of that campaign was that when the pressure came on, our on-field leadership wasn't up to the mark, so at a team level a lot of emphasis was put on growing the mental fortitude and skills of our players and enhancing ­the on-field leadership. The coaching team worked on developing the guys' coping mechanisms for the pressure they can come under when they're playing in an intense game where the result holds such a high degree of importance.
"While the All Blacks winning is an important part of what we do, it's only one part of it." – Steve Tew
A lot of that is around the clarity of roles, the ability to stay focused on the positives, not go into what we call the 'red zones', the mist, and to trust each other. All these sorts of things are part and parcel of what any high-performing team will be talking about." Off-field, Steve acknowledges that, while the unsuccessful 2007 campaign was a significant blow, "one of the great privileges of working for NZR is that you inherit a long-term winning record that is the envy of most sporting organisations. So, while not winning the pinnacle event didn't help us, we did have a pretty good reputation to fall back on." Despite the disappointment, Steve and his team focused on building on that. "We needed to ensure that the community remained strong. One of the things we have to our advantage is that the professional game, the amateur game, and community game are administered by one body, and that means there's always a seamless opportunity for our athletes and our fans to be engaged."
NZR built on Community Rugby — the heart of the code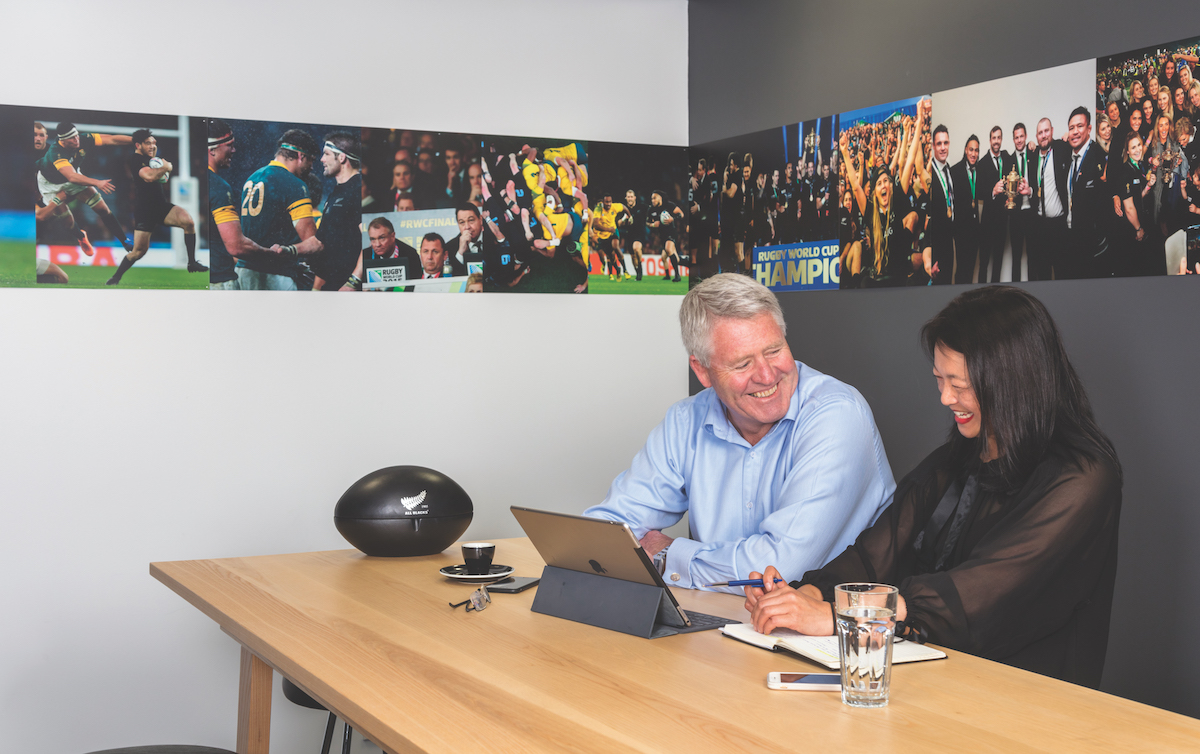 While it's easy to assume that NZR is simply a synonym for the All Blacks, the national men's team, the organisation is the governing body for the sport as a whole across the country. Community Rugby, the grass roots of the game, is at the heart of the code with more than 155,000 players, coaches and referees. Promoting the club and school competitions is critical to ensuring that New Zealand's dominance of world rugby continues and the supporter base remains highly involved and passionate about the game —which means, for Steve and NZR, that "while the All Blacks winning is an important part of what we do, it's only one part of it. So the community game, the way we run our commercial program, if fans are engaging, whether we hit budget, all that sort of stuff sits on the scorecard. They are all really important things."
A self-proclaimed rugby tragic, who confesses to watching replays of matches in his spare time, Steve started playing the game when he was five, growing up in Lower Hutt near Wellington. His career to date includes positions as the CEO of the Canterbury Rugby Union and the Crusaders Franchise, and he has been with NZR since 2003, holding both the general manager and deputy CEO roles before taking the top role in 2008. Along with hosting the 2011 World Cup ("I think New Zealand did a really grand job in firstly delivering a tournament that enabled athletes to be at their best."), other moments which stand out from his time leading New Zealand Rugby include being in the stands in Moscow one memorable day in 2013 when his country won both the Men's and Women's Rugby World Cup Sevens in the space of an hour. Along with on-field achievements, he cites witnessing the growth and development of the people he has met during his time in the role as another noteworthy aspect of his job. "Watching young people come in and go through a career or playing experience and leave seriously better and as more equipped adults than they were when they came in — that's always a highlight for me."
'We want people to be proud'
Steve is quick to emphasise how, to succeed in any leadership position, "You've got to have great people working with you. If you get the people side of it wrong, then the chances of being successful are almost zero. You might get short-term success, but long-term sustained achievement is not possible without the right people sitting in the right seat." One of his most important roles is to create a team culture at NZR that people want to be part of — everyone from the playing talent who face the constant temptation of hefty paychecks to join other competitions around the world, to the off-field staff and members of the wider community as a whole.
"We want people to be proud, to be associated with the game, get enjoyment out of it. We want them to grow. So all those things are really important. But also there's got to be accountability. We've got to do the hard yards; you can't go straight to the celebrations. We've got to do the graft first. We set a high-energy work ethic kind of environment here."
This environment, carefully nurtured by NZR, has contributed to making the All Blacks one of the most successful teams in sporting history. "Everybody that has got close to the duty, particularly the players but also the coaches and even the people that work in this organisation, they're really determined to take what is already a pretty special part of our culture and our history in this country and enhance our legacy. When you hear people like Richie McCaw talk about it, any time they put their jersey on, they want to leave something of them in the jersey so that it is better and stronger for the next time someone else wears it. I think that commitment has been an important part of it. There's almost a fear of losing which drives that commitment and the total obsession of being better the next time you played than the last time."
The concept of perpetual improvement is one that features heavily in Steve's leadership philosophy. "Anyone who is in a leadership role — and it doesn't necessarily have to be the CEO either, as I think leadership is across the organisation — has an opportunity to shape their future and the future of those people around them in whatever organisation they're working for," he says. "I think that's a really important thing to keep in mind, that every day you can actually make a difference.
But you have to concentrate. If you don't make a genuine decision and effort to get up every day and be better at whatever you were trying to do the day before, then you will literally go backwards."
All Blacks focused on always doing better than they've done before
The All Blacks are prime examples of this, especially in the wake of their 2007 defeat in Cardiff. "We've got a team that's won back-to-back World Cups, which no-one has done before; and more importantly, the year after both those World Cups, we've been able to get a team to go forward and actually be better than the team that won the event. Lots of organisations and teams have flat years after a critical event. We were determined to wake up the next day and make sure, looking in the mirror, to do it better than we did the day before. And it's actually very hard. It's a difficult discipline."
"If you don't make a genuine decision and effort to get up every day and be better at whatever you were trying to do the day before, then you will literally go backwards."– Steve Tew
Steve's passion for the game is fuelled not only by the good that rugby can do, but sport in general, for the health and wellbeing of the population. "I've also seen what it's done for communities in good times and in bad, such as after the earthquakes in Christchurch in 2011 when the Crusaders were a rallying force for the people that dealt with the aftermath of two significant earthquakes, and then literally tens of thousands of aftershocks and all the things that went with repairing the damage. I can see the good the game does for the image of New Zealand." Rugby, and the All Blacks in particular, has always played an important role in the New Zealand story, although NZR faces certain challenges to ensure this continues to be the case for future generations. Historically, Pacific Island migration has brought a population with a similar affinity for the game to the country. "Our Samoan brothers, Tongans and Fijians, are really close to rugby too. So I think we've had a really good mix of demographics that fed into some great athletes. A really good mix of athletes."
Steve admits that, going forward, rugby faces an interesting transition. Like many countries, "New Zealand is experiencing a significant increase in migration, especially from India and China. These are two populations that don't naturally have a connection to rugby. If we're going to be relevant in the future, particularly in Auckland where the bulk of those migrants are settling, we're going to have to ensure we find some connection to make. It's a challenge that's definitely in front of us." With rugby union one of the most accessible aspects of New Zealand culture, the sport is clearly positioned as a gateway to connect new arrivals to their adopted homeland. "Most migrants want to get a connection to New Zealand anyway, and rugby is clearly one part of our culture that is all-pervasive, so I think there's an interest from that point of view," Steve surmises.
The test for NZR is ensuring any interest is capitalised on. "Making sure that we translate that interest into becoming a customer or a player or a participant, that is what we're working hard on. It's probably early days yet, but there are some encouraging signs. We've got plenty to do."
Other challenges faced by NZR are all too familiar to many businesses and organisations in today's digital climate: how to best connect with their supporter base online. With a current focus on developing content that is rich, interesting and available across a variety of social media platforms, the question that is looming over Steve's team is how to convert consumers of their content into customers. "At the end of the day, you've got to pay the bills."
High pressure business, but still the 'best job in New Zealand'
No longer only about the 80 minutes on the pitch, rugby teams are now big business, and Brand NZR has long-term business objectives. With a reported turnover of NZ$135 million in 2015, the organisation places significant emphasis on its planning process. Developing and maintaining relationships with sponsors is an area NZR devotes much of its energy to, with Steinlager and Adidas two of its long-term partners. "We want partners that are going to help us leverage the game and help expose our teams, our brands and our competitions. Selecting the right organisations to work with is absolutely critical for our success, something that is much easier to achieve when you've got the right people beside you." Surrounded by a nation that shares his passion for the game, Steve considers himself a lucky man. "I am incredibly privileged. I've got the job that an awful lot of people would like, and I think it's certainly the best job in New Zealand."