Jessica Minh Anh: Queen of the catwalk
When it comes to fashion shows, there's no-one who brings the 'wow factor' quite like model and producer Jessica Minh Anh.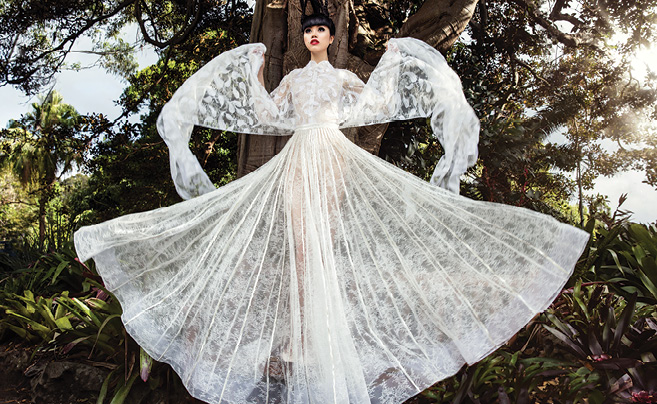 As is fitting for a woman who thrives on pushing boundaries, Jessica Minh Anh's path to becoming a style and fashion icon was far from ordinary. Born in Vietnam, Jessica grew up in Moscow, Russia. At the age of 17, she left home to study IT in Malaysia, and from there went to the UK to study PR. Currently, she resides in Paris and travels regularly, bringing her extraordinary catwalk shows to architectural icons globally.
"I am fortunate to have lived in Europe, Asia, and America. This has definitely helped me be very open-minded and understand different cultures and creative minds. I am heavily inspired by music, art, and architecture, and I always try to bring those elements into my catwalks," she says.
Jessica's first show was in London, on the Tower Bridge, and it launched her into a career in catwalk show production, and modelling that has taken her to some amazing places. One might wonder where the IT and PR fit into the picture, but for Jessica it all makes perfect sense.
"I believe any extra skills that you can master will be beneficial in business in the long run. I would say I am a bit of an IT geek. I am very much involved in the process of website development and design, photo and video editing, and database management, as I work closely with my technical and media team. I also work with the global press regularly both in front of the camera and as an interviewer for various fashion and lifestyle publications, so it does help having been trained in PR and journalism. I think PR skills are essential in every business today."
With more than 50,000 Instagram followers and similar numbers on Facebook, it seems that many have fallen in love with Jessica's signature style—not just her own gorgeous looks, but the incredible places where she has managed to stage her shows. "I travel the world to search for the most extraordinary venues, and when I see one that captures my attention, I am inspired to come up with a unique catwalk concept. I always let my imagination flow freely and sometimes draw pictures of it."
So far, she has been inspired to create shows on the Eiffel Tower and onboard a glass-topped boat on the Seine in Paris, at a solar panel farm in the Spanish countryside, on a floating catwalk down the Hudson River in New York, and even on a glass skywalk more than 1,200 metres above the Grand Canyon in the US.