Emerging economies are going to develop far quicker than traditional economies, according to the latest PwC 'The World in 2050' report.
The report states that the world economy could more than double in size by 2050, far outstripping population growth, due to continued technology-driven productivity improvements.
As measured by gross domestic product (GDP) by purchasing power parity (PPP), which adjusts for price level differences across countries, China already has the largest economy in the world. The nation has seen massive economic gains over the past decade, and economists promise it is just the tip of the iceberg for what the future holds.
According to PwC's 'The World in 2050' report, six of the world's seven largest economies will be today's emerging economies, led by China and India, and relatively smaller economies like Vietnam, the Philippines and Nigeria will see huge leaps in their respective rankings over the next three decades. The European Union's share of world GDP could fall below 10 per cent by 2050 as the US and European countries steadily lose ground to the rising dominance of China and India. The UK could become only the 10th biggest economy by 2050, with France dropping out of the top 10 and Italy out of the top 20 as they are overtaken by faster growing emerging economies like Mexico, Turkey and Vietnam.
"My home for the last few years, the Industrial Park of Suzhou, is a glittering urban paradise of shopping malls, parks, restaurants and traffic. But when I first came to China (15 years ago), the whole area was swamp and farmland," Rowan Kohll, author of the 1-Minute Chinese books, told the BBC."This is a very common story in China. The whole country is changing."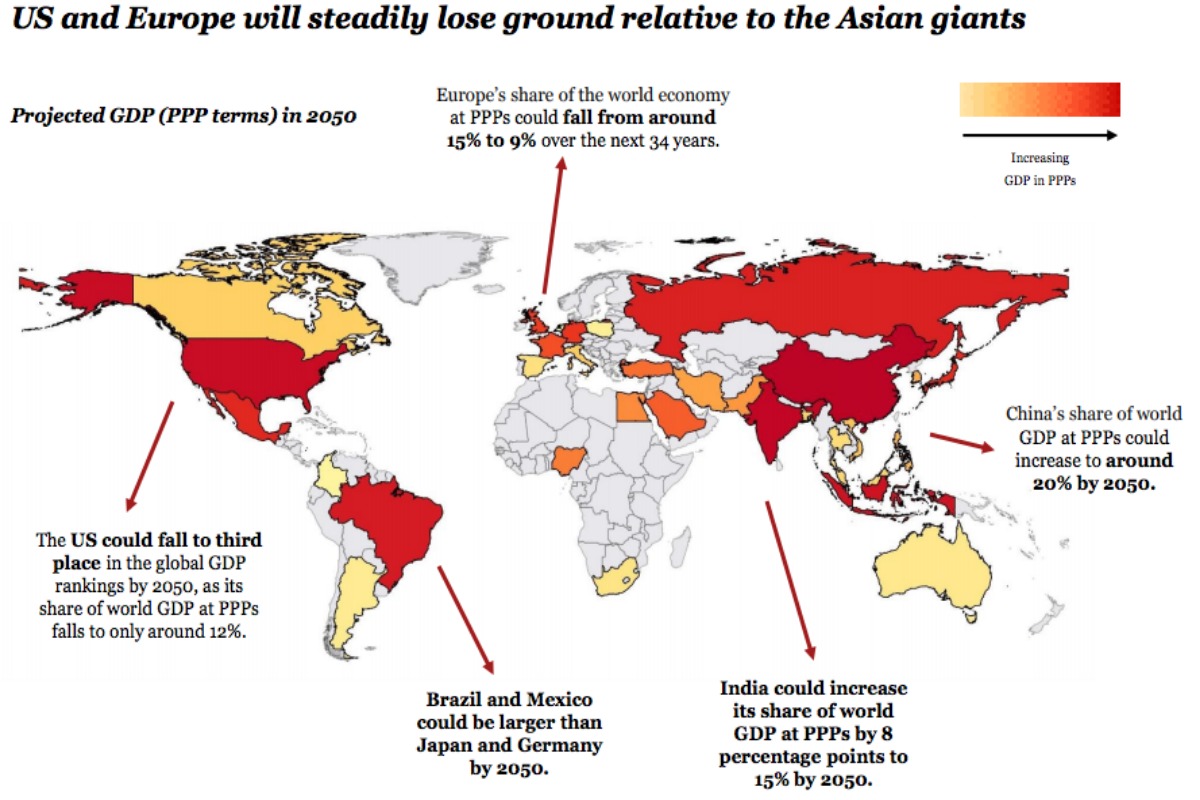 The report states that opportunities for business include:
AS emerging markets mature, they will become less attractive as low-cost manufacturing bases but more attractive as consumer and business-to-business markets;
INTERNATIONAL companies need strategies that are flexible enough to adapt to local customer preferences and rapidly evolving local market dynamics;
SINCE emerging markets can be volatile, international investors also need to be patient enough to ride out the short-term economic and political cycles in these countries.
Countries with the highest projected share of world GDP at PPPs by 2050
1. China
2. India
3. US
4. Indonesia
5. Brazil
6. Russia
7. Mexico
8. Japan
9. Germany
10. UK
Since its 2015 edition of the report, PwC has reduced the assumed US trend labour productivity growth rate from two per cent to 1.5 per cent per annum, reflecting accumulating evidence that potential growth has fallen in the US. Attributing factors include the US's ageing population, a plateau of educational attainment and rising household and government deficits generating financial instability.