Work has begun in Norway to build the world's first business that aims to capture industry's carbon emissions and then store them beneath the North Sea.
In December last year, the government in Norway agreed to spend almost US$2 billion on "the largest-ever climate project in Norwegian industry". The sum covers two-thirds of the total cost of developing and operating carbon capture at two industrial plants and transporting and storing it.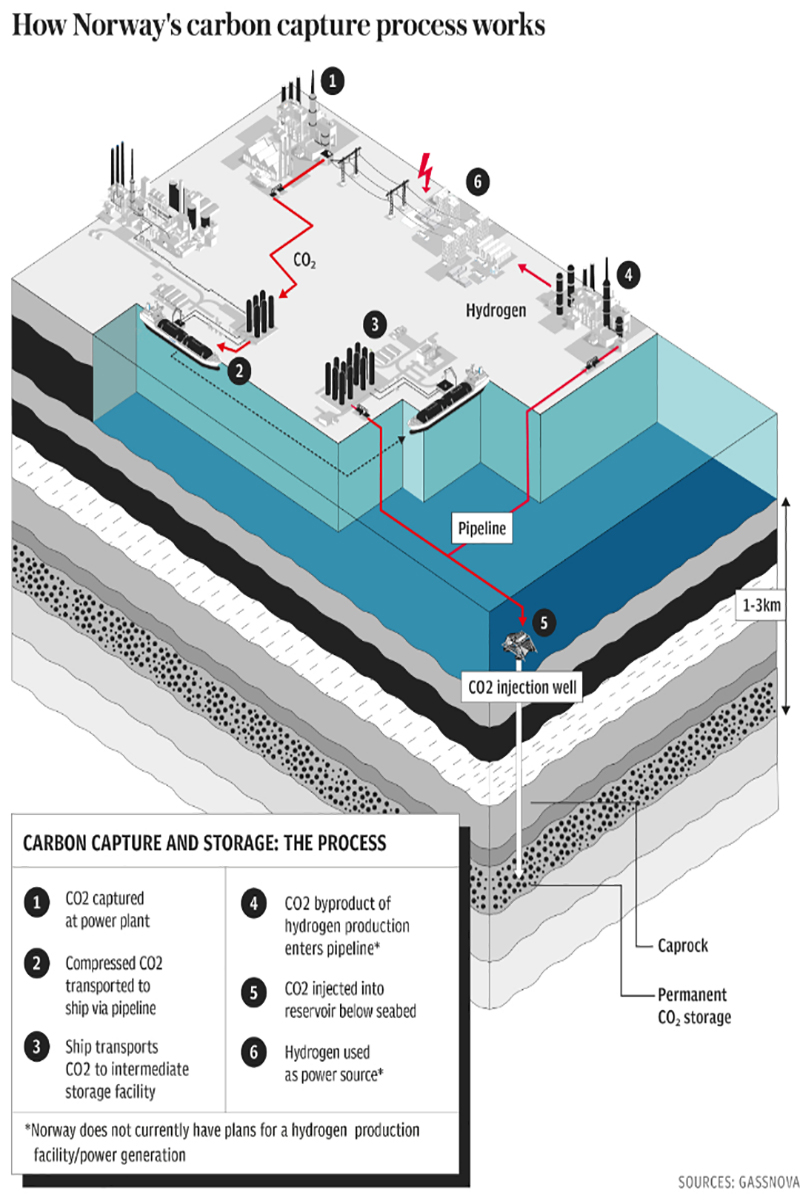 Northern Lights, a partnership between Equinor, Norway's majority state-owned energy company, Royal Dutch Shell, and the French oil major Total, is responsible for transportation and storage.
The storage facility outside of the Norwegian city of Bergen is due to be complete in three years, when it is expected to take shiploads of carbon dioxide from as far south as the north of Spain and as far east as Helsinki in Finland.
"I think it's a game-changer," Sverre Johannesen Overa, Project Director for Northern Lights, told Yahoo Finance. "What we are doing is essentially establishing a new business, the business of managing other people's emissions in a safe way and storing it, and that hasn't been done before. All of a sudden, you open the opportunity for the hard-to-decarbonise industries to clean up their emissions."
HeidelbergCement's Brevik plant, outside Oslo, will be the first customer, with the Norwegian government paying about 80 per cent of the US$385 million cost of installing carbon capture over the next three years. HeidelbergCement signed a deal with Aker Carbon Capture for the world's first carbon capture plant at a cement factory last June.
Norway's government has agreed to pay a similar amount in installing the technology at Fortum Oslo Varme, a waste incinerator and district heating plant. However, this is on condition on Fortum, a Finland company, securing US$350 million in funding from the European Innovation Fund.
If both HeidelbergCement and the Fortum projects go ahead they will together capture 800,000 tonnes of carbon a year, equivalent to the annual carbon emissions of 400,000 cars or 3.5 million return flights between London and Oslo.
Overa said Northern Lights is now talking to more than 60 different companies about storing their CO2. It plans to soon release its first draft carbon transport and storage contract, and hopes to sign up the first commercial customers by the end of the year.
There have been proposals for more than 30 new carbon capture storage facilities since 2017, with the majority in the US and Europe.