Since the signing of the Paris Climate Agreement in 2015, countries around the world have been encouraging the use of clean energy and the reduction in the use of fossil fuels to protect the natural environment, which has resulted in significant growth in the generation of clean energy.
In 2021, solar, wind and other clean-energy sources accounted for 38 percent of global electricity generation and, for the first time, wind turbines and solar panels generated 10 percent of the total amount of the world's energy, marking our planet's gradual entry into an exciting new energy era.
China is now the world's largest investor in clean energy, however, its rapid growth over the past four decades has also resulted in it becoming its largest consumer of energy, too.
As the nation races toward its carbon peaking (2030) and carbon neutrality (2060) goals, meeting growing domestic energy demand while reducing carbon emissions and dependence on fossil fuels has become a top priority.
China is investing vast resources into the development of clean energy, building groundbreaking facilities with new technologies and constructing clean, low carbon, safe and energy efficient systems to actively move towards a more sustainable system.
The world's largest clean energy corridor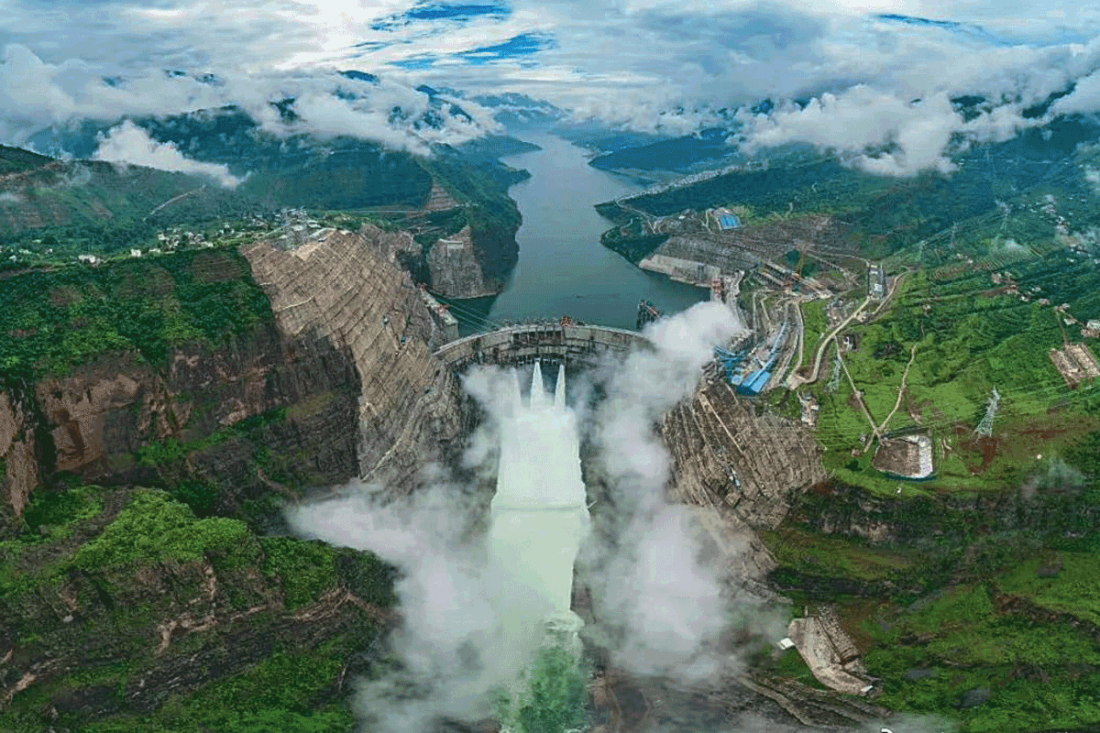 When all its units are put into operation in July 2022, Baihetan Dam, together with the Three Gorges Dam and the Gezhouba, Wudongde, Xiluodu, and Xiangjiaba hydropower stations on the Jinsha River, will constitute the world's largest clean energy corridor.
Baihetan Dam is undoubtedly one of the most significant projects in China in recent years. It is the most technically difficult hydropower project in the world today and equipped with the world's largest million-kilowatt capacity hydropower generator unit.
The dam has a maximum dam height of 289 meters and can withstand a total water thrust of 16.5 million metric tons. It is also the first dam in the world to have the entire dam section cast with low-heat cement, which significantly reduces the risk of cracks in the concrete structure and enhances safety.
During the concrete pouring process, the engineering team buried tens of thousands of monitoring instruments inside the dam and used the real-time judgments of a smart construction platform to remotely adjust the temperature of the concrete, creating this groundbreaking "seamless" dam.
The result is that for every day that Baihetan's 16 hydropower generators generate electricity, they can provide 160,000 households with electricity for a year. When fully operational, their average annual power generation will exceed 300 billion kilowatts, which is equivalent to a yearly reduction of 249.6 million metric tons of carbon dioxide emissions.
Baihetan Dam also contains China's first wholly self-designed and manufactured million-watt-class hydropower generator set, the completion of which represents a significant breakthrough in high-end equipment manufacturing in China.
The "Blue Sea" in the Gobi Desert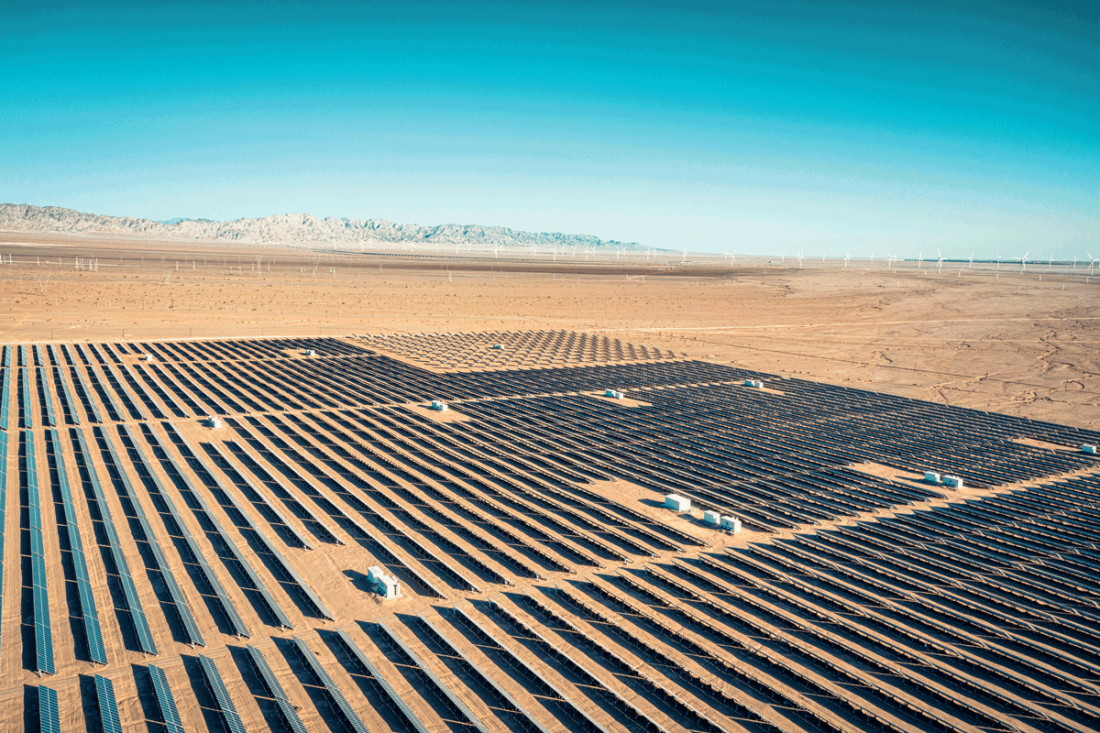 In addition to traditional hydropower, photovoltaics is also a new and important source of clean energy.
In Talatan, which is located in Gonghe County, Hainan Tibetan Autonomous Prefecture at Qinghai Province, untouched and barren land, which is nearly 3,000 meters above sea level, is covered by a vast expanse of photovoltaic panels, forming a magnificent "blue sea" – the Qinghai Talatan Photovoltaic Power Station.
The Talatan Photovoltaic Park, which has a total installed capacity of more than 9,000 megawatts and an average annual power generation of 9.6 billion kilowatts, is the world's largest cluster of centralized photovoltaic power plants.
Thanks to its high altitude, the sunlight radiation in Talatan is intense. The area receives an average of 1,600 hours of sunshine per year, providing a unique advantage for the development of photovoltaic power generation.
During the construction process, the team took a series of innovative measures, such as establishing an off-grid microgrid in the form of photovoltaics containing storage batteries, in order to ensure continuous power supply during the set-up of the sub-array. This has become the new model for the development of green industrial parks.
The Qinghai Talatan Photovoltaic Power Station, for which construction began in 2012, has a total area of 609.6 square kilometers, which is equivalent to the land area of Singapore. It is the largest photovoltaic power base in China and provides an endless supply of clean energy to thousands of households.
Compared to Western countries, China is actually a newcomer to the photovoltaic industry, but in just over a decade, it has rapidly developed into a world leader in solar power generation.
It has also achieved a series of accomplishments, such as having the world's largest photovoltaic power generation industry chain cluster, the largest application market, being the country with the largest investment in clean energy, having the most inventions and application patents and being the largest product exporter.
At the application level, photovoltaic electricity prices in China have also fallen by more than 85 percent over the past decade, making it the cheapest clean energy source in the world.
Million-kilowatt offshore wind farms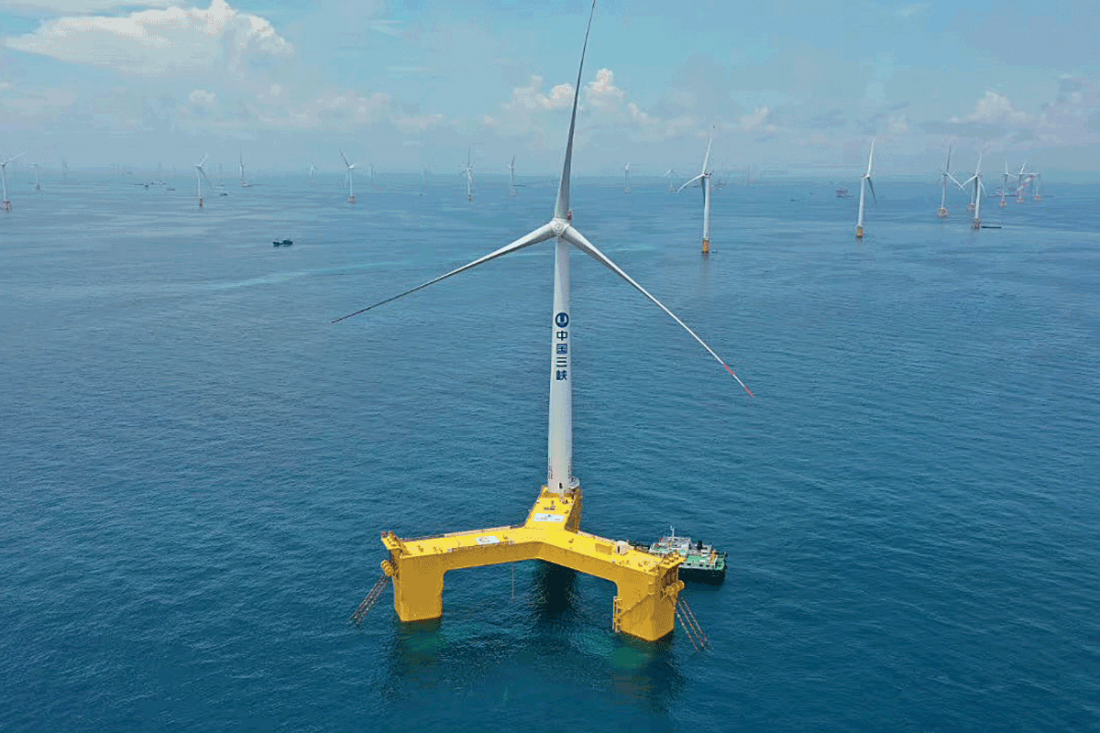 China's development of wind power has seen remarkable results in recent years, with the largest installed capacity in the world and a steadily increasing share of electricity generation, which has also resulted in the rapid reduction in costs.
As of 2022, China has ranked number one for 10 consecutive years in intellectual property competitiveness in offshore wind power and next-generation solar technology. The country has also become the world's largest wind power equipment manufacturing base.
Offshore wind power is another major force in China's clean energy development strategy. It relies on the abundance of wind power resources in the country's ocean area: 18,000 kilometers of coastline and offshore exploitable wind power resources of up to 750 million kilowatts.
In recent years, one wind farm facility that has attracted a great deal of attention is China's first million-kilowatt offshore wind farm – the Three Gorges Yangjiang Shaba Offshore Wind Farm.
As of March 2022, it has safely produced a total of one billion kilowatts of clean electricity, replacing 307,600 metric tons of standard coal and reducing carbon dioxide emissions by 840,000 metric tons, which is equivalent to planting 3,309 hectares of broadleaf forests.
The Three Gorges Yangjiang Shaba Offshore Wind Farm is the first offshore wind power project invested in by the China Three Gorges Corporation and is located near Shaba Town in Guangdong Province. The offshore wind farm has a total installed capacity of two million kilowatts, 315 offshore wind turbines, four offshore booster stations, and almost 1,000 kilometers of submarine cables.
It can provide about 5.6 billion kilowatts of clean electricity to the Guangdong-Hong Kong-Macao Greater Bay Area each year and meet the annual electricity consumption demands of about 2.4 million households.
This offshore wind farm also set a number of "national bests" such as China's largest single capacity offshore booster station and China's lightest offshore booster station for the same capacity.
It also boasts the world's first typhoon-resistant floating offshore wind turbines, accumulating precious and incomparable experience for exploring construction technology solutions more suitable for the construction of offshore wind farms in the South China Sea.
The new energy era begins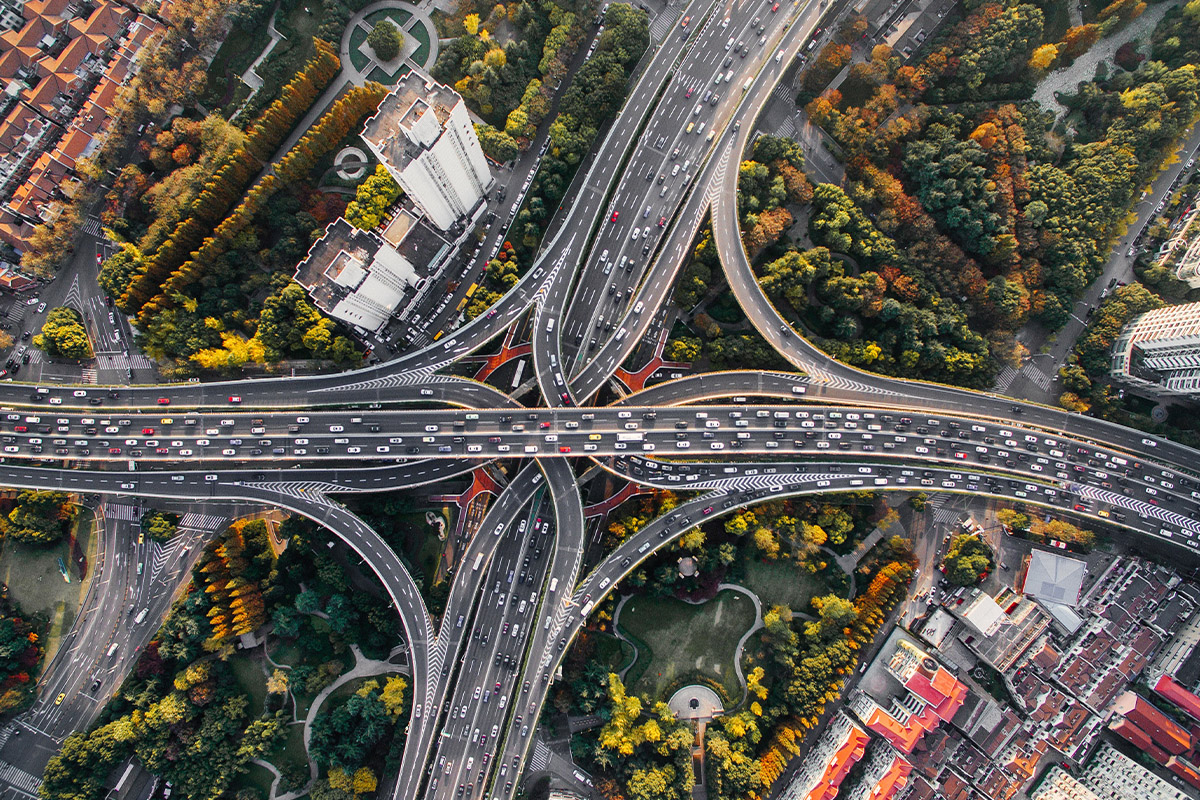 As the world's largest producer and consumer of energy, China's clean energy sector is developing rapidly, and both wind power and photovoltaics have a competitive advantage globally as technology becomes increasingly sophisticated. And although it has grown by leaps and bounds over the past few decades, it still has a long way to go to meet its carbon peaking and carbon neutrality goals.
In 2021, China's wind and photovoltaic power generation accounted for about 11.5 percent of society's electricity consumption, compared to the United Kingdom's 40 percent, which shows that there is still much room for improvement to maximize the development and utilization of clean energy and meet the needs of society.
In addition to innovative hardware construction, China has also introduced various initiatives to promote its carbon peaking and carbon neutrality goals from a social context, including improving the energy efficiency of green building systems.
Between 2015 and 2019, China built over 19.8 billion square meters of energy efficient buildings, accounting for 56 percent of an existing urban area, and this ratio is scheduled to rise to 70 percent this year alone.
The country also improved the energy efficiency of buildings by renovating energy supplies and installing photovoltaic roofs, biomass energy supplies and electric heating and cooking appliances.
The number of new energy vehicles in China has been growing at a rapid pace in recent years, and the country is already a global leader in new energy vehicle ownership. China also plans for the majority of new vehicles sold in 2035 to be electric vehicles.
While promoting the development of the new energy vehicle industry, China has also optimized and adjusted its transportation structure, forming freight based on railroads and water transport instead of road transport. These medium and long-distance transport patterns will help the green development of the transport system.
Green, clean energy plays an important role in improving energy structures, protecting the environment, achieving sustainable economic and social development and meeting carbon peaking and carbon neutrality goals.
In the process of promoting clean energy and low carbonization, China has been accelerating its pace, building the world's largest clean power generation system, becoming an important force in promoting global clean energy development and committing to making green, affordable electricity truly accessible to millions of households.