Hyundai has unveiled the IONIQ 5, an all-electric mid-size SUV that claims a sensational driving range of 480 kilometres if you choose the 72.6 kilowatt hour battery. It has the option of a solar panel roof to enhance its charging capacity, super-fast charging and – wait for it – two household plug sockets.
A vehicle-to-load system allows for the charging of bicycles, scooters, camping equipment, TVs and other electrical devices directly from the car's lithium-ion battery. Imagine you're feeling peckish or thirsty. Plug in the toaster or put the kettle on for a brew. The options are endless.
The ability to plug in other devices cuts off once the IONIQ 5's battery depletes to 15 per cent. There is a 220-volt port located under the back seats with another one beside the car's exterior charging port.
If selected, the solar panels (no price has been given for this option) cover most of the top of the car and act as a complimentary charging source, which can help extend range. Hyundai said they can add up to 2,000 kilometres per year (around five to six kilometres per day) of additional range if it's driven in sunny environments.
Crucially, the IONIQ 5 uses 800-volt battery technology so it can rapid charge on a 350 kilowatt charger from 10 to 80 per cent in 18 minutes, or replenish 100 kilometres of range in just five minutes. The higher voltage also improves charging efficiency and reduces heat loss. Hyundai is claiming a range of 480 kilometres on the most efficient version.
The IONIQ 5 is the first model in Hyundai's new battery electric vehicle IONIQ brand, and the first model to built on Hyundai, Kia and Genesis' Electric-Global Modular Platform in South Korea, Hyundai said in a media release.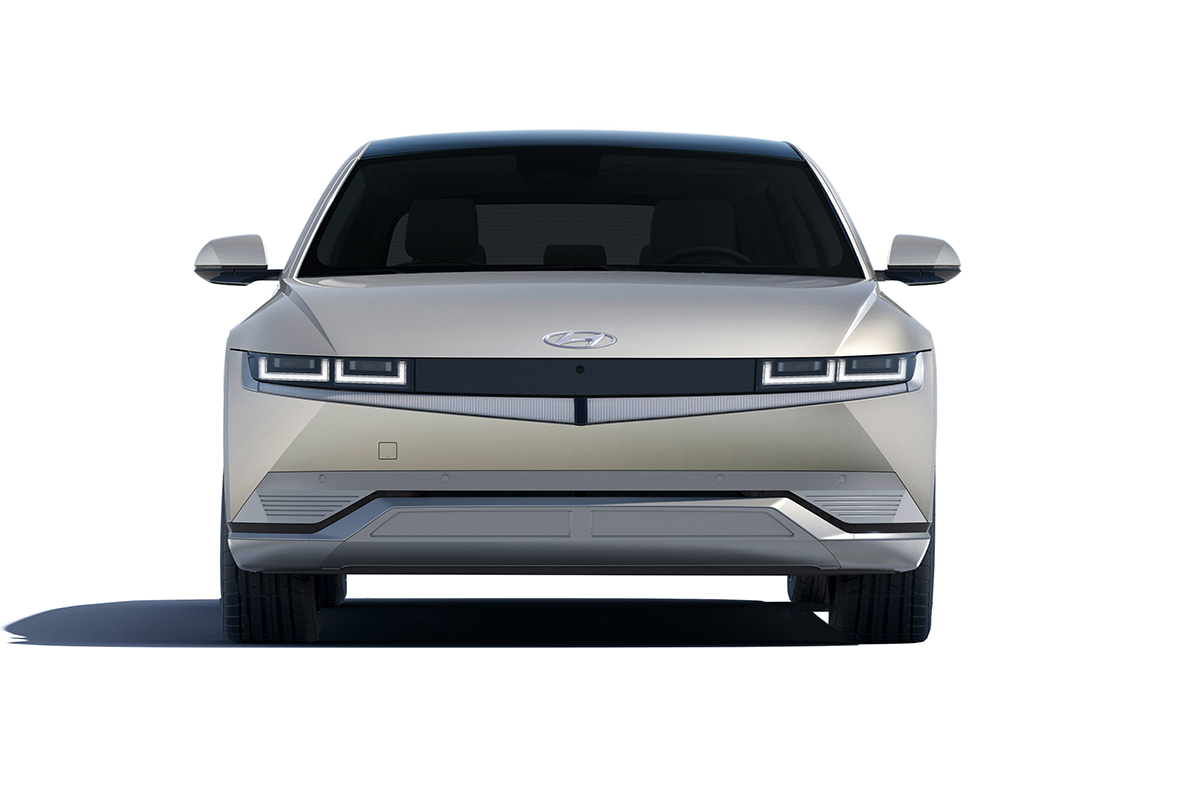 Its 3-metre-long wheelbase makes for a spacious interior, which uses sustainable materials. The seats, headliner, door trim, floor and arm rest use recycled plastic bottles, plant-based yarns and eco-processed leather. A moveable centre console – known as the 'universal island' – can slide back by up to 140 millimetres.
Hyundai says the IONIQ 5 evokes the Pony, its first mass-produced car from 1974, designed by Giorgetto Giugiaro and Aldo Mantovani, which made the vehicle manufacturer a household name.
"It's an opportunity to showcase a part of history that not that many people know about. There's a lot of history to tell," Thomas Buerkle, Hyundai's Head of Design for Europe, told Top Gear. "We had the chance to pull the A-pillar forward, and extended it into the clamshell bonnet. So there are fewer shutlines, and it looks cleaner and wider. We wanted there to be some real excitement to the EV driving experience. There are lines on this car that are only possible with special tooling and stamping, and of course it helps that Hyundai is the only brand in the world that produces its own steel. So we can get the precision we need. The less busy the design, the more you focus on the details."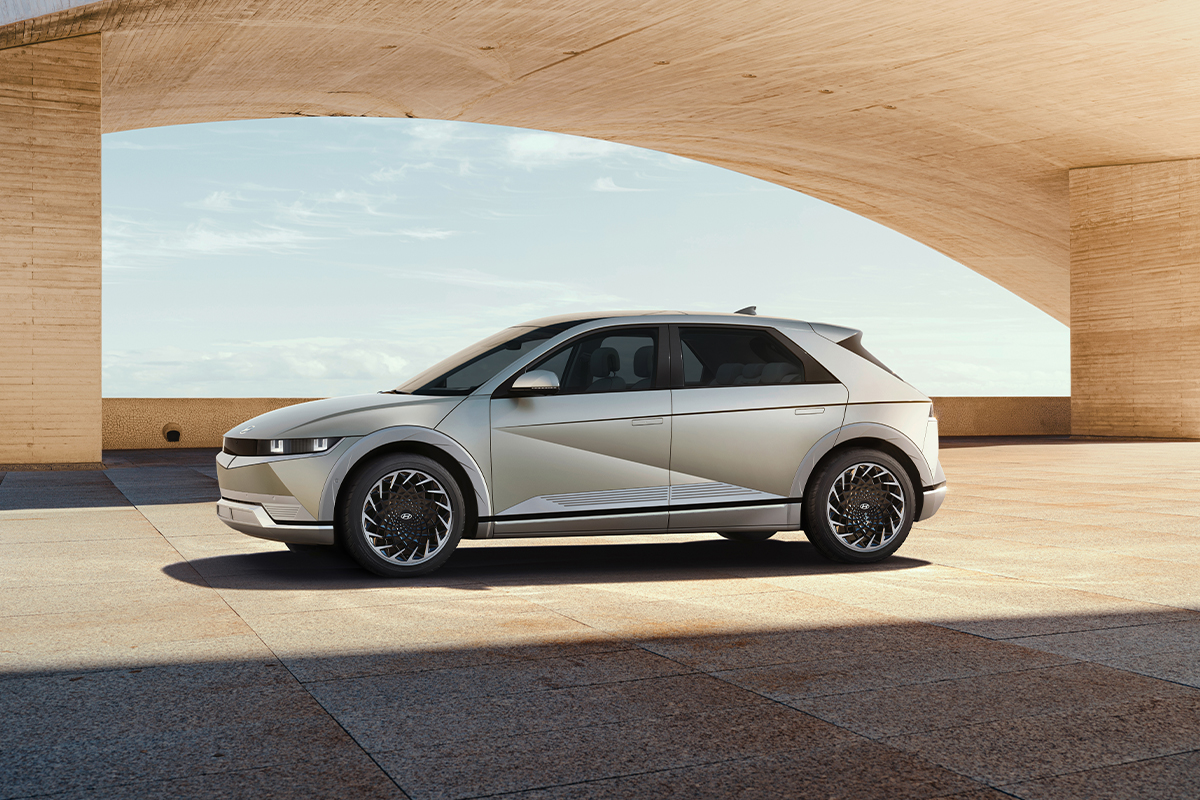 The IONIQ 5 drives on 20-inch wheels, the biggest fitted to a production Hyundai, and the most imaginatively designed.
There is a choice of a single-motor rear-drive version or an all-wheel-drive version, with a 58 kilowatt hour or 72.6 kilowatt hour battery. The dual-motor version makes just over 350 brake horsepower and 446 torques, and gets to 100 kilometres per hour in 5.2 seconds. The top speed is limited to 185 kilometres per hour.
For the first time in Hyundai's history, the IONIQ 5 features an augmented reality head-up display, essentially turning the windshield into a display screen.
It is also equipped with the next level of Hyundai's SmartSense advanced driver assistance system. It is the first model to offer Highway Driving Assist 2. Other driving assistance systems include forward collision avoidance assist, blind spot collision avoidance assist, intelligent speed limit assist, driver attention Warning and high beam assist.
The IONIQ 5 will be available in selected regions from the first half of 2021.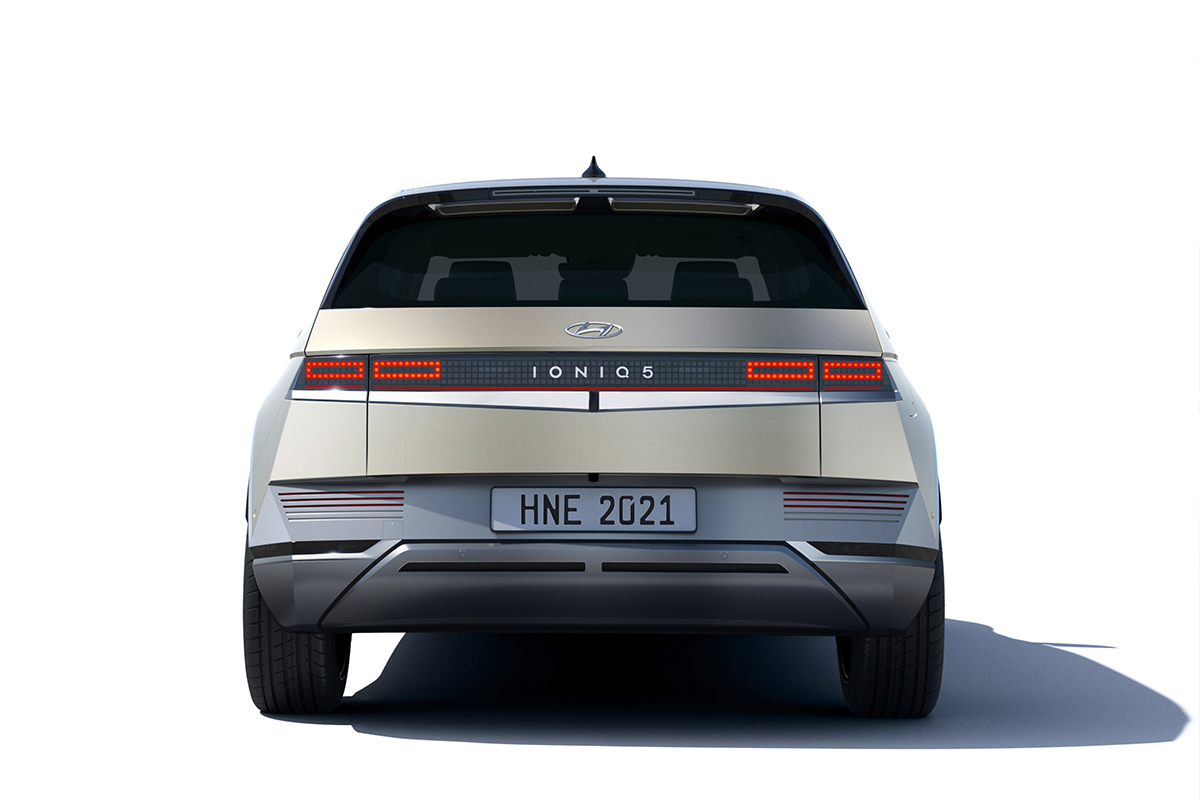 It is a Hyundai like you have never seen.