Daimler AG has unveiled an in­car information and entertainment MBUX Hyperscreen that uses artificial intelligence to keep your hands on the steering wheel of the soon ­to­ be unveiled fully electric Mercedes ­Benz EQS luxury sedan.
With a width of 141 centimetres, the unique curved screen unit consists of three seamlessly merged displays. It is the largest human ­machine interface built by Daimler AG and is the most intelligent. Thanks to AI, the display and operating system adapt to the user and make personalised suggestions for numerous infotainment, comfort and vehicle functions depending on the situation.
"The MBUX Hyperscreen is both the brain and nervous system of the car," said Sajjad Khan, Member of the Board of Management of Mercedes Benz AG and CTO in a media statement.
"The MBUX Hyperscreen continually gets to know the customer better and delivers a tailored, personalised infotainment and operating offering before the occupant even has to click or scroll anywhere."
Daimler's overriding desire was to create an amazing interface that removes the need for a driver to be forced to scroll through submenus or enter voice commands. The MBUX Hyperscreen is described as "zero layer" as its most important functions, such as navigation or telephone, are always offered situationally and contextually on the top level in the field of vision. More than 20 other functions, from the active massage program to suggestions for the to ­do list, are automatically displayed with the help of AI if they are relevant for the customer.
MBUX (Mercedes­ Benz User Experience) was unveiled in 2018 in the current Mercedes­ Benz A­ Class. There are now more than 1.8 million Mercedes­ Benz passenger cars equipped with it on the roads worldwide. Mercedes Benz's van division is also relying on MBUX. A few months ago the second generation of this learn­ capable system debuted in the new S­ Class. The MBUX Hyperscreen is the next big step and will be optionally available in the new Mercedes ­Benz EQS.
"We merge technology with design in a fascinating way that offers the customer unprecedented ease of use," said Gorden Wagener, Daimler Group's Chief Design Officer. "We love simplicity, we have reached a new level of MBUX."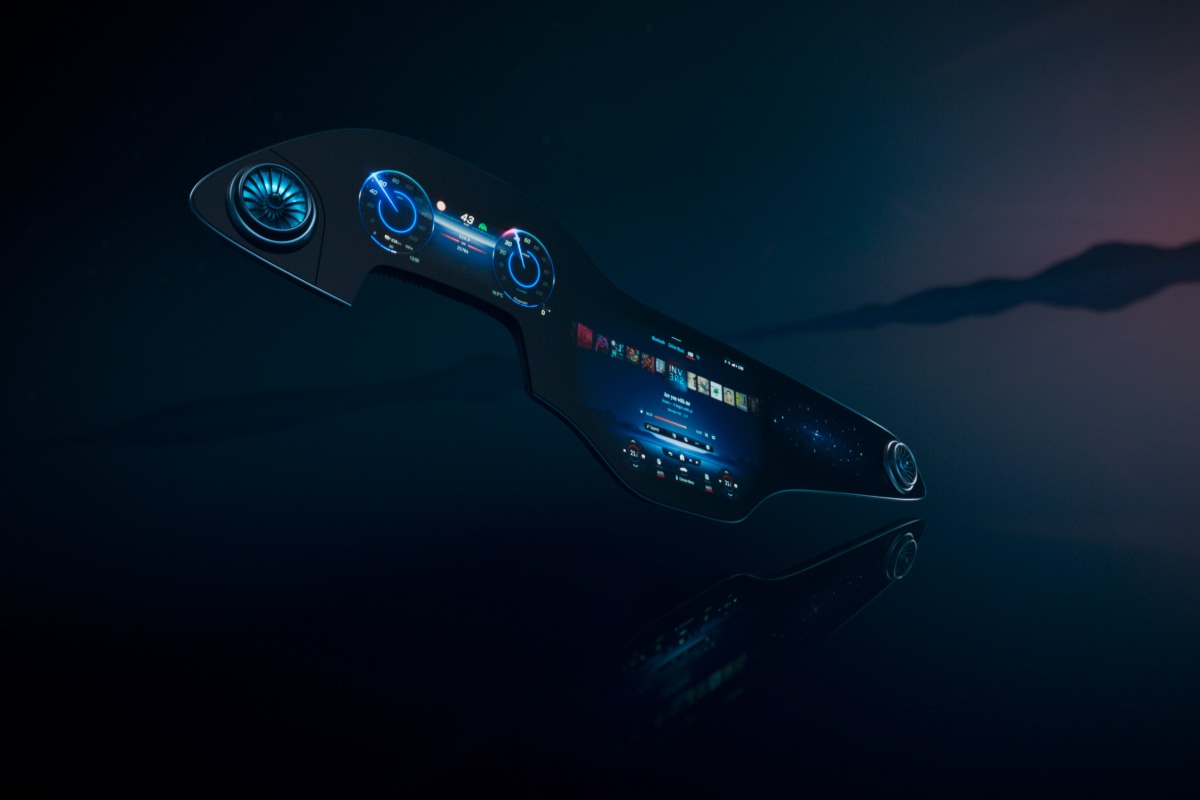 Mercedes ­Benz unveiled the MBUX Hyperscreen's "Mercedes Travel Knowledge" at the first all­-digital Consumer Electronics Show on Monday. This intelligent function evaluates map data and its surroundings and provides information about interesting landmarks along the route, from individual buildings or points of interest to entire cities. The driver or passenger can simply ask a question as they drive past – for example, "Hey Mercedes, what can you tell me about this building?" or "Hey Mercedes, what is the name of the restaurant on the left?" and the information appears on the respective display as well as spoken by the voice assistant. Thanks to the flexible update concept from MBUX via the cloud, this feature will also be immediately available in the new S­Class in addition to the EQS.