Toy giant LEGO Group is accelerating its digital expansion after the privately owned company experienced double-digit growth in sales and revenue in 2020 – its fastest growth in five years.
In its annual report, the Danish company said sales for its building sets grew 21 per cent last year as total revenue grew 13 per cent to US$7.04 billion when compared to 2019. LEGO Group's operating profit increased 19 per cent to US$2.08 billion as it increased its global market share, with particularly strong growth in China, the Americas, Western Europe and Asia–Pacific.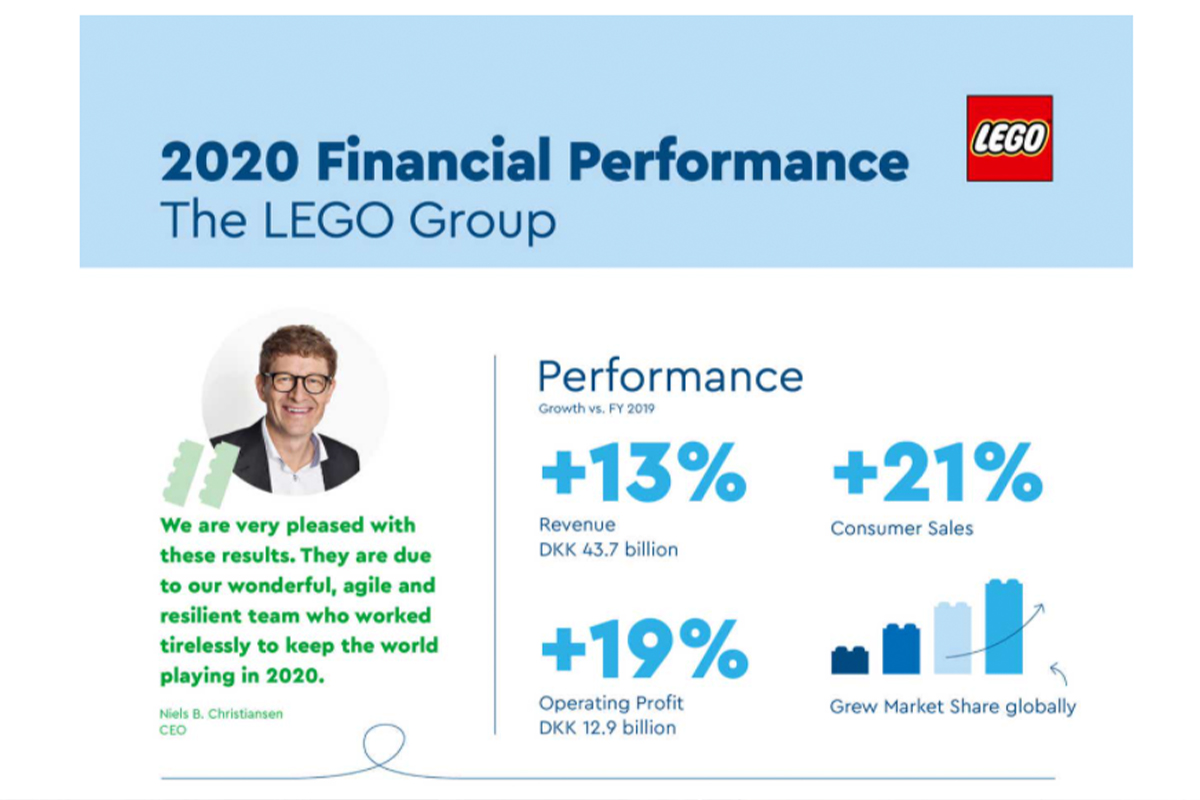 "We know children and adults love the LEGO brick and that will always be the heart of our business. But today's children are growing up in a digital world and they effortlessly blend online and physical play. We are excited to offer them safe, exciting play experiences that are fun and offer new ways to learn and be creative," said Niels B Christiansen, LEGO Group CEO .
Christiansen told the BBC that every 2.77 seconds, "someone uploads a LEGO creation to our digital platforms that they have created and want to share. The LEGO community is based on the brick, but this shows there is no limit to where we can take this."
LEGO Super Mario, which involves a combination of digital and physical play, was released in August last year and became one of the company's most successful theme launches, LEGO said in a report of its 2020 financial results.
LEGO Group's investments in products that blend physical bricks with digital play will continue this year. This month, the company released LEGO VIDIYO, which allows children to make their own music videos with special effects and filters.
LEGO VIDIYO is finally here! Check out the awesome BeatBoxes, available now 🤩#LEGO #LEGOVIDIYO #VIDIYO #LLAMA #MUSIC pic.twitter.com/mMCq9OuP2x

— LEGO (@LEGO_Group) March 5, 2021
LEGO Group's investment in its omnichannel retail ecosystem supported growth in its partners' and its own channels as physical stores were forced to temporarily close to prevent the spread of COVID-19. The number of visits to LEGO.com doubled compared with the prior year, while the company continued its global store expansion program. During 2020, it opened 134 new retail stores, including 91 stores in China, bringing the global total to 678. LEGO plans to open a further 120 stores in 2021, 80 of those in China.
"People are looking for unique and memorable physical brand experiences, so we will continue to invest to expand our global retail footprint, as well as elevate our in-store shopping experiences. This approach strengthens our brand, creating a positive impact across all channels. We will also further build our ecommerce capabilities to support online shopping on our own and our partners' platforms," Christiansen said.
The digital expansion will see more technology specialists recruited over the next couple of years.
"We go where the talent is available. Where we find the best talent is in UK and Denmark. I think the number will be in the hundreds," Christiansen told the BBC.
"We have a solid digital foundation, but must move faster. The past year has shown the importance of having an agile, responsive business built on strong digital foundations."
Christiansen revealed that there had been an increase in sales of bigger, more complicated LEGO sets. "Instead of buying LEGO sets for kids, families were buying big sets and building them together," he said, adding that the growth in interest for adult LEGO sets continues.
LEGO Group, founded in 1932 and still family owned, is trying to find alternatives to plastic for its bricks. LEGO said it could not give a figure for how many were made each year, but plans to introduce a sustainable product by 2030.
"We have a responsibility to minimise the environmental impact of our operations and have set an ambitious target of using sustainable materials in packaging by 2025, and in materials by 2030," Christiansen said. "It is a bold ambition that requires the invention of new materials.
"In 2020 we produced a total of 98,674 tonnes of LEGO bricks. So far, 100 different types of LEGO elements are made from sustainable sources."