American muscle: Chrysler SRT8
The Chrysler SRT8 is a sedan that proves that Americans can build cars that are enjoyable for more than just a quick fling.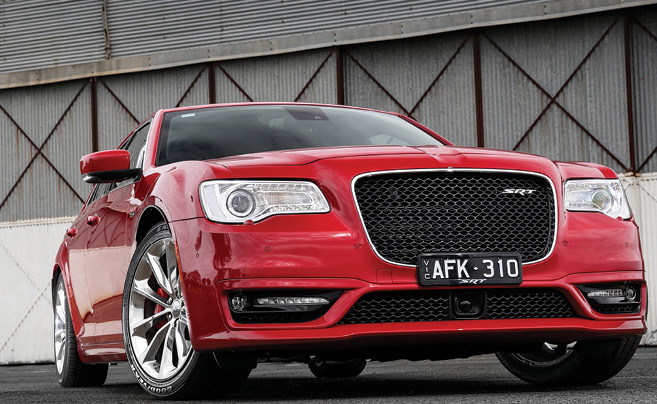 In 2003, a young man embarked on an experiment to document the effect of consuming three meals a day from an American fast-food chain. The physical and psychological changes were filmed along the way, and the following year a documentary was released graphically depicting the slow destruction of his health. Even without seeing the film, the results are completely predictable. Medical science has been rather definitive on this point: too much fat is bad for you.
Occasionally, though, sinking your teeth into a cheeky hamburger can be oh, so satisfying. Deep-fried chips, glistening with salt crystals—you know it's bad for you. But there's something appealing about the simplicity and decadence of it all. Yes, American food is definitely naughty, and although it can be enjoyable, you can't have it constantly.
American cars are much the same; occasionally, you just feel like that beasty hit of horsepower. But with their wobbly chassis and below-par build quality, could you live with one long term? Chrysler is making the argument that you can.
The 300 SRT is a hi-po version of the 300C, a slab-sided sedan that on first glance doesn't appear especially sporting. With an interior the size of a ballroom and seats that rival lounges for comfort, it'll happily swallow five people and their luggage. But it's heavy, thus it needs some serious motivation. And that's where the 'SRT' component of the vehicle comes into play.
SRT stands for Street and Racing Technology, and it's Chrysler's answer to AMG, M and Audi Sport. Using Chrysler's fairly comprehensive parts bin, it takes a Hemi engine, adds more grunt, beefs up the suspension, fiddles with the stability control, and upgrades the brakes.
It's a tried and tested formula for a sedan, but what makes this rather special is the huge lump of metal under the bonnet. The 6.4-litre V8 is the largest on sale in Australia, and pumps out 470 hp and a healthy 637 Nm. While they may not seem like huge figures compared with some sports sedans, it must be remembered that this car produces its power without forced induction. And that's the key to the emotional side of this machine.
Almost all manufacturers are utilising turbocharging to increase efficiency, power, and torque. Problem is, forced induction muffles the raw timbre of an engine. But in true American style, the 300 SRT has a naturally aspirated Hemi engine which has a bellowing V8 note lifted straight from historical Can-Am racers. While German companies are using their cars' speakers to enhance an engine note, there's no artificial cacophony here. What comes out of the exhaust is as true as the sky is blue.