Good sport: Range Rover Sport SVR
The Range Rover Sport SVR is the ultimate expression of performance and luxury in a fully fledged off-road vehicle.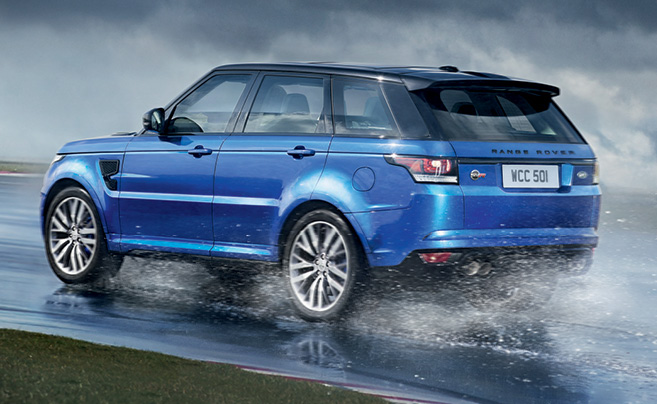 In 1880, a man named John S Holler wanted to showcase his cutlery company. Based in Solingen, Germany, Holler wanted a slice of the export market, so he opened a store in New York. But simply having a store doesn't attract people, so Holler hung a display piece in its window. This wasn't just any knife, however—it was a multi-tool, which was to outdo even the biggest and most expensive Swiss army knife.
With 100 functions, weighing around 4kg and 25cm long, the Holler multi-tool included two dagger blades, a serrated bread knife, shears, saw blades, a corkscrew, a lancet, button hooks, a cigar cutter, a piano tuning fork and, staggeringly, a fully operational .22 pistol. It now sits on display at the Smithsonian's history museum, and causes kids' eyes to widen and grown men to drool. Fast forward 136 years and Land Rover has released that knife's automotive equivalent—the Range Rover Sport SVR.
When it was originally launched in 2005, the RR Sport turned Land Rover on its head. With impressive off-road ability and firmed up suspension, it won many over as a cheaper alternative to the Vogue, but with better handling than the Discovery on which it was based.
But its heavy use of steel meant it weighed slightly less than an aircraft carrier. Aluminium has been the current Sport's saviour. Going on a metallic diet has not only liberated more space, but has also meant a weight saving of nearly 400kg; a very good basis for the people from Jaguar Land Rover's (JLR)Special Vehicle Operations (SVO) division to work from.
Think of SVO as JLR's answer to BMW's M, Audi's quattro, and Merc's AMG performance offshoots. It's a passionate, slightly crazy group of people whose ultimate goal is to turn regular JLR products into performance monsters. And what they've done to the Range Rover Sport is, in a word, bonkers.
We're talking about a machine that weighs the better part of 2.3 tonnes, but can haul from 0–100 km/h in just 4.7 seconds. And it's not a steady-state, Boeing-like, long build-up to full power, either. Rather, it's a nose-lifting, rear-squatting, instant launch that pins you to your seat. But the sensation of inertia is only half of it. The Sport SVR has had a bespoke exhaust fitted to it, which opens the whole system up. Breathing easier is certainly one benefit, but ostentatious sound is another.