Technological triumph: Audi TT
Audi's latest sports car may be three generations and 20 years old, but it's showing no signs of slowing down.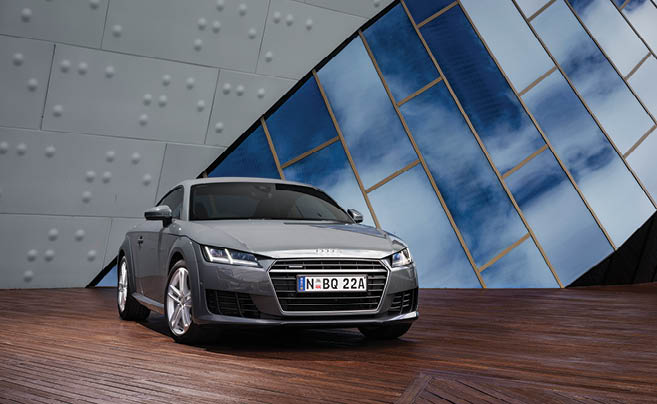 In the early 1990s, Audi was committed to engineering excellence. It placed a high priority on technological innovation, and its reputation for solidity and reliability was unchallenged. But the company came to realise that just building good-quality cars doesn't always guarantee sales. Reliability is certainly a drawcard for existing customers, but drawing new ones to the brand can be a bit of a challenge.
Like it or not, aesthetics usually gets people in the showroom door, and Audi came to realise this. Thus in 1991, the Audi quattro Spyder concept car was shown at the Geneva Motor Show.
It was an exercise in design language and showed that Audi could pen good-looking cars as well as engineering them properly.
In 1995, based on customer feedback from the quattro Spyder, the Audi TT was born. Its design principle, of all things, was based around a circle, with circular wheel arches, fuel cap, curved roofline, and circles in the headlights. And its circular inspiration certainly motivated buyers who flocked to showrooms. But design was only half of it—the key was how it drove. Not only did it look the part, but it was quick, handled brilliantly, and was built with Audi's trademark quality.
Twenty years later and we have the third generation of TT on our doorstep. Danny Garand, project designer for the TT's exterior, explains the design principle behind TT '3'. "The first generation TT was a circle, which was the fundamental basis of its design. The second generation TT we expressed as a wave; the circles were starting to melt into each other," says Garand. But he wanted to give the impression of speed. "We took a lot of attention to form the TT '3' with a lot of straight facets and clear intersections. There's a lot more tension to it."
There's a very clear delineation where the cabin stops and the body starts, with a crease line that runs all the way around the car, yet despite its straight lines and hard angles, it still manages to be a thoroughly aerodynamic shape. There are even elements of the original TT carried over—witness the classic metal fuel cap and the twin exhaust pipes. It's clearly a good-looking car, and its angry eyeline even mimics its larger brother, the Audi R8.