Playground of food: Gastro Park Sydney
Step inside Gastro Park's intimate dining space to experience inventive fare set alight by the creative spark of its master chef and owner, Grant King.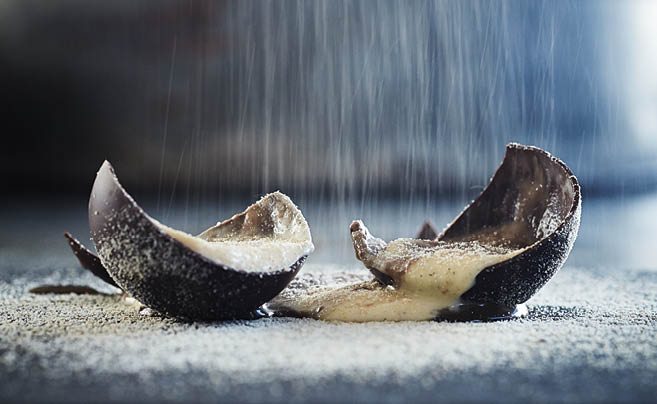 Gastro Park's signature dish—a magical liquid gnocchi—has made headlines for many good reasons before, but in 2015 when head chef and restauranteur Grant King unveiled it as a pressure cooker test on the hit television series Masterchef, its popularity once again soared, with food-lovers across the country buzzing about the unique concoction.
Canary-yellow spheres of creamy butternut pumpkin broth float in an earthy mushroom consommé, bursting open and expelling a warm liquid as soon as they hit the mouth.
It's essentially two soups in one, and certainly not lacking in amusement.
This is true for most of Grant's creations—they're lots of fun and it's quite common to hear him being referred to as a magician. He understands the make-up of ingredients so well that he has the ability to seamlessly merge what some would consider contrasting flavours and textures, resulting in a memorable experience for the diner.
Grant opened Gastro Park almost five years ago after a considerable stint as head chef at the famous Pier restaurant in Rose Bay. Originally from New Zealand, he's also spent some years in London and travelling the world before settling in Sydney. The restaurant sits discreetly on the corner of Roslyn Street and Kellett Way in Potts Point, with a large, curved window perfect for people-watching. Inside, it's cosy and inviting, although sparse when it comes to table décor, with polished concrete floors. The room is dimly lit with exposed bulbs, has a dark grey-and-black colour palette, and native (bordering on eccentric, depending on the florist's mood) floral arrangements to freshen the space. Gastro Park is classy, but in no way pretentious.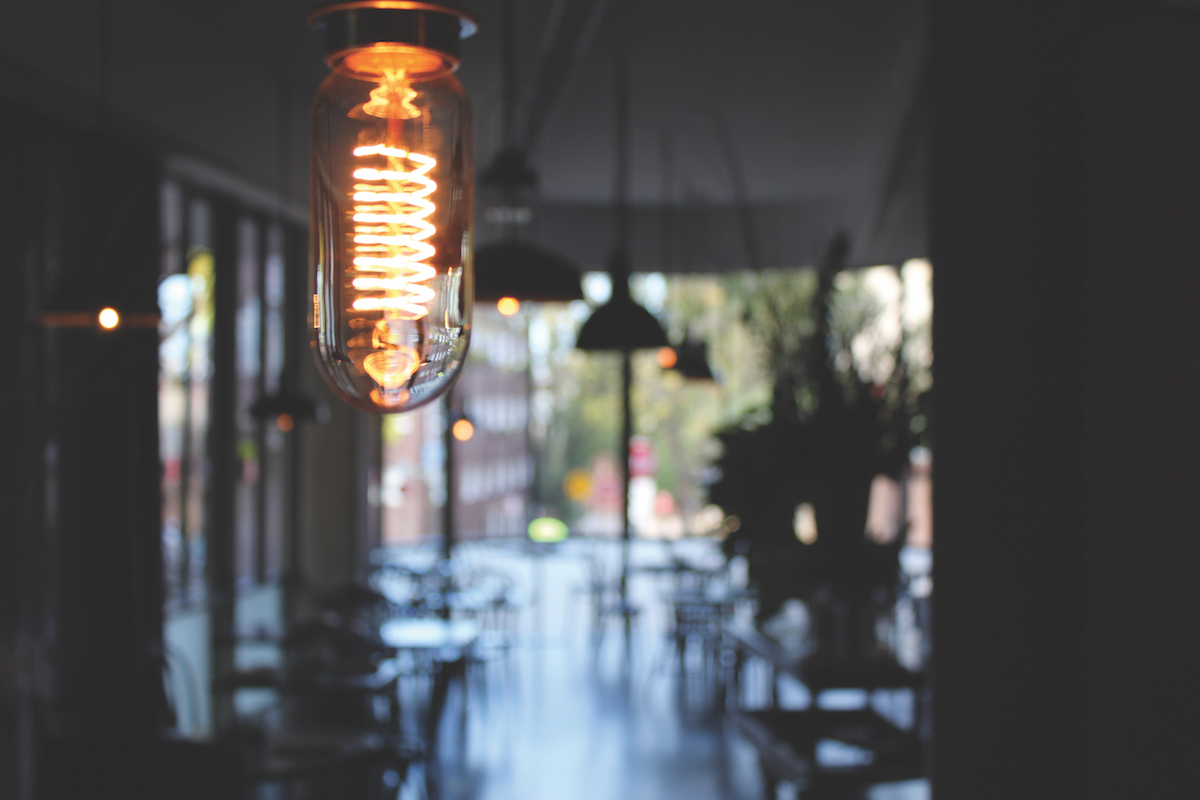 The servers are highly attuned to attention, kindly greeting diners and ensuring they are comfortable for the entirety of their meal. Glasses of water are bottomless, and napkins are whipped up and rolled into neat cones the second you rise from your chair.
Grant's menu is constantly evolving, with tasty new inventions regularly being introduced to the à la carte and degustation options.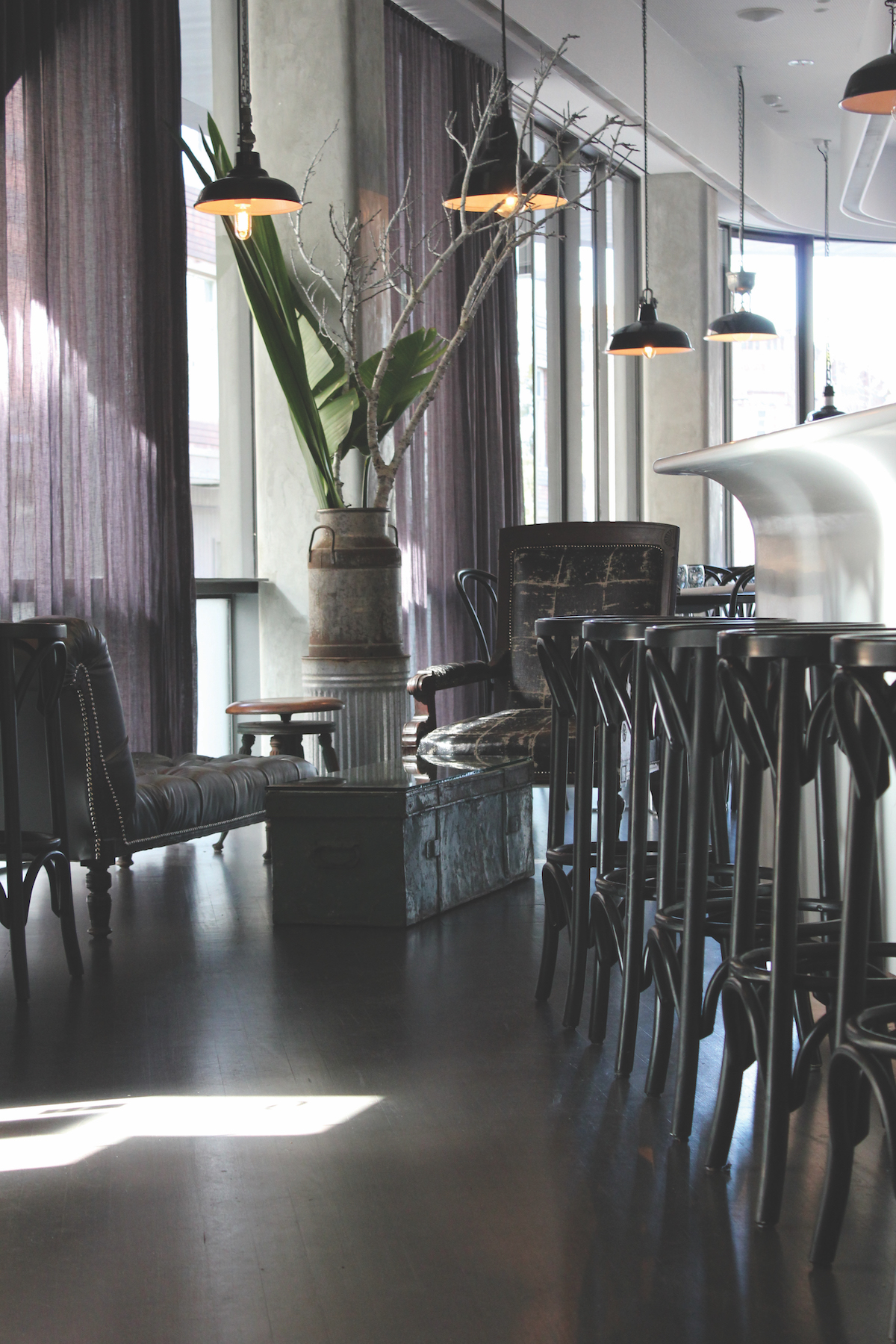 "I change it up all the time," Grant says. "I have five chefs working in the kitchen, and the dishes originate from all sorts of ideas. I think it's very important to do it our own way. I visit the market once a week, I have really great suppliers who bring me wild-foraged foods, and I get excited to try new things in the kitchen. There are always new dishes on the go. Everything is molecular to a point and what I mean by that is even our bread, which is a natural fermentation, is molecular and very simple. I dislike the term molecular food, it is a term people use when modern cooking is not understood. My food is very pure and delicious, balanced and textural. I think molecular gives an impression of being done in a laboratory. We respect nature and try to enhance natural beauty. That's what it's all about, the pure ingredients themselves."
The 10-course degustation, which can be selected with or without wine matchings, starts off with a series of quirky snacks. The vegetarian oyster is intriguing and highlights Grant's philosophy of using ingredients in their purest form. It's a small, green leaf called Mertensia maritima which, as soon as you start to chew, creates a distinct briny taste reminiscent of the ocean. Next is the grissini breadstick, which is wrapped with a thin slice of David Blackmore Wagyu beef before being rolled in grated pecorino. A great play on texture—it's salty, crunchy, and chewy all at once. Then there's the earth tart consisting of salted buffalo milk, edible dirt, and little bits from the garden encased in a small, crunchy potato bowl; and the citrus-cured king salmon with yuzu and pomelo, which is fresh and zingy.
"I dislike the term molecular food, it is a term people use when modern cooking is not understood. My food is very pure and delicious, balanced and textural."
– Grant King
It is recommended that these tasty morsels be complemented by a glass of champagne, perhaps an NV Taittinger Brut Reserve. Alternatively, the Blossom Cocktail is a favourite—a perfectly harmonised concoction of gin, elderflower, lemon, orange blossom, and blood orange.
When the mains come out, the drama starts. The scallop and pomegranate ceviche is served inside its shell and lies atop a bed of white pebbles. Dry ice creates a haze of smoke and atmospheric allure. With a sprinkling of smoked salt and a scattering of pickled onions, the scallop tastes fresh and full of vinegary tang. It is paired beautifully with the subtle red-berry flavours of a 2013 Mastroberardino Rosé from Campania, Italy.
Every dish is in fact a star of the Gastro Park show. There's marron bugs served in green coconut broth with thinly sliced fresh apple and spicy sorrel leaves; crispy-skin jewfish with parsnip and roast bone sauce; pork belly alongside Noosa spanner crab, smoked macadamia, and Dutch carrot; and then, of course, the aforementioned liquid gnocchi, which is superbly matched with a 2012 A Rodda Willow Lake chardonnay, from Victoria.
The slow-cooked Riverina short rib concludes the mains. It is cooked at a consistent 60 degrees over a 48-hour period, making it super tender and bursting with flavour. Smoked eggplant purée, peas out of the pod, and red pickled onion complete the dish. It is only fitting to choose a heavy red from the international wine list to go with it, and the 2004 Burton Shiraz from McLaren Vale in South Australia goes down a treat.
The Holy Goat cannoli—warm goat cheese, grated macadamia nut, sweet grapes, and truffle honey—is followed by a refreshing apple, celery, and sorrel gazpacho. Both serve as palate-cleansers, signalling that dessert is almost up.
Sweet-lovers will no doubt enjoy the robata-grilled pineapple, which shares the plate with a scoop of citrusy yuzu ice-cream, buttermilk, fennel syrup, and ginger crumb. A drop of 2012 Clos Bagatelle Muscat de Saint-Jean-de-Minervois from France is well matched thanks to its notes of apricot and white flowers.
Last comes the chocolate sphere, which, when cracked, oozes out an avalanche of creamy honeycomb and vanilla ice-cream infused with cardamom, saffron, and ginger. A treat as decadent as this can only be complemented by a syrupy glass of port, perhaps in the form of a solera PX Alvear Pedro Ximes 1927 from Spain.
Gastro Park is full of surprises and is a superb dining experience for food-lovers itching to try something truly out of the ordinary. It's also an ideal place to take clients who like to be surprised. There are certainly plenty of talking points as the dishes roll out. Grant plays wonderfully with textures and flavours, producing memorable dishes that are creative but still wholly showcasing the pure flavours of each individual ingredient.
Images: Stuart Scott
Update: Gastro Park closed its doors on May 20 2017. It has been reinvented as The Antipodean Restaurant and Bar and, according to owner and chef Grant King, is aimed at showcasing of the finest Australian and New Zealand products. Visit http://www.theantipodean.restaurant/ for more details.
The full article can be downloaded here …