For David Vitale, enjoying a Manhattan at home is his "favourite evening ritual". So when the Melbourne whisky maker started plotting a move into the bottled cocktail space, producing a high-end Manhattan that you could take to a dinner party was probably only a matter of time.
He had become friends with Sacha La Forgia, a talented young South Australian winemaker. When La Forgia's Adelaide Hills distillery began releasing its own vermouth to complement its range of locally accented gins, Vitale knew the time was right.
Recently launched at Sydney's rat pack themed cocktail bar, Maybe Sammy, with its sweeping curves and old Hollywood trappings, the Red Manhattan is billed as an eminently approachable liquid. It's also one that splits that difference between sophisticated traditionalism and doing something contemporary and distinctively Australian.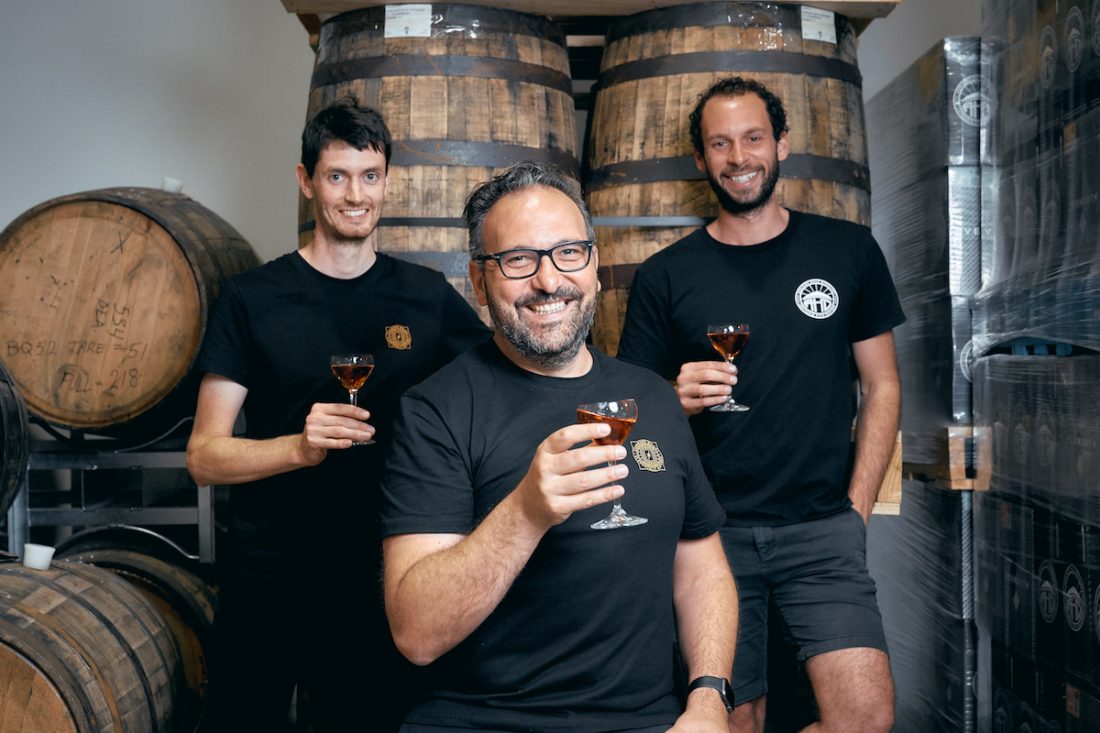 Making a new Manhattan
The Manhattan is one of the untouchable evergreens of the cocktail world; a marvel of balance and simplicity. Like most classic cocktails, its origins are somewhat contentious and cloudy, but the essential formula is five parts whisky to two parts vermouth (often one part each of sweet and dry), a dash of bitters and a maraschino cherry for a garnish.
The Starward bottled version is an appealing twist on the classic; a vibrant red colour, it's fresh, flavoursome and nicely dry, with the influence of native botanicals giving it a real point of difference. A Roselle flower garnish added another layer of local flavour.
The Adelaide Hills distillery produced a bespoke vermouth to perfectly calibrate the sweetness/dryness ratio and to complement the Starward whisky used. With the once-unfashionable vermouth now back with a vengeance, it's likely to appeal to wine drinkers as well as satisfying those like Vitale, who enjoy taking spirits to a dinner party, but want to avoid "playing bartender" all night with a ready-to-drink option.
As Starward Head Distiller Sam Slaney tells it, the process of refining the Red Manhattan and getting the balance right between the different elements was an enjoyable one, though still hard work. At Starward, the team uses a panel of tasters, including distillers, marketing team members, people from the world of bars and others with a background in spirits or beer-making.
While the project involves tasting large amounts of spirits, it is far from indiscriminately swilling. The team has worked hard to build up a common vocabulary, account for individual idiosyncrasies in each taster's palate and to sharpen their ability to detect even the most minute differences between liquids. The painstaking process has translated into a balanced finished product and continues Starward's highly collaborative approach.
Starward and Adelaide Hills worked closely together on the project, tinkering and refining until they reached the perfect balance. "The beautiful thing about this was we could just get on the phone to Sacha and say 'Hey mate, we're mucking around with this, can we go out there and have a taste and work through it?" Slaney recalls.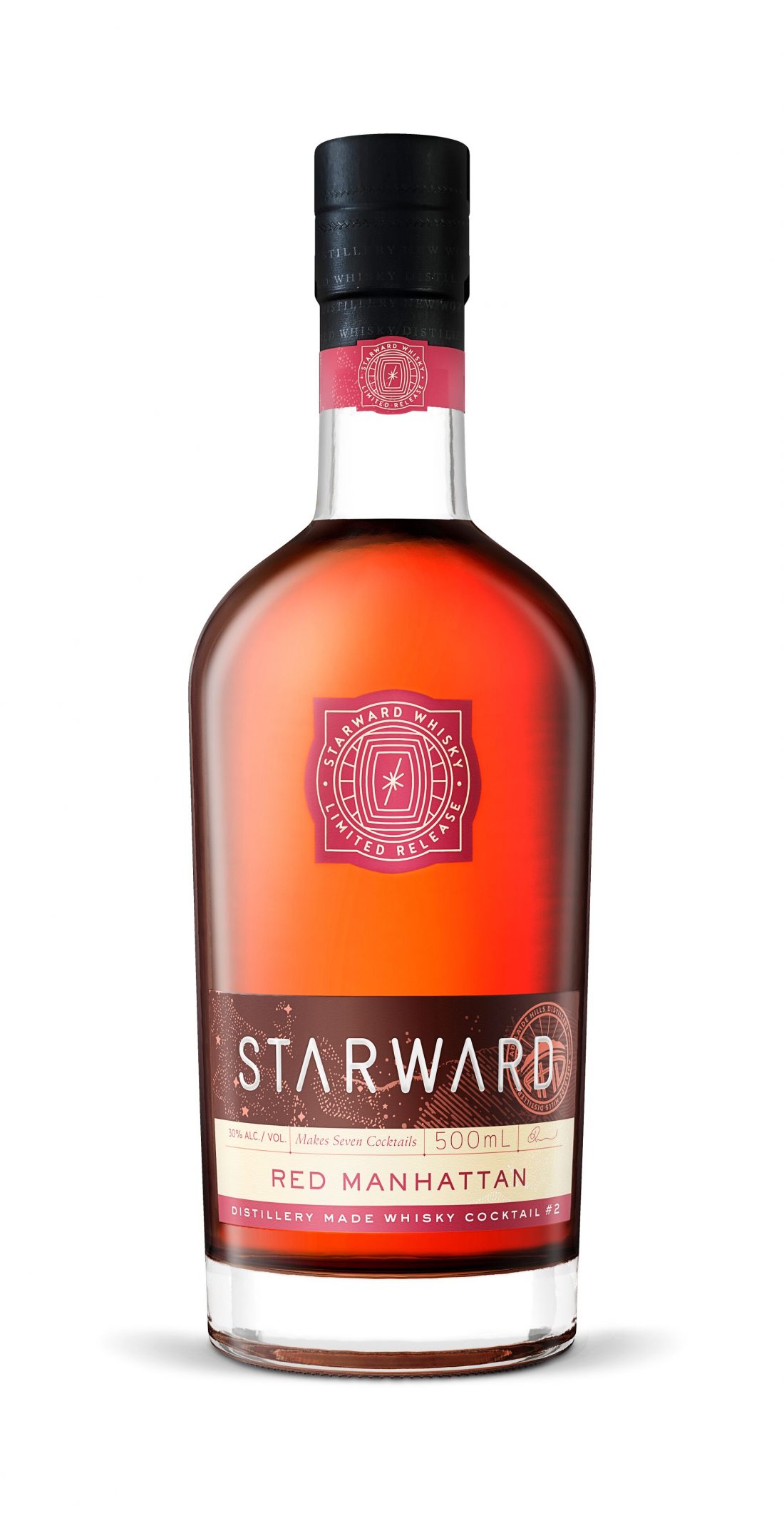 Starward is at the forefront of Australian whisky innovation
Unlike the narrowly drawn legal definitions for Scotch and bourbon, Vitale says Australian lawmakers have gone with an "elegantly simple" definition of whisky. Perhaps unintentionally, the looser drafting has facilitated experimentation in local whisky making and a willingness to try new things.
This has given Australian whiskies a real point of difference as they try to make inroads into a market once dominated by family businesses stretching back generations. With Australian distillers Sullivan's Cove, Lark, Limeburners and Starward itself all picking up international awards, it is rising quickly as a whisky-producing nation.
Vitale says the use of red wine barrels has been invaluable in terms of making a distinctive product. "It's quite comforting for me to be able to go to whisky shows and say 'You may not like this because taste is subjective, but you won't taste a whisky like this today' and that's because of those red wine barrels".
Slaney says the wood Starward can draw on are just one of its points of difference. "It's not just about sticking a kangaroo on it, it's something we really believe in," he says of crafting a spirit that reflects and celebrates its provenance.
"We're really fortunate that we have access to fantastic water, barley, great maltsters and local fabricators and services to put all the equipment together. Then we have these incredible barrels… the quality of the wine that's been in them and the wood is world class.
"What we get out of those barrels is fantastic and our maturation environment means we don't just do what the Scottish (distillers) do, we are able to offer something different."
He is also inspired by the Australian whisky-making scene as a whole.
"It's a young industry, so there are a lot of people that are starting out and are looking for support and advice and it's lovely that we have a pretty open and supportive community.
"As a segment, we want to see Australian whisky grow and become big globally. It's in our interest but also in every Australian distiller's interest so the more we can do to help each other out and make our whiskies the great, the better it will look for everyone out there. It's really exciting to see what's going on."
Forbes recently pondered whether Australia could be the next new world whisky destination to break through on an international level after Japan rocketed to global prominence.
"Sometimes people come in who don't know much about whisky and they say: 'Can I try your Scotch?'. We have to say: 'Mate, it's not Scotch. We're making Australian whisky, it's a different experience'."