Taste du jour: Hentley Farm Barossa
Set in restored stables dating back to the 1880s on the banks of Greenock Creek, Hentley Farm offers a taste of the Barossa region with its fine-dining degustation menu.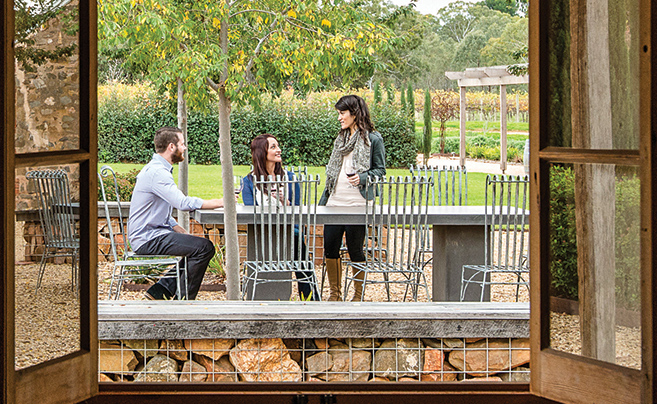 A farm, winery, and restaurant in one, Hentley Farm is an all-encompassing experience for the gourmet. Its dining room—an old shearer's shed repurposed for a new life—is rustic, with deep mahogany-hued woods, exposed red brick, and dim lighting, making way for a warm and inviting feel. The menu is complementary to this earthy style, and it changes according to what's in season and available. This means that only fresh, abundant, and high-quality ingredients are utilised, resulting in dishes that are a wonderful representation of what the Barossa has to offer.
Head chef Lachlan Colwill has been with Hentley Farm since the restaurant opened in 2012. He is heavily influenced by his surroundings, regularly foraging for wild ingredients growing on the 150-acre property and picking ripe fruits, vegetables, and herbs from the on-site garden beds and orchards.
"What we do is really seasonal, and we grow lots of things ourselves," Lachlan says. "We find people genuinely enjoy this type of approach to food."
There are two dining options—the four-hour, multi-course Discovery menu and the two-hour Du Jour. Deciding on the latter, it doesn't take long for the team of 10 chefs in the kitchen to deliver a series of snacks to whet your appetite.
A small bowl of soy-marinated activated almonds comes served on a slab of weathered wood, as does a dish of garden greens with a dipping sauce concoction of Jersey Fresh cream, chives, and a drizzle of honey—the sweet syrup produced by students at the nearby Freeling School. Three varieties of cracker come next—quinoa topped with partly poached quail egg and seasoned with curry spice; rye with a generous scoop of lamb tartare and Japanese-inspired Yuzu butter; and potato presented with a sliver of cured tuna, a dollop of sour cream, and a garnish of pickled bell peppers and coriander.
The last appetiser arrives in a metal cauldron filled with stones and a scattering of rosemary needles. Four carefully placed Smokey Bay oysters sit on top. The chef approaches the table and pours liquid into the pot, creating a spectacle of aromatic smoke. The freshly shucked oysters have two intriguing flavours, one savoury in chicken roasting juices and the other sweet in passionfruit nectar.